Crypto
10+ Best P2P Crypto Exchanges in 2023 – With Highest Liquidity
Peer-to-peer (P2P) exchanges allow buyers and sellers to trade cryptocurrencies directly.
Some of the benefits of using a P2P exchange include access to a broader range of payment methods and currencies, not to mention being able to set custom prices.
In this guide, we compare the 10 best P2P crypto exchanges in 2023 for low fees, safety, supported markets, and more.
What are P2P Crypto Exchanges?
A peer-to-peer, or P2P exchange allows users to trade cryptocurrencies directly with another user. They operate as online marketplaces, enabling traders to set their own terms. What's more, P2P platforms often support a much wider range of payment methods than traditional exchanges. This usually includes local payment types that are only used in specific countries.
Let's look at a quick example of how P2P exchanges work:
Let's say someone in the UK has 1 BTC, which they want to sell
The seller lists their 1 BTC on a P2P exchange at a price of $30,500
The seller accepts UK bank transfers as payment
A buyer in the UK sees the published rate and payment method and decides to accept the order
The buyer transfers the money to the seller's UK bank account.
In turn, the seller transfers the 1 BTC to the buyer's Bitcoin wallet
There's a lot to unravel when learning how P2P exchanges work. First and foremost, the best P2P crypto exchanges have an escrow system in place. This promotes a fair, transparent, and safe way of doing business.
This is because once the buyer accepts a deal, the seller will transfer the crypto tokens into the P2P exchange's escrow wallet. The tokens remain locked until the buyer sends the payment and the seller confirms receipt of the funds.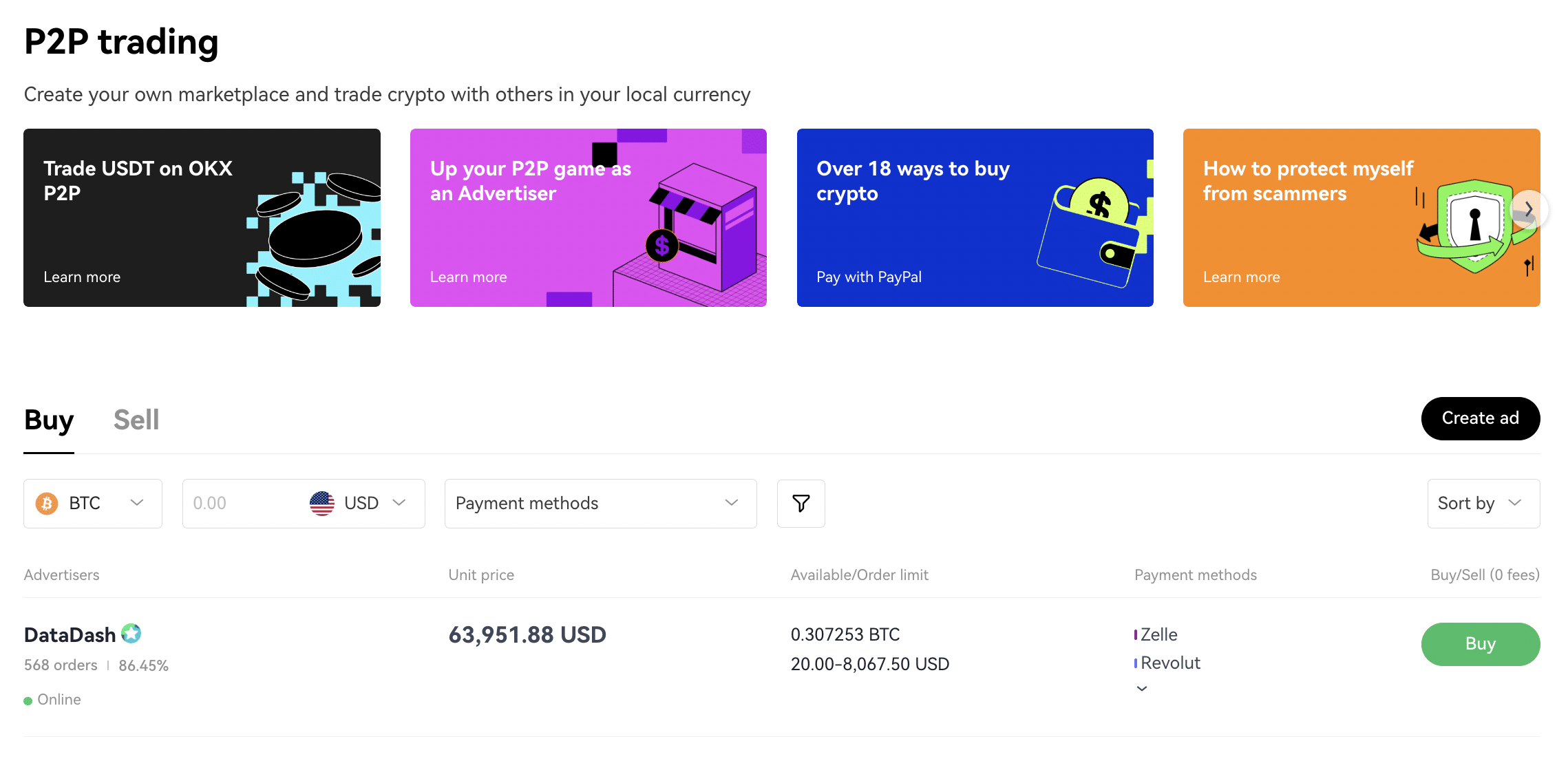 However, even with an escrow system in place, P2P trades are fraught with risk. For example, a common scam is for the buyer to report the trade as fraud, and request a refund from the payment provider (e.g. PayPal). Scams are also prevalent when using non-reversible payment methods, such as Western Union or MoneyGram.
That said, P2P exchanges also come with benefits. For example, in countries where buying Bitcoin and other top cryptocurrencies is difficult, P2P platforms offer an instant solution. P2P platforms are also useful for sellers that can only accept certain payment methods, which aren't readily available on traditional platforms.
Reasons to Use a P2P Crypto Exchange
Now let's explore the key benefits offered by the best P2P crypto exchanges.
Wide Range of Payment Methods
The first benefit of using a peer-to-peer exchange is that a much larger range of payment methods are supported. This often includes global payment types, such as PayPal, Neteller, Skrill, Western Union, and MoneyGram.
Moreover, P2P exchanges are particularly useful for buying or selling cryptocurrencies in local payment methods. This might include local bank account transfers or mobile payments. Either way, buyers and sellers can choose which payment method they wish to transact in.
In comparison, traditional crypto exchanges typically offer a limited range of payment options. While this might include debit/credit cards, bank wires, and a small selection of e-wallets, P2P crypto exchanges take things to the next level.
Faster Trades
In some cases, buying cryptocurrencies on a P2P exchange can be a much faster option. This is especially the case when trading with a seller that is online around the clock.
For example, once the buyer has accepted the seller's offer, they can immediately transfer the funds.
If the seller confirms receipt of the funds without delay, the buyer will receive their crypto tokens instantly.
The buyer can then withdraw the tokens to their private crypto wallet.
While the seller will have already received the payment.
In comparison, the process at traditional crypto exchanges can be slower. While trades themselves are executed instantly, withdrawals are only processed once approved by the exchange. How long this takes will vary from one exchange to the next.
Buy and Sell at Preferred Rates
Traditional crypto exchanges rely on conventional order books. This means that crypto prices are determined by market forces. While this ensures that all market participants get a fair deal, this doesn't suit everyone.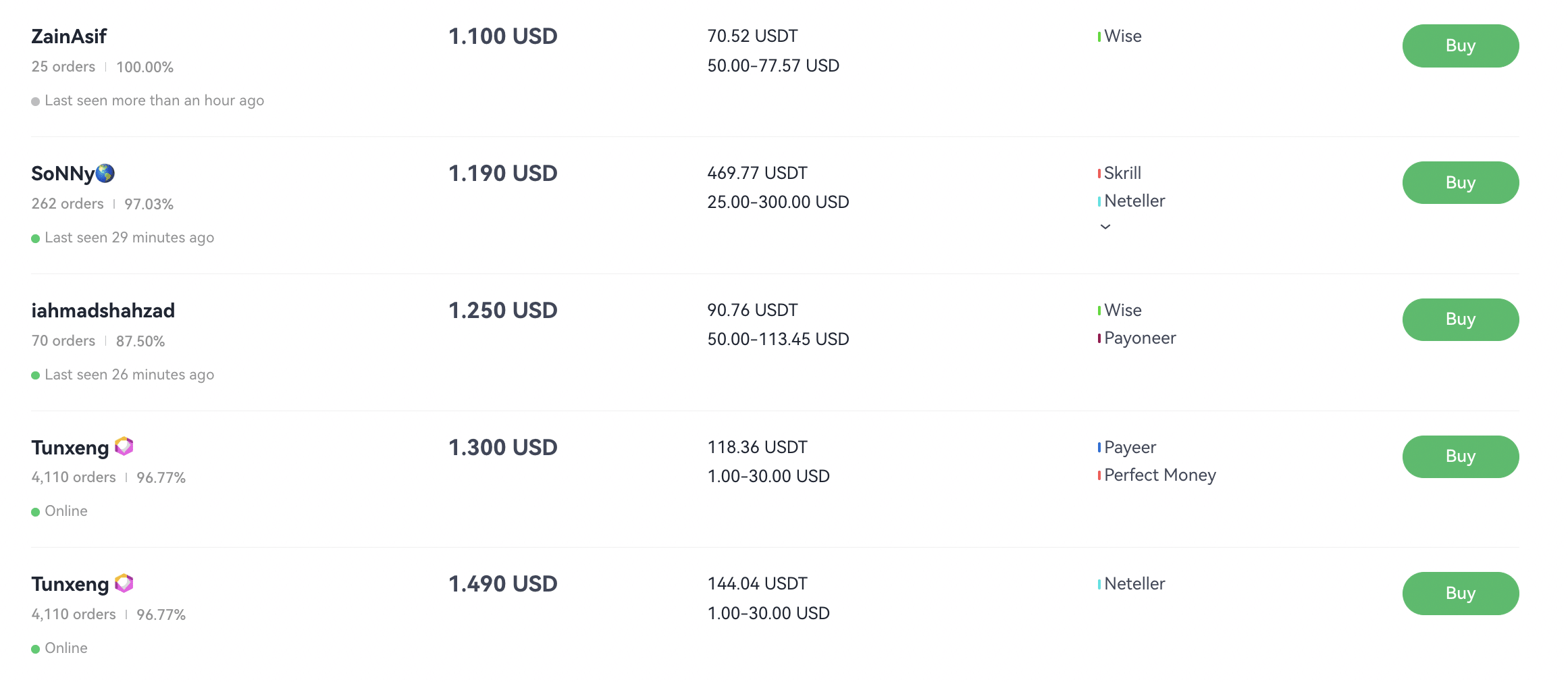 For example, a seller might wish to charge a premium for accepting less common payment types, such as mobile payments. Or a buyer might want to pay a lower price for buying a cryptocurrency that is no longer in demand.
Either way, sellers can choose which exchange rates to list their cryptocurrencies. And buyers have the option of shopping around to find the best deal for themselves.
Ideal for Certain Nationalities
While cryptocurrencies operate on a global scale, not all nationalities find it easy to buy and sell. On the contrary, some countries have restrictions in place that make it challenging to transact.
China is a prime example of where trading cryptocurrencies is illegal.
According to the P2P exchange Paxful, other countries where crypto trading is banned include Algeria, Bangladesh, Ghana, and Iraq.
One of the main ways that people get around crypto trading bans is to use a P2P exchange. This is because the transfer of funds is made directly between buyers and sellers.
For example, suppose the P2P transaction is facilitated via a local bank transfer. The financial institution will only see that the buyer sent money to the seller. In other words, there is no record of the transaction being linked to cryptocurrencies.
Escrow Protections
As noted earlier, the best P2P crypto exchanges have an escrow system. This is designed to protect both buyers and sellers.
The seller will deposit their crypto tokens into the escrow wallet controlled by the P2P exchange. They will remain there until the seller confirms they have received payment from the buyer. If the funds never arrive, the tokens will be returned to the seller.
Things can get a bit tricky if the buyer sends the funds, but the seller claims nothing has been received. At this stage, the P2P exchange will need to intervene. Not only can this take time, but one of the two parties will not receive a satisfactory outcome.
Moreover, the escrow system is not completely foolproof. There are various tactics that P2P users can deploy to scam other people. For example, if the buyer successfully reports the P2P purchase as fraud, the payment could be reversed from the seller's account.
10 Best P2P Crypto Exchanges: Full Reviews
Now that we have covered the basics, let's explore the 10 best P2P crypto exchanges for 2023.
We review the top platforms for supported payment methods and cryptocurrencies, not to mention fees, security, and reputation.
1. OKX – Overall Best Peer-to-Peer Exchange
We rank OKX as the overall best peer-to-peer cryptocurrency exchange in 2023. This P2P platform is backed by one of the world's largest exchanges, with OKX averaging daily trading volumes of $1 billion. The OKX P2P marketplace supports six cryptocurrencies. This includes Bitcoin, Ethereum, Tether, USD Coin, True USD, and Dai.
More than a hundred fiat currencies are supported from all over the world. Not to mention over 900 supported payment methods. This includes everything from local bank transfers, SEPA, and SWIFT to Perfect Money, Revolut, and TransferWise. To get started, buyers can use the filters to find their ideal seller.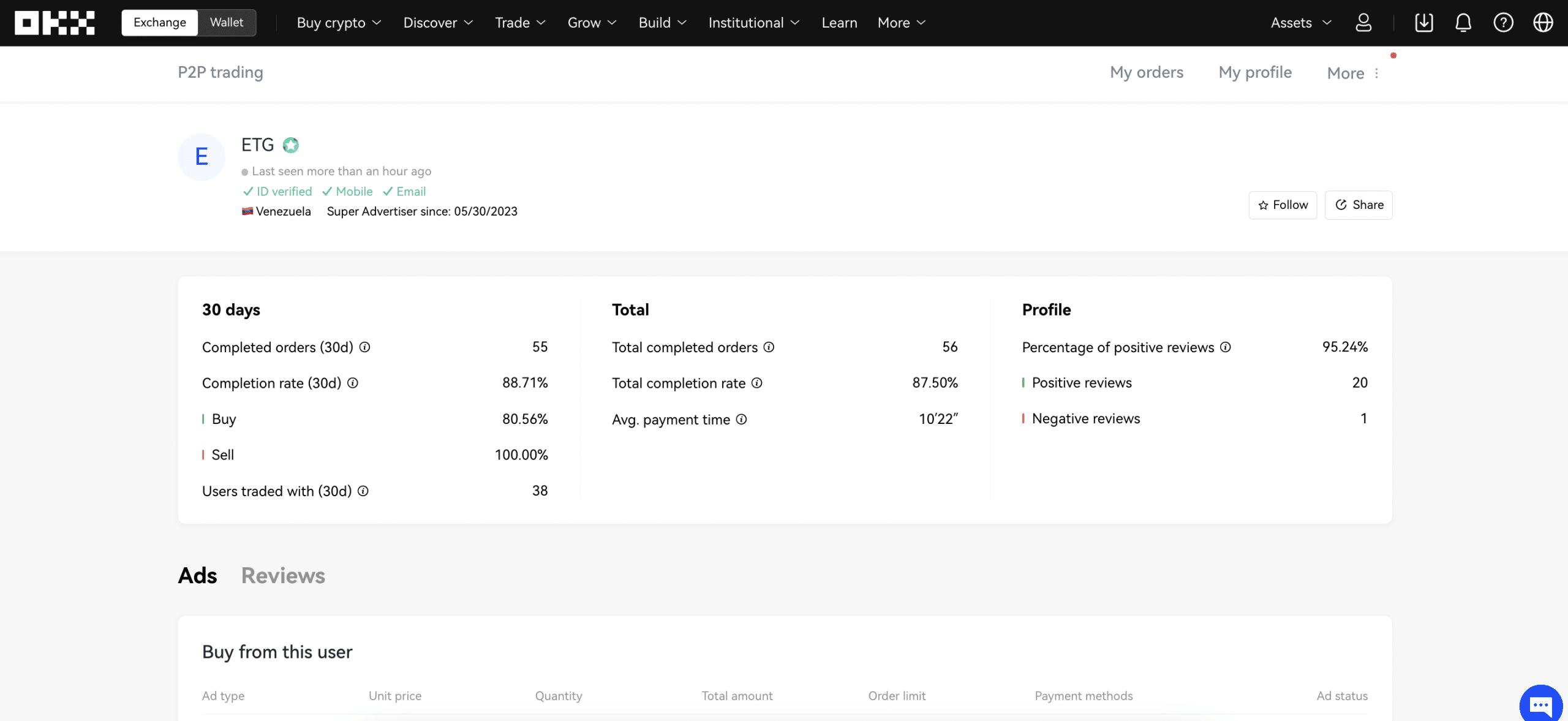 OKX allows buyers to search by the cryptocurrency, fiat currency, payment method, and the required purchase amount. OKX will then display a list of suitable sellers. This is sorted by the most competitive exchange rate downwards. Sellers, on the other hand, can choose what price they want to list their cryptocurrencies at, as well as the payment type they are happy to accept.
Once a buyer finds a deal they like, the seller is notified instantly. The seller will then send the payment instructions to the buyer and deposit the cryptocurrencies in the OKX escrow. The buyer will notify the seller that the payment has been made. Once the seller confirms receipt of the funds, OKX will release the cryptocurrencies held in its P2P escrow.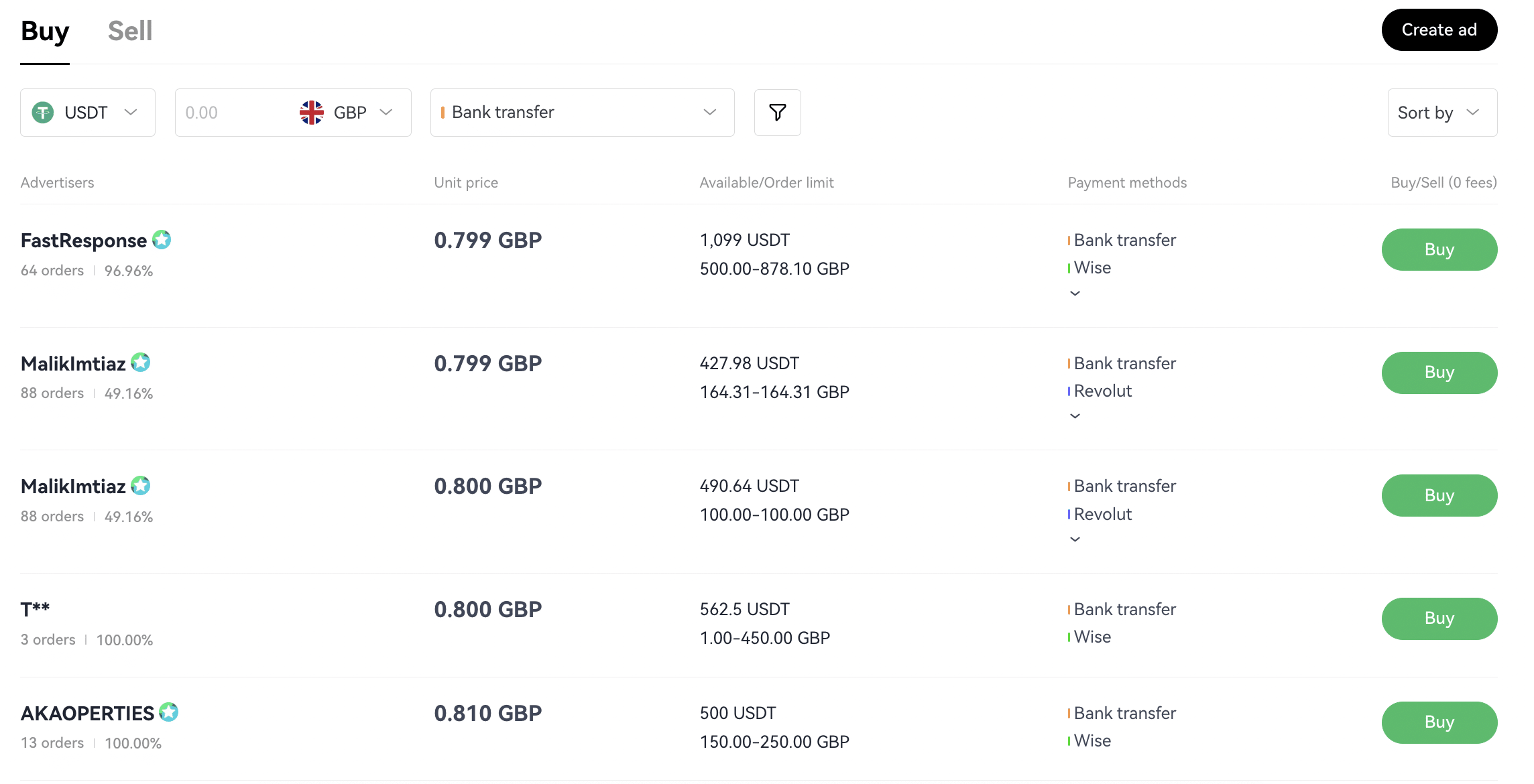 We like that OKX does not charge any fees on P2P trades. Instead, buyers simply pay the exchange rate specified by the seller. This can be higher or lower than global spot market prices. Crucially, the OKX P2P exchange has an eBay-style rating system After a trade is completed, both buyers and sellers can leave a rating alongside feedback. This is available for all OKX users to see. As such, buyers and sellers are incentivized to trade with good intentions.
Another feature of the OKX P2P exchange is it allows buyers to set their own terms. For example, a buyer might want to purchase Bitcoin at $28,500 via PayPal. If there is a seller that likes the terms, they can accept the deal. Most importantly, all P2P users must upload a government-issued ID. This ensures that the OKX P2P ecosystem is safe for all.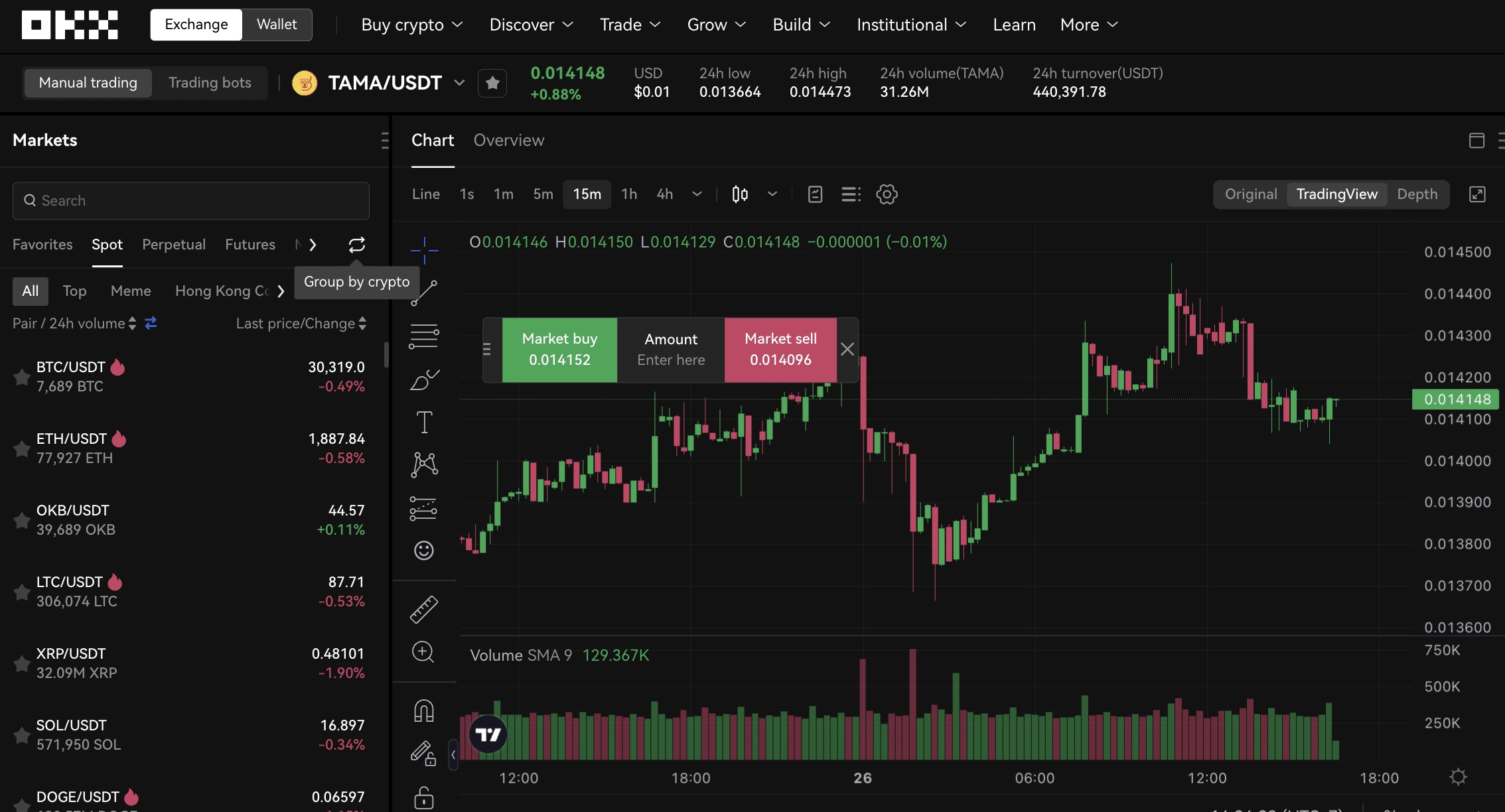 We also found that the OKX P2P exchange is a great way to access the best-emerging cryptocurrencies. For example, OKX was the first exchange to list Tamadoge in late 2022. For those unaware, Tamadoge is a play-to-earn gaming ecosystem. Players mint an NFT pet and enter it into battle to win TAMA tokens, the native asset of the project. After listing on OKX, Tamadoge generated gains of over 10x.
2. Binance – Highly Liquid P2P Marketplace With Over 100 Payment Methods Supported
While Binance is best known for its spot trading platform, it is also the best P2P crypto exchange for active traders. The Binance P2P exchange supports seven cryptocurrencies; Tether, Bitcoin, BUSD, BNB, Ethereum, Shiba Inu, and Cardano. Buyers and sellers can trade these cryptocurrencies with over 100 supported payment methods.
In Australia, for example, popular methods include Wise Instant, OSKO, Revolut, and even cash deposits into a bank account. While in the UK, popular payment methods include Faster Payments transfers, Skrill, and Neteller. We found the Binance P2P exchange very user-friendly, with suitable filters for both buyers and sellers.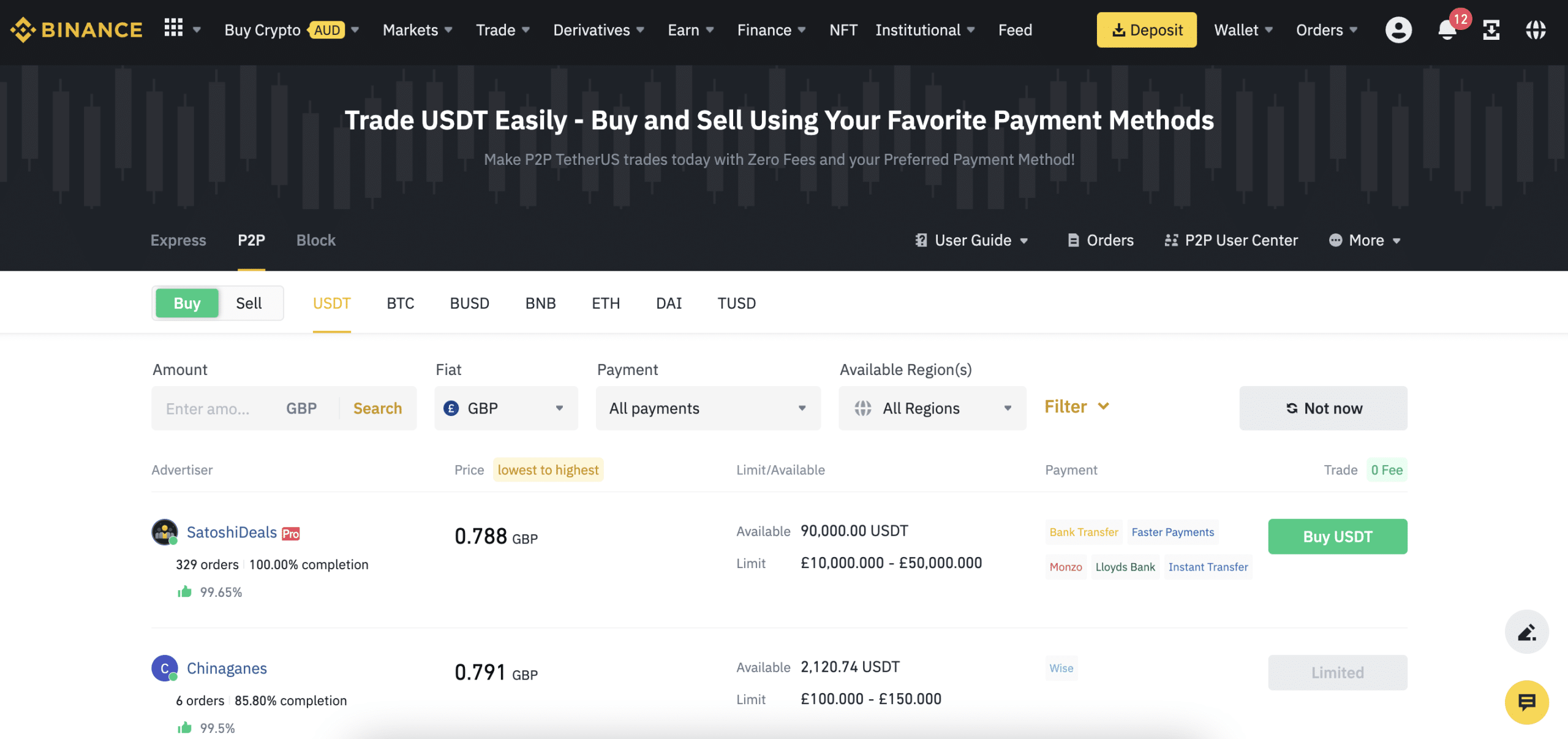 For example, buyers can search for deals based on their preferred fiat currency or payment method. Deals are then listed based on the exchange rate quoted by the seller. Once a deal is accepted by a buyer, the seller will transfer the cryptocurrencies into the Binance escrow wallet.
This is only released once the seller confirms they received the payment. No fees are charged by Binance on standard P2P trades. However, if a buyer or seller wishes to place an ad at their preferred price, a fee of up to 0.35% will apply.
3. KuCoin – Popular P2P Exchange for the Emerging Markets
KuCoin is one of the best P2P crypto exchanges for investors living in emerging markets. It has a strong focus on payment methods and currencies from countries that have restrictions on cryptocurrency trading. For example, Vietnamese traders can buy and sell cryptocurrencies with Momo, a popular domestic e-wallet.
Indian traders also have access to a wide range of local payment types. This includes everything from PhonePe and UPI to IMPS and standard local bank transfers. That said, the KuCoin P2P exchange also supports major currencies, such as USD, EUR, and GBP.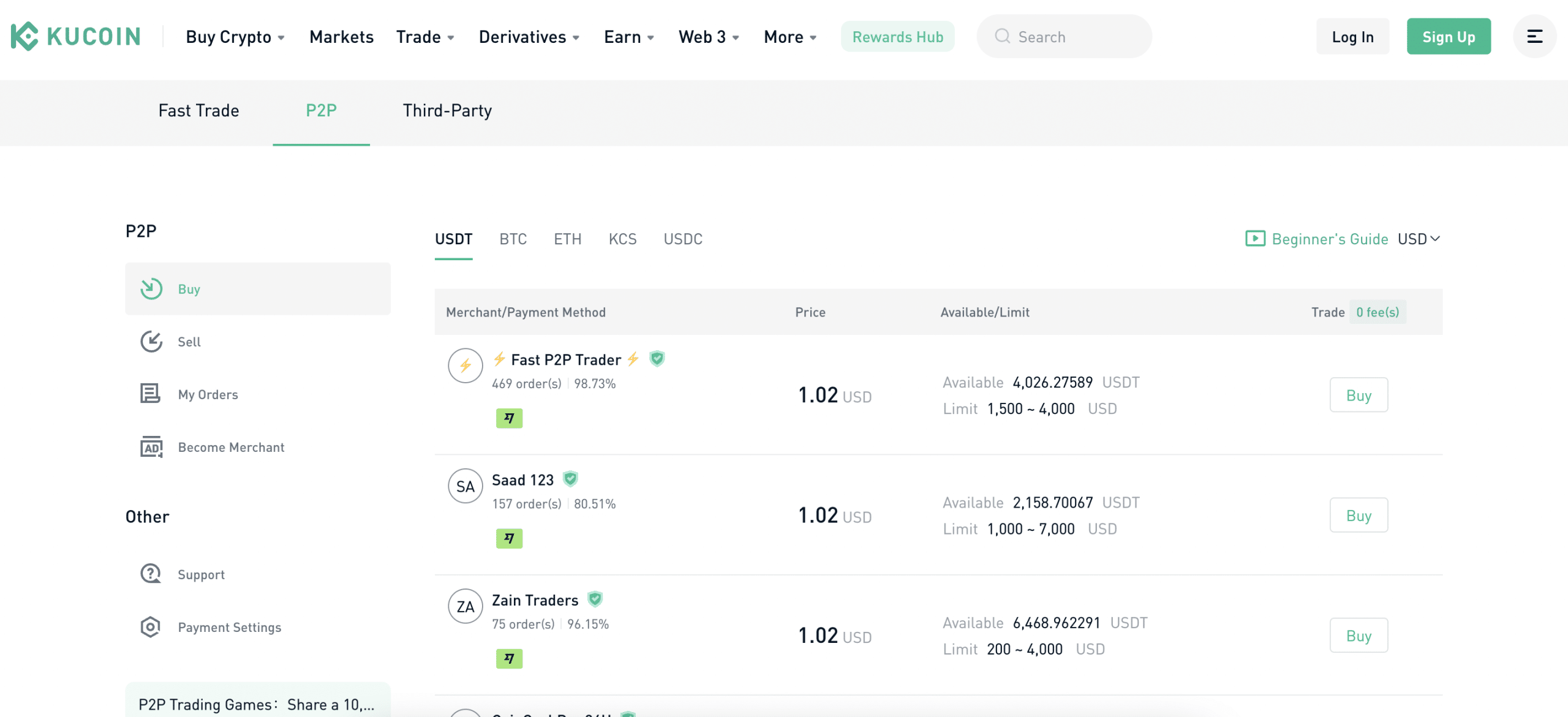 In terms of available cryptocurrencies, KuCoin supports Tether, Bitcoin, Ethereum, USD Coin, and KuCoin Token. Traders will be pleased to know that KuCoin does not charge any fees on P2P orders. Instead, buyers pay the exchange rate quoted by sellers.
4. Paybis – Supports Over 150+ Crypto and Fiat Assets
Launched in 2016, Paybis is a crypto trading platform that supports over 150+ crypto and fiat assets that you can buy exclusively using fiat methods such as credit or debit card, Skrill, Neteller, Giropay, Apple Pay, Google, and more.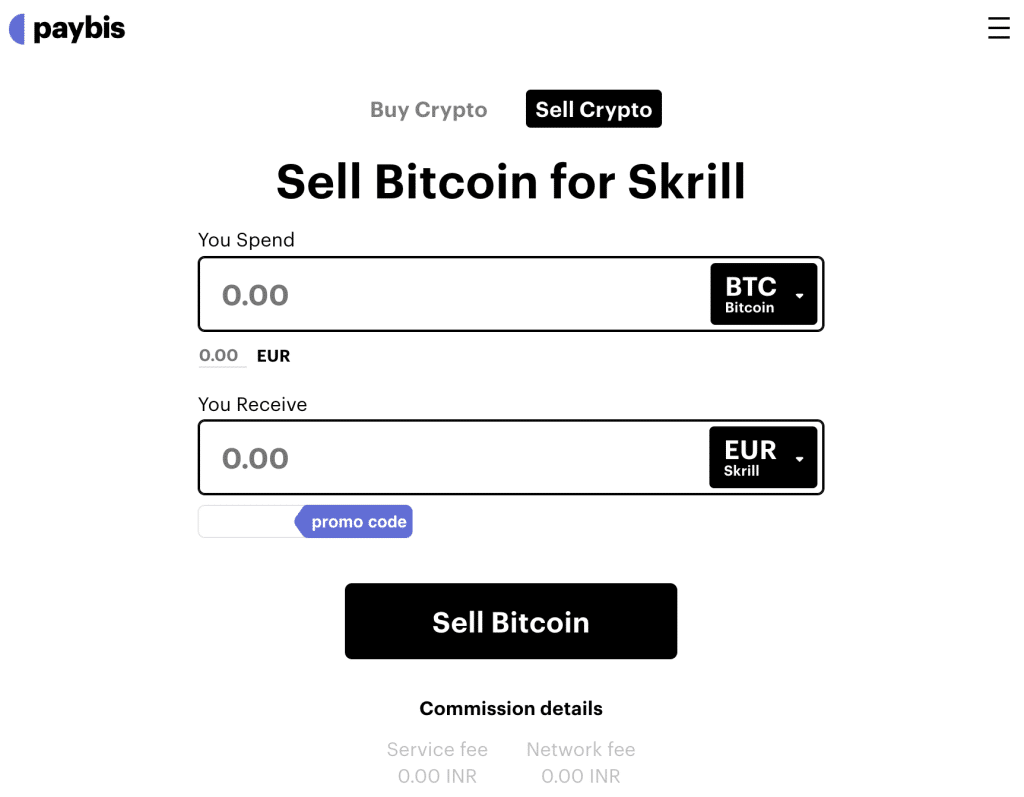 The platform can also be used to sell multiple assets, including Bitcoin, Ethereum, Tether, USDC, Cardano, Dogecoin, and Litecoin, to name a few.
As a licensed casino, Paybis has the license to operate in 48 states in the US. It also adheres to EU regulations, which makes it accessible in 180 countries.
Among its most notable features are low commissions, 24/7 customer support, fast security checks, industry-leading security standards, and instant payouts.
Paybis also has its own secure crypto wallet that users can leverage to buy, sell and store crypto assets. The wallet comes with its own set of security features, such as two-factor authentication and three-layer protection. It also involves a private key that keeps a user's assets safe.
While Paybis hasn't introduced a P2P trading facility, it might do so soon as it is introducing new utilities.
Overall, it is the site's simple UI, combined with an inclusive fee model and its regulatory nature, that has made us add it to the list of the best P2P trading platforms in 2023.
5. Huobi – 0% Commission P2P Exchange With 24/7 Customer Support
Huobi is another P2P crypto exchange that is popular with traders in the emerging markets. In particular, Huobi is preferred by traders in Asia, with supported countries including Vietnam, Malaysia, Taiwan, Indonesia, and the Philippines. That being said, Huobi supports just 59 payment methods.
This is much less than many other P2P exchanges. Nonetheless, some of the most popular payment types include Skrill, Neteller, Perfect Money, ADVCash, and domestic bank transfers. The Huobi P2P exchange supports just six cryptocurrencies; Tether, Bitcoin, USDD, Huobi Token, Tron, and Ethereum.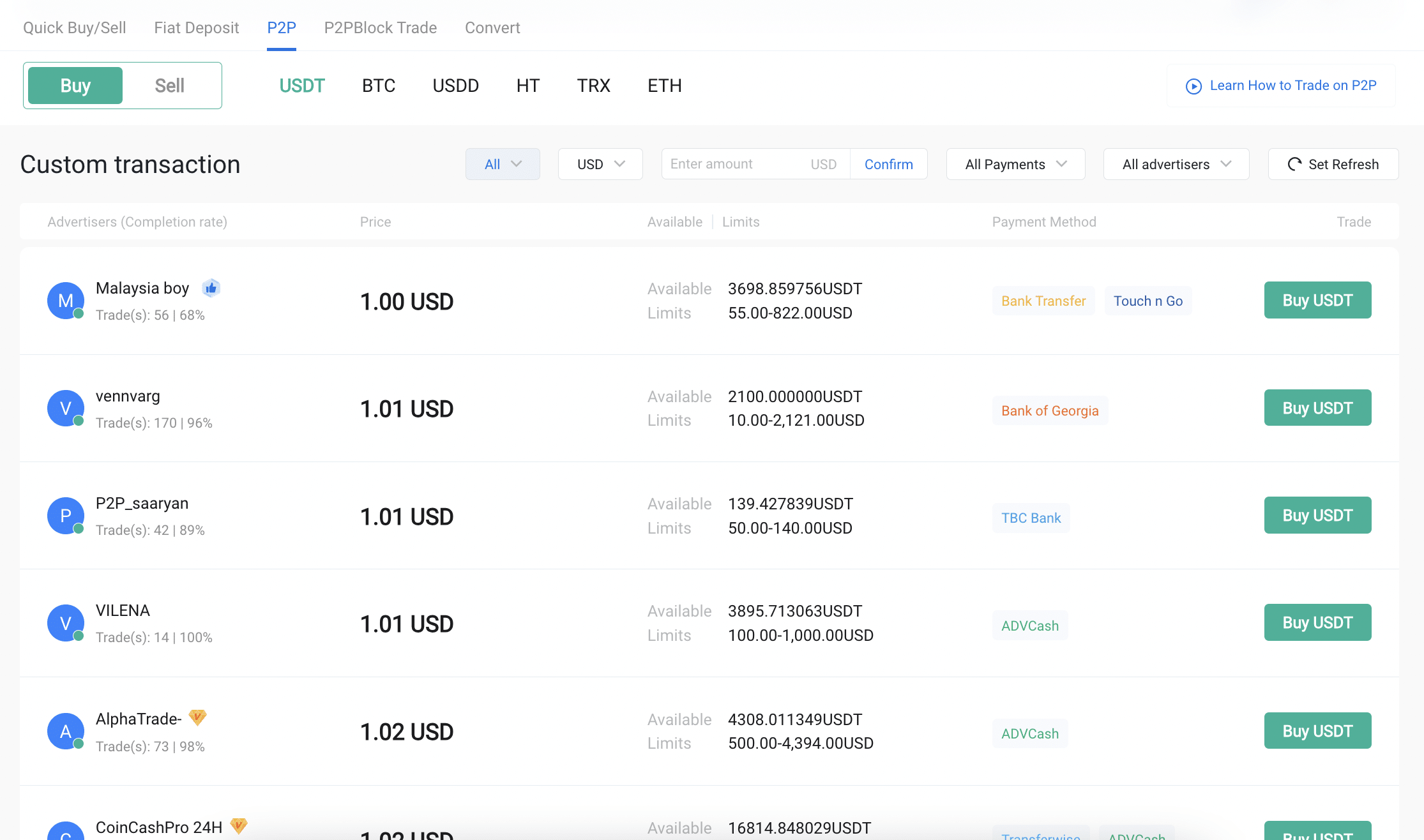 Huobi does not charge buyers or sellers any fees when conducting trades. Moreover, we like that Huobi offers customer support 24 hours per day, seven days per week. In terms of security, Huobi has developed an Anti-fraud Practitioner. It claims this tool can detect suspicious P2P listings. Huobi also runs a bounty program, rewarding users for notifying it of suspicious traders or website vulnerabilities.
6. Paxful – Specialist Peer-to-Peer Exchange Supporting 350+ Payment Methods
Unlike the other platforms discussed so far, Paxful is a specialist peer-to-peer exchange. Launched in 2015, Paxful supports just three cryptocurrencies; Bitcoin, USD Coin, and Tether. That said, more than 350 payment methods are supported. This includes everything from Apple Pay, PayPal, and M-Pesa to Venmo, local bank transfers, and Skrill.
What's more, Paxful even accepts gift cards issued by over 130 merchants. This includes Amazon, iTunes, eBay, and Steam. We found that Paxful is one of the best peer-to-peer crypto exchanges for beginners. Its website is very user-friendly and supported filters make it easy for buyers to find suitable sellers.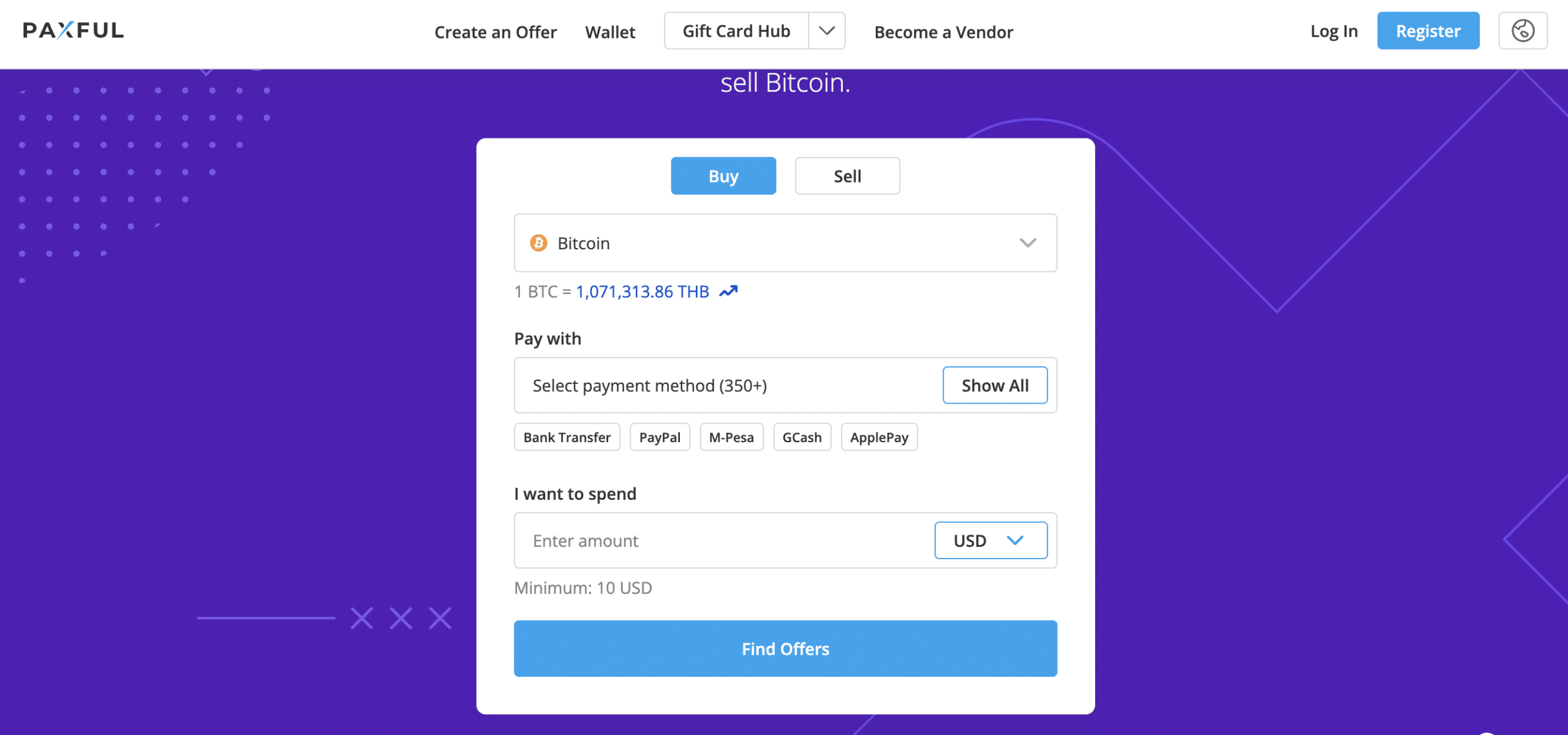 For instance, buyers can select the cryptocurrency, payment method, fiat currency, and amount. Buyers are also treated to fee-free P2P trades, regardless of the amount or payment method. That said, sellers must pay 1% of the transaction amount. In light of this, exchange rates on Paxful are often less competitive than other P2P exchanges.
7. LocalCoinSwap – User-Friendly P2P Exchange Supporting 20+ Cryptocurrencies
LocalCoinSwap is one of the best P2P exchanges for supported cryptocurrencies. The platform supports over 20 digital assets, including Bitcoin, Ethereum, Tether, USD Coin, DAI, BNB, BUSD, and Tron. Not only does LocalCoinSwap list a wide range of markets but also payment methods.
Over 300+ payment types are supported, including dozens of e-wallets. This includes Yandex, WebMoney, YooMoney, and WeChat Pay. Plenty of local and regional banking systems are supported too. This includes SEPA, SWIFT, PayID, Interac, and IMPS.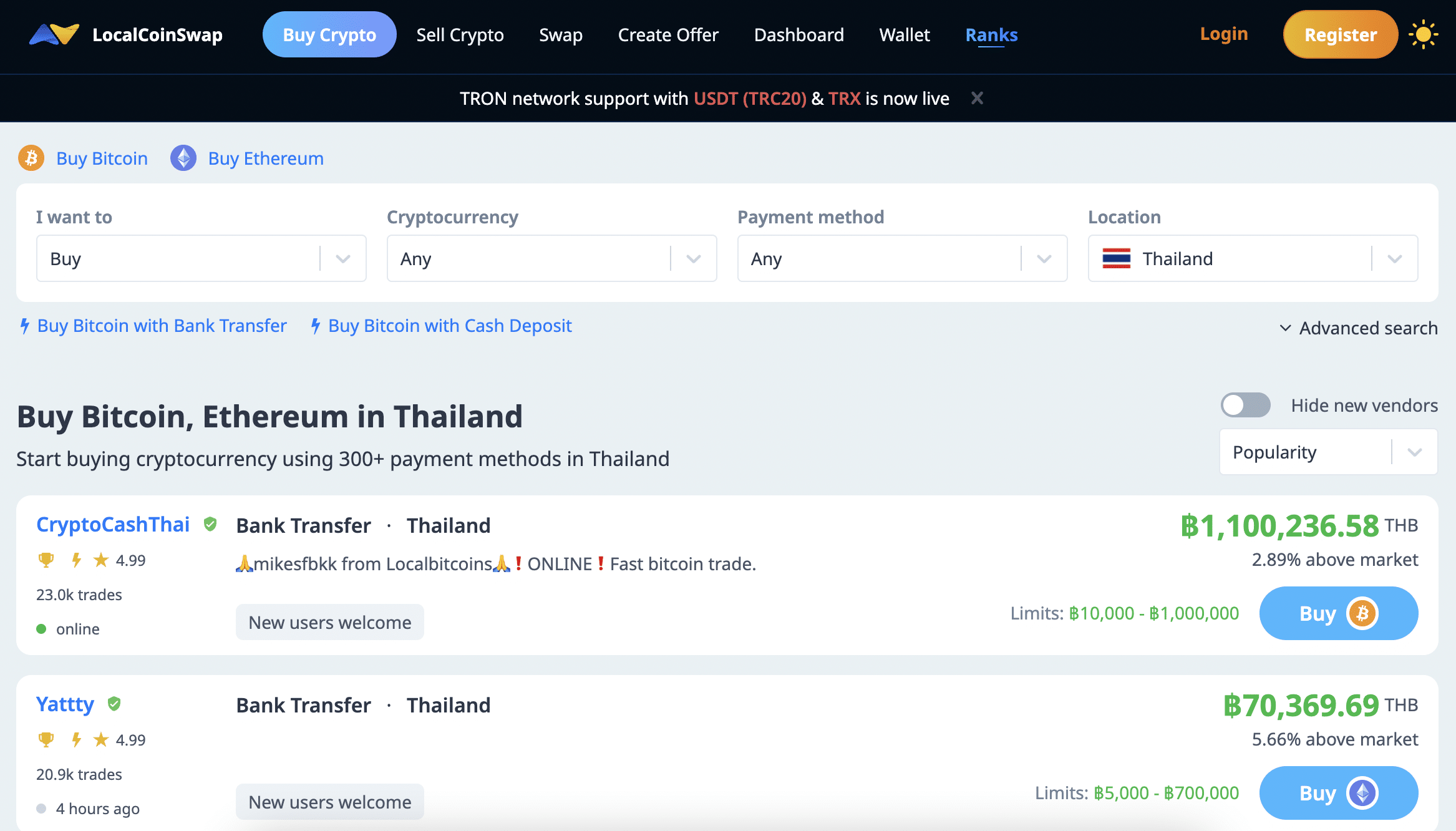 We also like that LocalCoinSwap offers a beginner-friendly dashboard, making it simple to find and complete deals. The platform has a fully-fledged rating system, including reviews left by buyers and sellers. Best of all, LocalCoinSwap does not charge fees to maker takers. Those completing a deal after creating an ad will be charged 1% of the trade amount.
8. Bybit – Top P2P Marketplace for Trading Leveraged Cryptocurrencies
Bybit is one of the best P2P crypto exchanges for regular traders. This platform is best known for its margin trading accounts, which allow traders to access leverage of up to 100x. It also offers spot trading leverage of up to 10x. Bybit also has one of the lowest commission structures in the crypto space.
For example, spot trading commissions start from just 0.1%. While leveraged perpetual and futures contracts can be traded from 0.06%. In terms of its peer-to-peer marketplace, Bybit supports four cryptocurrencies, Bitcoin, Ethereum, Tether, and USD Coin. Dozens of fiat currencies and payment methods are supported.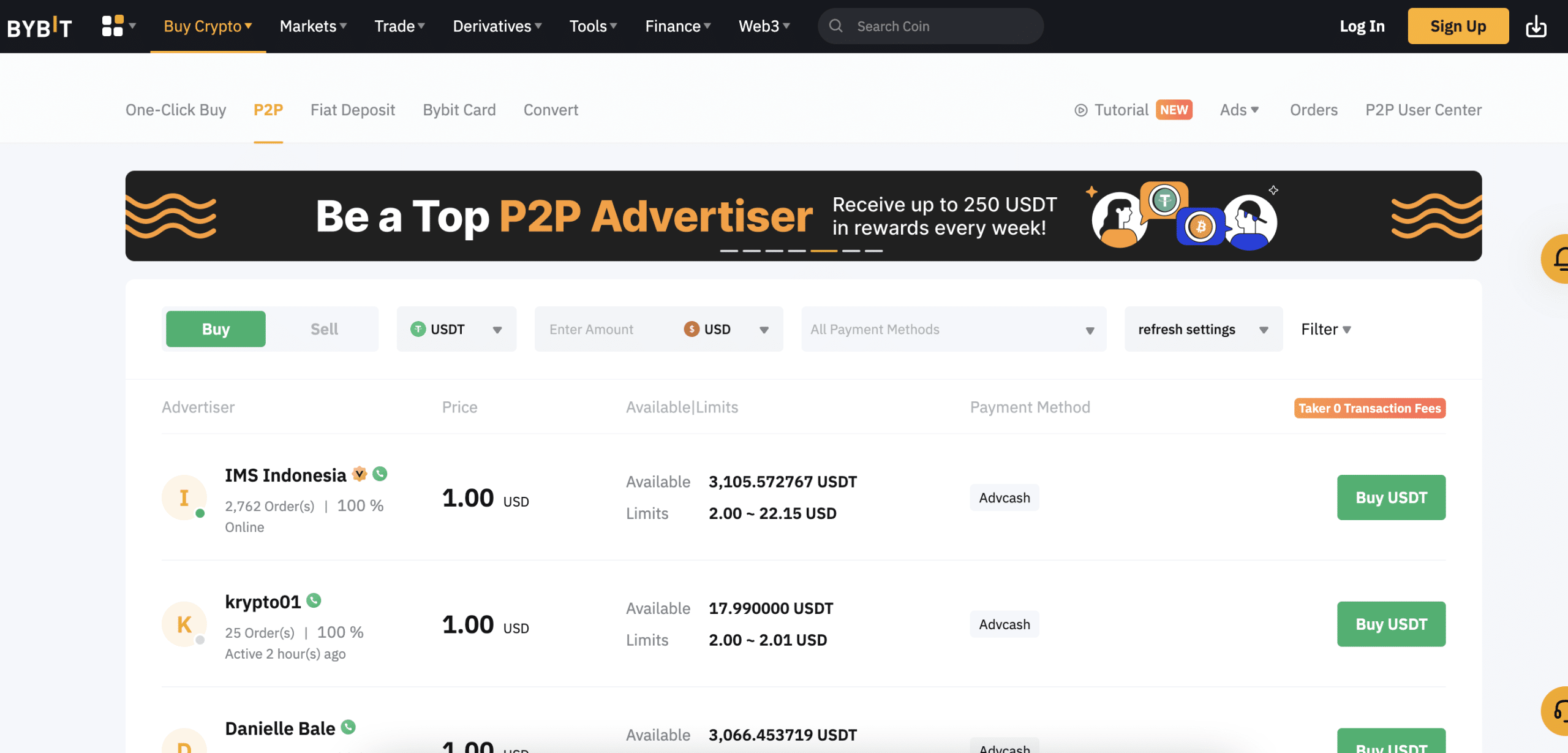 The latter includes everything from Wise, Yandex, and Skrill to PayPal, Paysera, and Payeer. We also found that Bybit sellers offer some of the best rates in the market. For example, plenty of sellers offer USDT at $1.00. Moreover, those trading cryptocurrencies on the Bybit P2P exchange will not pay any fees. This is the case for both buyers and sellers, covering market makers and takers.
9. Uniswap – Leading Decentralized Exchange for Crypto-to-Crypto Trading
Uniswap is a popular decentralized exchange that supports crypto-to-crypto trading. It operates without any third parties or centralized order books, meaning traders can buy and sell cryptocurrencies anonymously. Moreover, there is no requirement for sellers to be present when swapping tokens.
This is because Uniswap is a pioneer of the automated market maker (AMM) framework. In a nutshell, its AMM allows traders to swap tokens via liquidity pools. This is an efficient, cost-effective, and truly private way to buy and sell digital assets.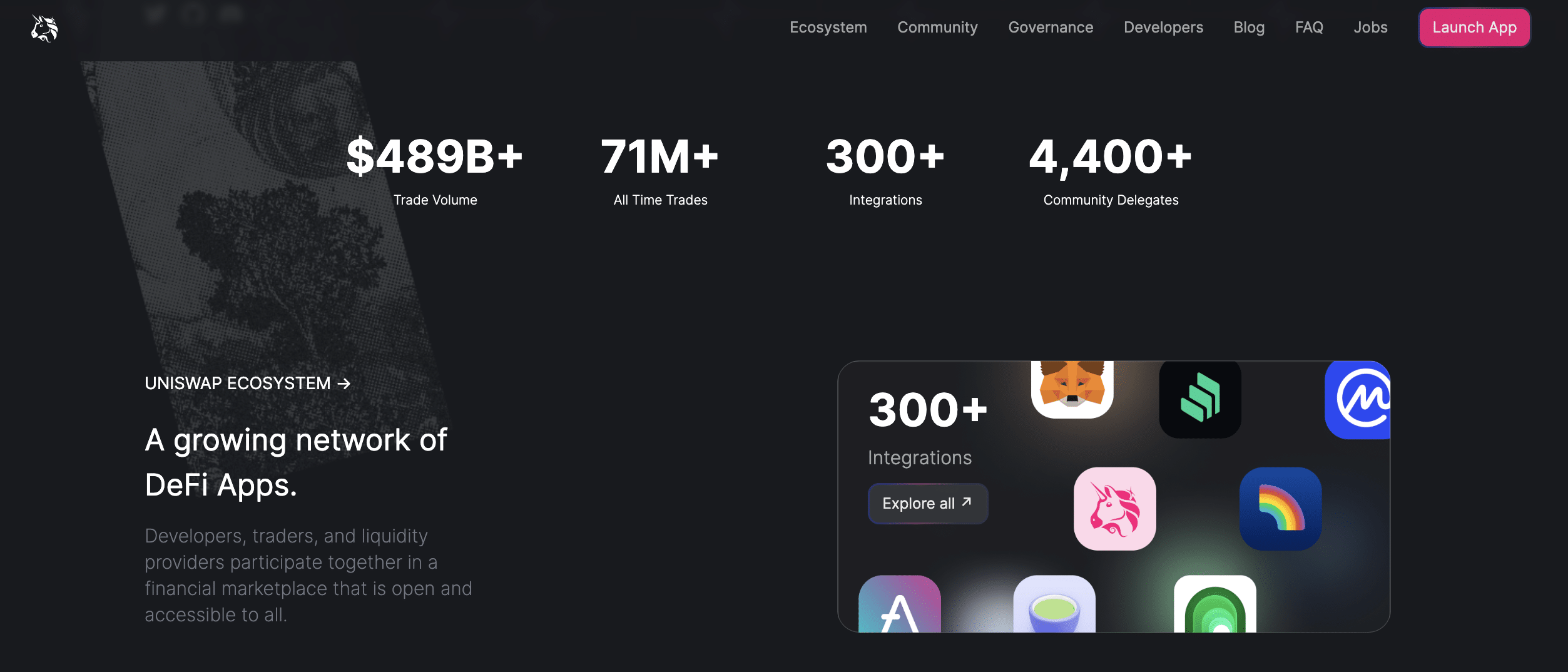 Moreover, Uniswap is also one of the best P2P crypto lending platforms. Lending cryptocurrencies to a Uniswap liquidity pool yields passive income. This is because lenders receive a portion of trading fees generated from the pool. That being said, Uniswap does not support any fiat payment methods. Instead, users can only trade with cryptocurrencies.
10. Bisq – Decentralized P2P Exchange With Anonymous Accounts
Bisq considers itself the best P2P Bitcoin exchange for trading anonymously. It is unique because of its open-source approach to P2P trading. For instance, unlike other platforms, buyers and sellers run desktop software on their own servers. This is supported for both Windows and Mac devices. Once installed, buyers and sellers can connect without going through a centralized intermediary.
There is no requirement to open an account, let alone upload any KYC documents. Moreover, the Bisq software facilitates fiat payment agreements. However, while this promotes anonymity, users should consider the risks. For a start, there are limited resolution systems in place if one of the transacting parties commits fraud.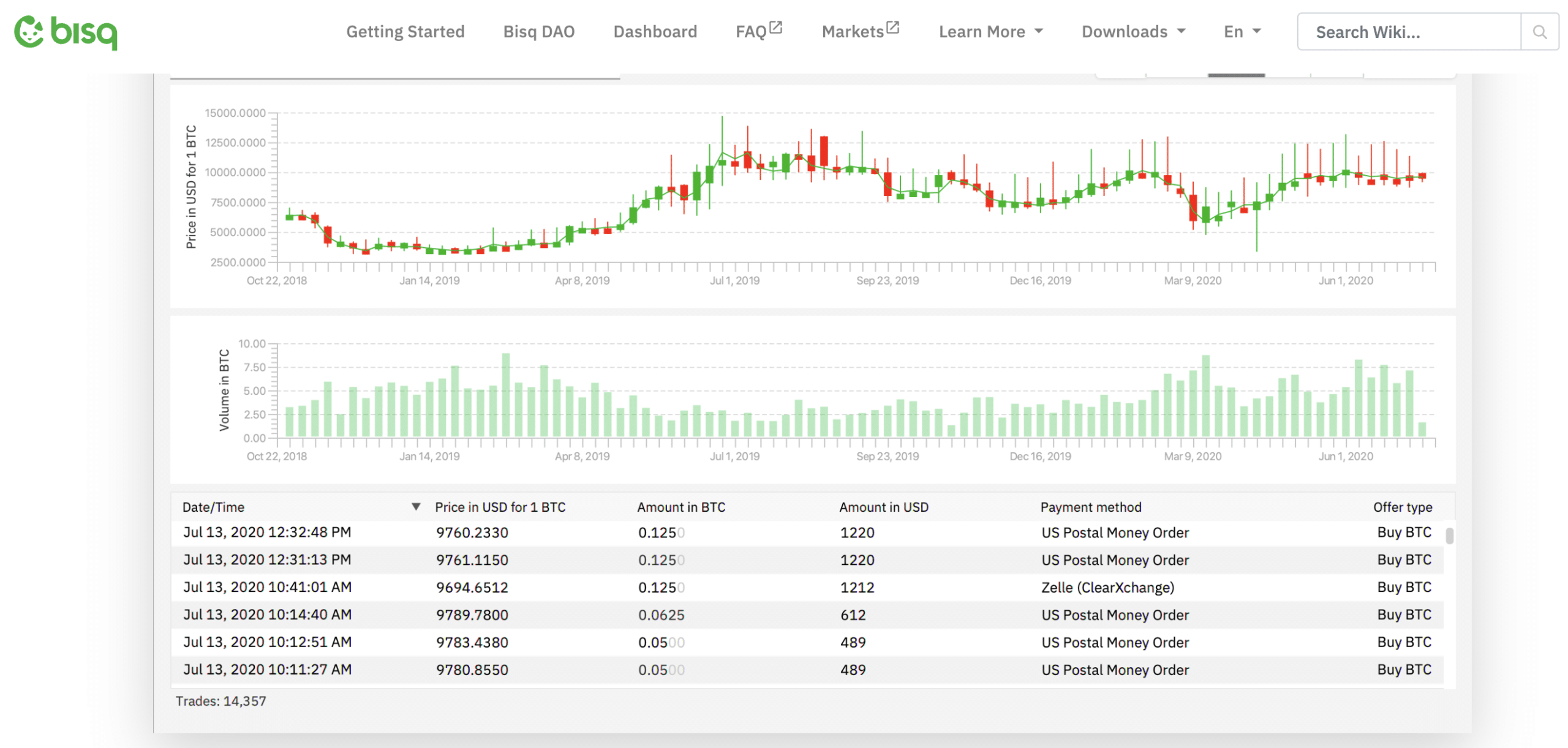 While both parties are required to pay a security deposit, this is only a fraction of the overall transaction size. The combination of anonymity and fiat currency also prevents money laundering risks. Another drawback of Bisq is that liquidity levels are often non-existent. Finally, Bisq charges trading fees of 0.1% and 0.7% for market makers and takers, respectively.
11. BitValve – Smooth P2P Trades for People Living in Restrictive Countries
BitValve is one of the best P2P Bitcoin exchanges for users living in countries with strict crypto regulations. For example, it specifically offers local payment methods for traders based in China, Kenya, Ghana, India, Nigeria, and Cameroon. Supported payment types include everything from mobile phone credit, Apple Pay, Chime, Payoneer, and Xoom.
This is in addition to local bank transfers and gift cards. We like that BitValve supports a wide range of cryptocurrencies. This includes Bitcoin and some of the best altcoins. For example, Ethereum, Cardano, Litecoin, Monero, DAI, Ripple, and Tether. It also supports Dogecoin, Loopring, Chiliz, and Shiba Inu.

The platform uses standard escrow systems as a means to protect buyers and sellers. Exchange rates are quoted directly by sellers, who also determine what payment methods they accept. When it comes to fees, only the buyer or seller that posts the offer is charged. This stands at 0.8% of the trade size when fiat is involved. Crypto-to-crypto trades are cheaper at 0.35%.
How do Peer-to-Peer Bitcoin Exchanges Work?
P2P exchanges come with both their benefits and risks. Before proceeding, it's wise to have a firm grasp of how P2P exchanges work.
Below, we explain the common process required to trade on P2P exchanges.
Sellers List Their Offers
First and foremost, those looking to sell their cryptocurrencies will list their offer on the P2P exchange.
Sellers will set the price that they are happy to accept for the respective cryptocurrency. This is in addition to the amount they want to sell and which payment methods they accept.
For example, the seller might post the following offer:
Crypto Asset: Bitcoin
Price: $30,500
Accepted Currency: USD
Amount: Up to $5,000
Accepted Payment Types: PayPal, Skrill, ACH
Sellers are motivated to be as competitive as possible, considering that they are competing with other market participants.
Buyers Search for Their Preferences
At the other end of the transaction are buyers. The buyer will begin the process by setting their trade parameters.
For example, the cryptocurrency they want to buy and what fiat currency they want to pay with. The buyer will also specify the amount they want to purchase and the required payment method(s).

The P2P exchange will then list all offers that match the requirements. This is usually listed from the best exchange rate downwards.
The Buyer Accepts a Deal and is Matched With the Seller
Once the buyer accepts an offer, they will be connected with the seller. There should be no requirement for the buyer and seller to communicate. Instead, the buyer should simply be shown the payment details provided by the seller.
For example, suppose the payment will be made via a local bank transfer. The seller will provide the name of the bank, account numbers, and a unique reference. The latter is important, as it ensures the transaction is matched to the specific offer.
Escrow and Payments
Once all details are confirmed, the seller will then deposit the cryptocurrency tokens into the P2P escrow. In the meantime, the buyer will make the payment.
After doing so, the buyer markets the payment as complete on the P2P exchange. This will notify the seller, who then checks that the payment has been received.
If it has, the seller marks the order as complete, and the cryptocurrency tokens are released from the escrow and delivered to the buyer's wallet.
Tips on Selecting the Best P2P Bitcoin Exchanges: Our Criteria
Still looking for the best peer-to-peer Bitcoin exchange, but not sure which platform to go with?
Here are some tips on what to look for when researching the best peer-to-peer cryptocurrency exchanges in 2023.
Supported Cryptocurrencies
The first metric to check is what cryptocurrencies the P2P exchange supported. The vast majority of P2P platforms support Bitcoin, Ethereum, and stablecoins like Tether and USD Coin.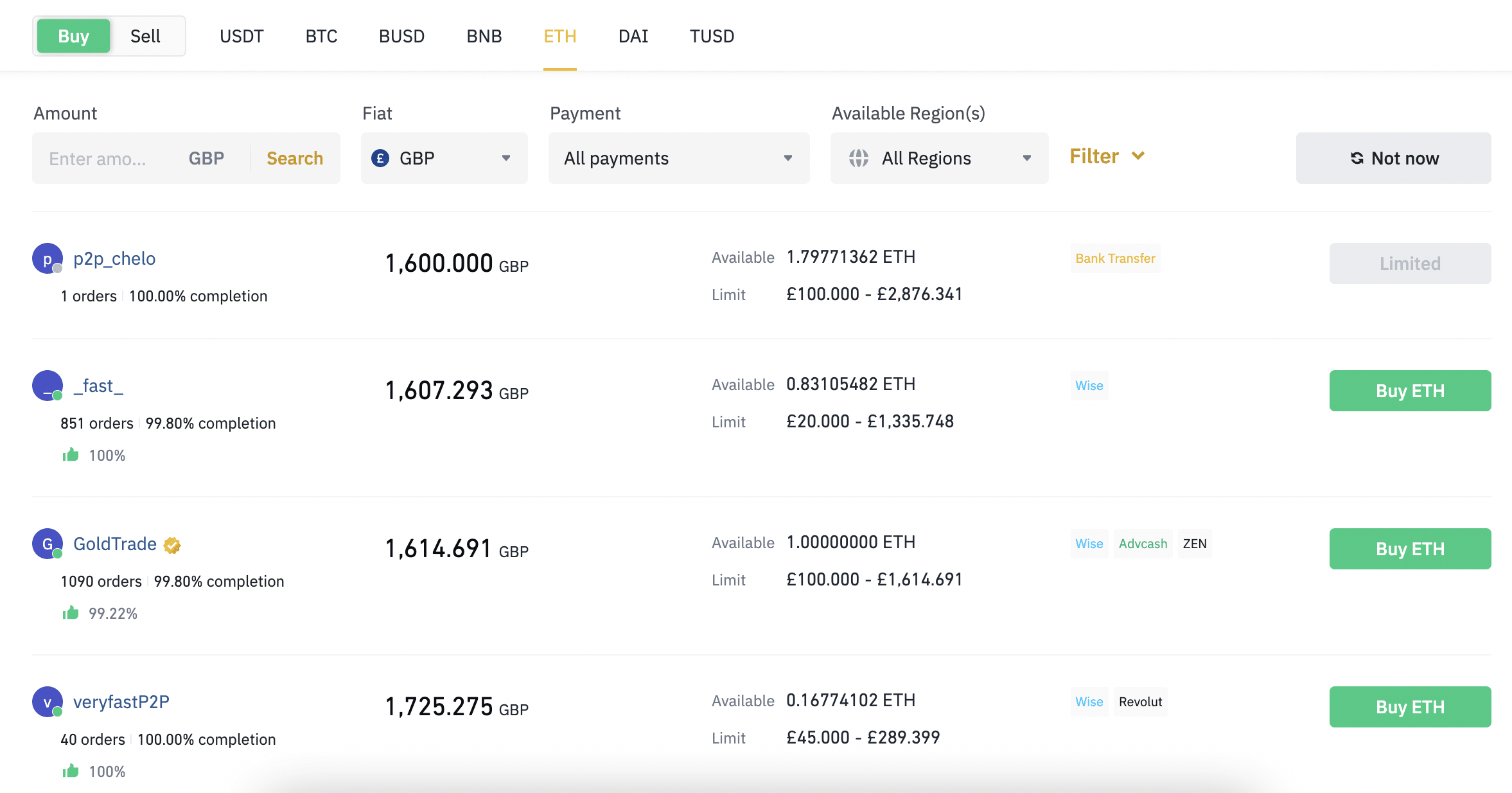 That said, the best P2P exchanges will also support other popular cryptocurrencies. For example, Dogecoin, Shiba Inu, and Cardano.
Supported Fiat Currencies and Payment Methods
It is also important to assess what fiat currencies the platform supports. This is in addition to payment types.
For example, OKX – the overall best P2P crypto exchange, supports over 100 fiat currencies and 900 payment methods. The latter covers all bases, including local and regional bank transfers, e-wallets, and mobile payments.
Ultimately, the more payment methods supported, the more buyers and sellers the platform will attract.
Fees
Be sure to check what fees apply when trading on a P2P exchange. The best P2P crypto exchanges do not charge fees to buyers or sellers. OKX, for example, is completely free to use.
However, some platforms charge fees to sellers. For example, sellers on Paxful pay 1% of the purchase amount.
Similarly, LocalCoinSwap charges up to 1% to market markets. This refers to buyers or sellers that publish their preferred rates.
Security and Safety
It goes without saying that security and safety should be a top priority when selecting a P2P exchange.
The main safety net in place is the escrow system. As noted earlier, this holds the seller's cryptocurrency tokens while the buyer is completing the payment.
There will usually be a time limit in place. If the payment isn't marked as received by the buyer, the deal will be canceled. This will result in the buyer receiving negative feedback from the seller. After all, the seller was unable to do other deals while the tokens were locked in the escrow.
Another important safeguard is that the vast majority of peer-to-peer exchanges require buyers and sellers to provide ID. Not only does this ensure that P2P ecosystems remain safe – but legally compliant.
Conclusion
In summary, peer-to-peer platforms offer a great alternative to traditional crypto exchanges. They are a lot more inclusive, not only in terms of accepted nationalities and currencies but supported payment methods.
Overall, OKX is the best P2P crypto exchange in the market. OKX supports more than 100 fiat currencies and 900 payment methods, not to mention a completely fee-free framework for buyers and sellers.
References
https://coinmarketcap.com/rankings/exchanges
https://tamadoge.io/
https://www.austrac.gov.au/business/core-guidance/customer-identification-and-verification/customer-identification-know-your-customer-kyc
https://coinmarketcap.com/currencies/tamadoge/
https://www.cnbc.com/2023/03/23/binance-employees-volunteers-tell-users-how-to-evade-china-crypto-ban.html
https://coinmarketcap.com/exchanges/okx/
https://www.binance.com/en/support/announcement/binance-p2p-to-update-fees-scheme-a2616be2618b490abbaba15fea9a80fe
https://www.ibm.com/topics/open-source
https://www.binance.com/en/OTC-Trading
FAQs