Launched in August 2020, Serum is a first-of-its-kind order book based decentralized exchange that allows buyers and sellers to instantly trade cryptocurrencies on Solana at their specified price and nominal fees. SRM is Serum's native cryptocurrency used to pay fees on Serum and participate in its governance.
To completely comprehend what Serum is and how it is different, we need to compare it with traditional decentralized exchanges like Uniswap. DEXes like Uniswap are powered by smart contracts that allow buyers to draw liquidity from liquidity pools. In AMM based trading, buyers and sellers cannot specify the trade price, sellers need to provide liquidity for both cryptocurrencies of the trading pair, and buyers cannot place conditional orders (stop-loss, take profit, etc).
The Serum is built on Solana, which processes 2,700 transactions per second, and can process up to 710,000 transactions. Moreover, each Solana transaction costs in the order of $0.00001. Thus, Serum's fully decentralized exchange enables users to trade cryptocurrencies at blazing speeds and low fees.
What Is Serum: Quick Facts
Serum was launched in August 2020 by Serum Foundation. The CEO of FTX Sam Bankman-Fried, and Alameda Research create the Serum Foundation.

Transactions on Serum are completed within a second and cost $0.00002 in gas.

Serum has cross-chain support, stablecoins, and wrapped assets. Traders on Serum have complete control over their trades; they can specify their trading price, set conditional buy/sell orders, and pick any order size.

Top DeFi protocols like Raydium, Atrix, and Mango Markets are built using Serum.

Serum uses a central limit order book technology to match buyers and sellers swiftly in a trustless, inexpensive, and non-custodial way.

Serum also provides an open-source DEX infrastructure allowing anyone to build a DEX in ten minutes.

Serum Core matching engine can facilitate trades for any financial asset, be it derivatives, spot, or semi-fungible tokens (SFT).

Serum has two cryptocurrencies – Serum (SRM) and MegaSerum (SRM). SRM is Serum's primary crypto asset, while 1 MSRM is created by locking 1,000,000 SRM tokens.
How Does Serum Work?
Serum is an on-chain order book built on Solana to facilitate cryptocurrency trades similar to traditional order book exchanges. The only difference is Serum is decentralized, cost-effective, and settles trades instantly, all thanks to Solana.
Here's a deep dive into how Serum work –
Order Book Based Trading
Serum maintains a list of all buy and sell orders on its platform using its central limit order book technology and matches trades on-chain. Most of Serum's functions are executed using smart contracts; however, there are nodes for 'turning the crank' i.e. match orders and run specific programs like providing blockchain history for cross-chain transactions. To become a node, one must stake 10,000,000 SRM and 1 MSRM.
Liquidity as a Service and Composability
If you paid attention to key takeaways in our what is a section, Serum also provides its order book services to developers enabling them to create novel DeFi solutions. In short, Serum acts as a lego-like open-source order book middleware allowing the developers to plug Serum's liquidity into their applications.
Serum's open-source DEX architecture also allows applications to benefit from the shared liquidity of the Serum-powered protocols. How does Serum work behind the scenes, you ask? Imagine DEX A and DEX B are built on Serum. A user of DEX A places a sell order. This sell order is recorded on the Serum order book, and it might be matched with the buy order from a user of DEX B without them knowing how the liquidity was sourced. As applications on Serum share the same liquidity, cross-protocol interactions become possible, increasing market depth and efficiency.
Decentralized Cross-Chain Swaps
Serum's whitepaper also emphasizes decentralized cross-chain swaps using collateral locking. Both the parties involved in the swap would lock collateral in a smart contract which will be returned to them only if they execute the agreed transaction honestly. If anyone raises a dispute, both parties will send blockchain histories to the smart contract, and the smart contract will punish the offender by forfeiting the locked collateral.
To build a reliable cross-chain infrastructure, Serum partnered with Raydium, which will provide yield on cross-chain assets and integrate the Wormhole bridge for cross-chain transfers between Ethereum and Solana.
Where Is SRM Used?
If we talk about SRM use cases, it is used for protocol governance, getting discounts on fees, participating in network activities, earning passive income, and purchasing cryptocurrencies.
Let's look at all the use cases one-by-one –
Hold More, Pay Less
Holding SRM tokens gives you massive discounts on trading fees on Serum. For instance, if you hold 1,000 SRM you need only to pay 3.8bps as taker fees while trading on Serum. Holding SRM gives you up to 60% off on fees.
Run a Node on Serum
You can run a node and receive rewards based on your nodes' performance by staking SRM tokens. You need a minimum of 10,000,000 SRM and 1 MSRM to set up a Serum node. By becoming a node, you will perform on-chain activities such as providing blockchain histories for facilitating cross-chain trades. You can also choose to stake your SRM holdings towards another node.
Participate in Governance
By running a node on Serum, you also get to propose changes to the Serum protocol. To table a proposal, you need to stake 50,000 SRM. If your proposal gets over 60% votes, it will pass. If not, your staked SRM will be burned.
Earn Interest on Your SRM Deposit
What if there's a way to earn passive yields on your SRM tokens without getting into the hassle of running a node? OKX Earnprovides just that! You can deposit SRM tokens in OKX Earn's low-risk SRM savings pool and earn passive income. With OKX Earn, you get the flexibility to withdraw your deposit anytime.
Purchase Cryptocurrencies
As an informed crypto investor, you should diversify your crypto portfolio to manage risks. If you have a significant amount of SRM, you can trade some of it to buy top cryptocurrencies like BTC, ETH, USDT, SOL on OKX. You can trade SRM to buy crypto assets on our spot markets or swap SRM for over 100+ cryptocurrencies on OKX Convert.
Serum Founders and History
Serum's whitepaper was released in July 2020, highlighting the bottlenecks of existing Ethereum-based decentralized exchanges and the lack of cross-chain support. The Serum project was launched in August 2020 by the Serum Foundation, which included members like FTX, Alameda Research, and the Solana Foundation. The advisory board of Serum is helmed by Compund's founder Robert Leshner, FTX CEO Sam Bankman-Fried, CMS co-founder Dan Matuszewski, etc.
Serum selected the Solana blockchain to launch their DEX as it is faster and cheaper than Ethereum. Solana was also the best fit as it wouldn't cost a fortune to execute order book based transactions on its network allowing Serum to create a fully on-chain market matching engine.
As Serum supported applications to build on top of its order book, it skyrocketed to become the preferred backend for building DeFi apps on Solana. In November 2021, Serum had $1.5 billion in total value locked, and the project was home to many top Solana-based DeFi projects such as Raydium, Mango Markets, and Atrix.
SRM Tokenomics
As mentioned in our what is Serum section, Serum has two cryptocurrencies – SRM and MSRM. SRM has a total supply of 10 billion, while there can only be 1,000 MSRM tokens at any given time. SRM is used for governance and getting discounts on fees, whereas locking SRM to get MSRM gives you comparatively more rewards than SRM.
Out of all 10 billion SRM tokens, 10% SRM were initially unlocked, while the remaining 90% were set to be fully locked for the first year with a linear unlock schedule of 6 years, beginning on August 11, 2021.
On August 7, 2020, Serum sold 3 million SRM at $0.11 per SRM in their initial exchange offerings on FTX and BitMax. Serum also sold 4% of its supply in its presale round, raising nearly $20 million. Moreover, Serum also allocated 825 million SRM tokens as ecosystem incentives.
Here's a complete breakdown of SRM supply –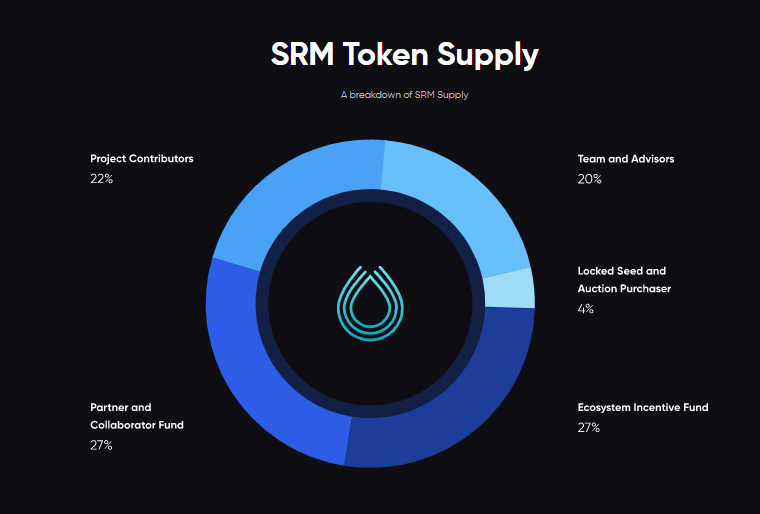 Speaking about SRM buy-and-burn mechanism, 80% of the fees received on Serum are collected by a smart contract every week to purchase SRM from the open market and burn it. The remaining 20% fees go to projects on Serum from Sept 2020 to Jan 2021 Serum burned a total of 703,146 SRM tokens. Messari suggests that nearly $350,000 worth of SRM are burned per week by Serum. On March 2022, Serum recently announced it had burned $524,732 worth of SRM in its weekly burning schedule.
How Are SRM Tokens Created?
SRM has a hard-capped supply of 10 billion tokens. 10% of the total SRM supply was unlocked initially, while the remaining 90% of the supply is set to unlock linearly from Aug 11, 2021, over the next few years.
When the unlocked tokens are sold in the open market, the circulation of SRM increases. Coingecko SRM listing shows 372,782,297 SRM in circulation as of Aug 2022.
Is Serum Winning the DeFi Race on Solana?
Data from DeFi Llama suggests that Serum is the top decentralized exchange on Solana, with $259.95 million in total value locked as of Aug 2022. Serum is followed by Raydium, Atrix, Saber, and Orca if we only consider DEXes among other DeFi projects listed on DeFi Llama. While it is true that Raydium and Atrix have their unique set of features, however, as these two platforms draw liquidity from Serum they cannot be considered direct competitors to Serum.
Let's compare Serum with Saber and Orca.
Orca is an AMM-based decentralized exchange that offers users token swaps, liquidity pools, and yield farming. Investors like Coinbase Ventures and Polychain Capital back it. On the other hand, Saber is the leading decentralized exchange for swapping stablecoins and wrapped assets across different blockchains. Saber counts Coin98 Ventures, Chamath Palihapitiya's Social Capital, Jump Capital, Multicoin Capital, and Solana Foundation as its investors.
Serum is way ahead of Orca and Saber when it comes to total value locked. While Orca and Saber each have nearly $95 million TVL, Serum has a TVL of roughly $260 million. Moreover, Orca and Saber are standalone DeFi projects. On the other hand, Serum is the order book middleware for many of the top projects like Raydium, Atrix, and Mango Markets.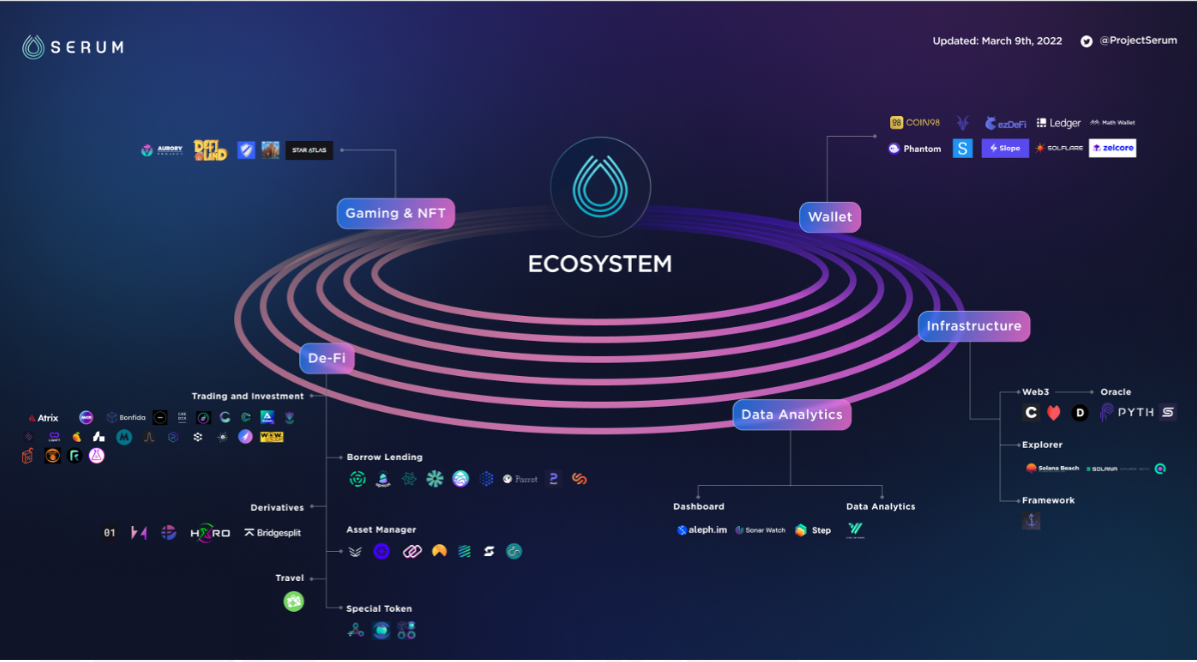 What stands Serum apart from other decentralized solutions on Solana, is its use cases across platforms from different domains. You can see from the above infographic that be it wallets, derivatives, or data analytics, projects from across the crypto ecosystem use Serum.
Serum Partnerships & Investors
As per Crunchbase data, Serum has secured $120.2 million in funding. Serum is funded by Tagus Capital, CoinFund, Jump Trading, Commonwealth Asset Management, and Genesis Block Ventures (GBV), among others.
Serum has an equally impressive list of partners including prominent names like 3Commas, Multicoin Capital, Alameda Research, Coingecko, Solana, FTX, AscendEX, Kyber Network, etc.
Serum Strengths, Weaknesses, Opportunities, and Threats (SWOT analysis)
Strengths
Serum is the pioneer of order book based decentralized exchange. As highlighted in our what is Serum discussion, Serum changed how users exchange assets by bringing unmatched speed, inexpensive fees, and the ability to customize orders, to the DeFi space. This is the biggest win of the Serum project. Another major strength of Serum is its open-source DEX infrastructure. It boosts Serum's adoption paving the way for it to become the de-facto DeFi backend for Solana-based projects. The fact that projects from all domains be it NFTs, DeFi, gaming, wallets, data analytics are building on Serum only strengthens this claim.
Weaknesses
Serum seems to be not so transparent when it comes to token distribution. In November 2021, the Serum community had concerns about SRM circulating supply. The fact that SRM had very low liquidity when compared to the unlocked supply. created chaos in the Serum community and demanded more clarity from the Serum team. The team did respond to the questions raised by the community, however, the reputation damage was done.
Opportunities
Serum boasts a long list of projects that draw liquidity from its order books. With lending, borrowing, yield features, and other DeFi services in development, Serum might become the go-to hub for all-things DeFi on Solana.
Threats
One of the major concerns of Serum is the Solana blockchain itself. Solana has faced major downtimes in recent times. In Jan 2022, Solana was down for a total of 9 times with outages lasting up to 17 hours. As of August 1, 2022, Solana faced 12 outages. Such downtimes cause disruptions in services and lead to major losses.
Serum Roadmap
Serum roadmap is divided into three phases. The First phase marked the launch of SRM and Serum DEX while the second phase included introducing a cross-chain bridge, DEX infrastructure for third-party developers, and ecosystem grants for projects building on Serum. With these two phases successfully achieved, Serum is building phase three of their project.
Phase 3 of Serum's roadmap includes launching DeFi services like lending, borrowing, more cross-chain bridges, AMMs, margin trading, etc.
If you read Serum's whitepaper, you would realize that Serum roadmap hasn't listed one of their key products – decentralized stablecoins – that are backed by a basket of stablecoins instead of maintaining reserves in a centralized bank.
Serum Updates, News, and Highlights
Serum has been lately focusing on NFTs and ecosystem expansion. They launched their NFT collection called Serum Surfers on April 12, 2022. Serum Surfers is a collection of 5,000 generative NFTs on Solna that gives holders several perks such as giveaways, access to conferences, events, parties, exclusive branded merchandise, and much more. The NFT collection was sold out in 15 minutes.
In the start of May, Serum released an updated list of the projects building using Serum which indicated its expansive ecosystem. Be it wallets like Ledger, analytics dashboard, asset management platforms, derivatives, gaming and NFT projects, you name it, the Serum has projects from all domains. You can check the project list here. Serum also announced its partnership with Ratio Finance and Atrix as well as community approvals for creating volume-based trading initiatives and voting escrow tokenomics in May.
To boost its NFT efforts, Serum partnered with Pyth Network, Vybe, and Burnt Finance in June 2022. In one of the major announcements, Serum launched a new suite of developer tools including a new SDK, CLI, and Serum explorer to make it easier for developers to build using Serum.
Serum also announced its partnership with the leading NFT marketplace on Solana MagicEden. With this partnership, Serum will power the first Semi-Fungible token (SFT) marketplace using Serum's Asset Agnostic Orderbook (Serum Core).
Is Serum Solana's Uniswap?
Uniswap is Ethereum's leading decentralized exchange and currently commands a TVL of over $6 billion while Serum is the top DEX on Solana. If we are considering the top decentralized exchanges on both the blockchains, Serum is undoubtedly the Uniswap of Solana.
Comparing Uniswap's TVL with Serum's won't be fair as Uniswap also benefits from the dominance of Ethereum in the DeFi space. Nonetheless, Serum is walking that extra mile to become the undisputed DeFi challenger. While Uniswap is an automated market maker, Serum offers decentralized cryptocurrency exchanges using order books and enables anyone to build applications on top of it. Innovations like Serum Core make Serum stand out as it facilitates transfers of any asset on-chain be it tokenized or not.
It would be interesting to see whether or not Uniswap implements a Serum-styled DEX model after ETH 2.0 is fully implemented and becomes economical and efficient to build order book based DEX on Ethereum. We cannot predict Uniswap's future moves. Nonetheless, whatever happens, DeFi is here to stay and projects like Serum are slowly bringing Solana on the DeFi map.
Where To Buy SRM?
You can buy SRM on OKX using your local fiat currency or with top crypto assets like BTC, USDT, USDC, ETH, etc. Our highly liquid markets, advanced trade matching engines, and beginner-friendly interface makes your SRM purchase a breeze. Join 20+ million traders on OKX and buy SRM with fiat, trade your existing cryptocurrencies for SRM, or swap 100+ crypto assets for SRM on OKX Convert.
How To Store SRM?
Being one of the leading cryptocurrency exchanges in the world, OKX employs multi-layered security to keep your funds secure. Storing SRM in the OKX wallet will give you both – unparalleled security and the flexibility to move SRM within seconds.
If you buy SRM on OKX, we automatically send it to your OKX wallet. You can check your SRM balance by selecting 'My assets' from the 'Assets' tab on the top-right. In case you hold SRM in a private wallet or on an exchange, you can move it to your OKX wallet in no time. Be it Solana-based SRM or ERC-20 SRM, we support both. To send SRM to your OKX wallet, hover over the 'Assets' menu, choose 'Deposit', and fill the deposit form.
We also support SRM withdrawals, in case you wish to move SRM from OKX to any Solana or Ethereum address. Go to the 'Assets' tab on the header and pick 'Withdraw' option to send SRM to your private wallet.
FAQs About Serum
How Can I Stake SRM Tokens?
SRM staking is now suspended by Serum.
What Are the Steps To Vote on Serum?
To create a proposal on Serum, you need to first discuss your idea on Serum's Community Form. It is recommended that you interact with the community on our forum post for at least 7 days before submitting it for a proposal on the DAO voting platform.
How To Trade on Serum?
Before trading on Serum, make sure you have a Solana-based wallet like Phantom or Solfare with enough SOL balance to pay for the transaction fees. Now, go to Serum's portal, select your preferred decentralized project from the available options, and start trading.
What Is Settlement?
Settlement refers to finalizing the transaction while you place a market or limit order on the decentralized exchange. You can choose to auto-approve transactions in your wallet in case you wish to automate this process.
Do I Need To Pay $0.02 SOL Everytime I Trade?
When you use a trading pair to execute your order for the first time, you need to pay a rent fee of $0.02 SOL to create an intermediary 'open account order' that communicates with the DEX. You can recover this fee in case you don't wish to use that trading pair again.