Crypto
Ethereum 2.0 – Here's what you NEED to know
Ethereum 2.0 (Formerly known as ETH2) is a series of upgrades to the Ethereum Blockchain which will improve its speed, efficiency, and scalability. This will allow Ethereum to handle significantly more transactions, improve smart contract stability and reduce network fees. Upon reaching the final phase of the upgrade, Ethereum will meet its goals of becoming a transparent and open network for Decentralized Finance (DeFi). This article breaks down the roadmap for this upgrade and key milestones of when they are released. The next big update coming in the second half of 2023 is the "Shanghai upgrade" which will have a significant economic impact.
What is Ethereum 2.0?
Ethereum 2.0 will involve sharding to drastically increase network bandwidth and reduce gas costs, making it cheaper to send cryptocurrencies and interact with smart contracts. There will be fundamental economic changes too, Ethereum 2.0 will allow support to stake nodes and to earn Ethereum as passive income. The Ethereum 2.0 upgrade will be done in 3 distinct phases starting with Phase 0 (after all, developers count from 0 instead of 1). Over the past few years, opponents of Ethereum have often criticized the network's high transaction costs and fragility during peak usage. This guide will cover the timeline for the upgrade to ETH2.0 and the solutions proposed.
Key Features of Ethereum 2.0
Efficiency – Ethereum will become 99.95% more energy efficient. It is estimated that after the upgrade, the network will no longer require an entire country's worth of power.
Sharding – Ethereum will be broken into 18 "Shards" that operate simultaneously. This will drastically improve efficiency.
Staking – Ethereum will move to Proof-of-Stake Consensus, so everyone can stake and help secure the network.
Security – Compromising the network will become much more expensive under Proof-of-Stake. 51% of attackers will also be easily identifiable with validator addresses and can be forked away from the network.
The 3 Phases of Ethereum 2.0
Ethereum 2.0 will be launched in 3 phases:
Phase 0- Beacon Chain – Completed in 2020
Phase 1- The Merge – Completed September 2022
Phase 2- Sharding
Phase 0: Beacon Chain
Launched on 1st December 2020, the Beacon Chain introduced Proof-of-Stake to the Ethereum ecosystem. The purpose of the Beacon Chain is to coordinate the Ethereum network and serve as the consensus layer. This Beacon chain is necessary to generate the randomness that actual proof of stake uses. It also acts as a crucial precursor to upcoming phases such as sharding.
Learn more with our Ethereum mining guide and learn how to stake Ethereum 2.0 on Allnodes.
Phase 1: The Merge
The Ethereum Merge was completed on the 15th of September 2022. This merged the Beacon chain from phase 0 into the original proof-of-work mainnet (i.e. the "execution layer", formerly known as "Eth1"). After the Merge is completed, ETH1 and ETH2 become the same network that uses the same ETH coin. Why the merge is so important and such a difficult task because it involved switching consensus mechanisms. An analogy for this would be switching the engine of a car from a gas to an electric-powered engine – whilst the car is still moving.
The Merge made the Ethereum network substantially more energy efficient as it no longer required cryptocurrency miners that consumed a huge amount of electrical power. It is calculated that there is an incredible 99.988% reduction in the energy necessary to run the network, meaning that current Ethereum Staking Nodes are incredibly energy efficient. It will also set the stage for future upgrades to the scalability of Ethereum such as sharding.
Phase 2: Sharding
By then, the Beacon Chain has already been launched and merged with the Ethereum Mainnet. The next stage will introduce sharding to the Ethereum Network.
Sharding on Ethereum means the database would be split horizontally to spread the load. Sharding will work together with layer 2 rollups. This divides the burden of handling large amounts of data needed by rollups over the entire Ethereum network.
Ethereum Sharding is realistically expected to be released in 2024.
Main features of sharding:
Everyone can run a node: Validators will no longer need to store all the data themselves. This drastically reduces the cost of storing data on layer 1 by reducing the hardware requirements.
More network participation and security: With sharding, you will be able to run Ethereum on a laptop or phone. This means more participation, greater decentralization, and more security.
What are layer 2 rollups?
Layer 2 rollups are an existing "layer 2" technology. This allows decentralized applications (dApps) to "roll up" transactions into one off-chain for submission. The effect of this is that it reduces the data needed to execute a transaction.
The combination of layer 2 rollups and sharding is what will achieve a transaction speed of 100,000 tps.
Learn more: Understanding layer 2 & scaling solutions: Arbitrum, Boba, Optimism, Polygon, Ethereum 2.0
What is the current state of Ethereum 2.0?
3 upgrades have been introduced since the launch of the Beacon Chain on 1st December 2020: the Berlin upgrade, London upgrade, Altair upgrade and Shanghai upgrade.
The Berlin upgrade was launched on 15th April 2021 and optimized gas costs for some EVM actions and increased support for several transaction types. The London upgrade was launched on 5th August 2021 and reformed the transaction fee market for the ETH 1.0 chain via EIP-1559 and removed or reduced gas fees for specific functions (Learn more about the London upgrade). The Altair upgrade was launched on 27th October 2021 and is the first scheduled upgrade for Ethereum's Beacon Chain. It added support for "sync committees" which enabled light clients, brought validator inactivity, and slashed penalties up to their maximum values.
The Ethereum network's Shanghai upgrade (also known as Shapella) was successfully completed at 22:27 UTC on 12th April 2023. To celebrate this milestone, ConsenSys launched an NFT collection called "Ethereum, Evolved: Shanghai". The NFT claim period begins on April 12, 2023, at 9pm EST and lasts for 72 hours. Find out how to claim this FREE NFT with our guide here.
The next major Ethereum upgrade is titled Cancun, which will feature proto-dank sharding, a feature that aims to improve scalability by improving fees and transaction times. The details of the Cancun upgrade have not yet been finalized.
Shanghai (Shapella) upgrade
The Ethereum network's Shanghai (also known as Shapella) upgrade took effect at 22:27 UTC on 12th April 2023 and was very successful. This upgrade combined changes to the execution layer (i.e. Shanghai), consensus layer (i.e. Capella), and engine API at epoch 194,048. The Shapella upgrade is important because it finally enabled withdrawals of ETH stakers/validators from the Beacon Chain, ahead of the implementation of the Ethereum Improvement Proposal (EIP)-4884 related to The Surge. This will improve the security of Ethereum's post-Merge proof-of-stake protocol.
Additionally, a set of EIPs that upgrade the Ethereum Virtual Machine (EVM) will be included in the Shanghai upgrade, such as EIP-3651: Warm Coinbase, EIP-3855: PUSH0 instruction, EIP-3860: Limit and meter initcode and EIP-4895: Beacon chain push withdrawals as operations. The EVM Object Format (EOF) may be removed from the Shanghai upgrade if it is not ready by the time of implementation. Once the Shanghai upgrade is complete, the network's next major event is the Sharding upgrade, which is expected to take place between 2023 and 2024.
Learn more about the Shanghai upgrade and how it is causing liquid staking derivative tokens to pump- Ethereum Shanghai Upgrade: Why Liquid Staking Derivatives are Pumping
How much ETH has been withdrawn since the Shanghai (Shapella) upgrade?
Since the Shanghai (Shapella) upgrade 228.82K $ETH has been withdrawn with 100.51K $ETH deposited (as of 10:00am HKT on 14th April 2023). At the same time, the current amount of $ETH being staked is 17.38M ($34.97B). And the pending withdrawal amount (including rewards) is 981K ($2.07B). Around 60.99K ($126.89M), is expected to be withdrawn in the next 11 hours.
You can see how much ETH has been withdrawn, deposited or staked since the Shanghai (Shapella) upgrade here.
Ethereum ETH prices since the Shanghai (Shapella) upgrade?
The Ethereum Shanghai (Shapella) upgrade took effect at 22:27 UTC on 12th April 2023 (06:27 on 13th April 2023 HKT). Before the upgrade, ETH was only trading at around $1,920 and remained the same a few hours after. However, the full effect of the Shanghai upgrade on Ethereum prices was seen around half a day and particularly 24 hours after the Shanghai upgrade. As of 11:30am HKT on 14th April 2023 (nearly 1.5 days after the Shanghai upgrade), Ethereum is trading at $2,109.87.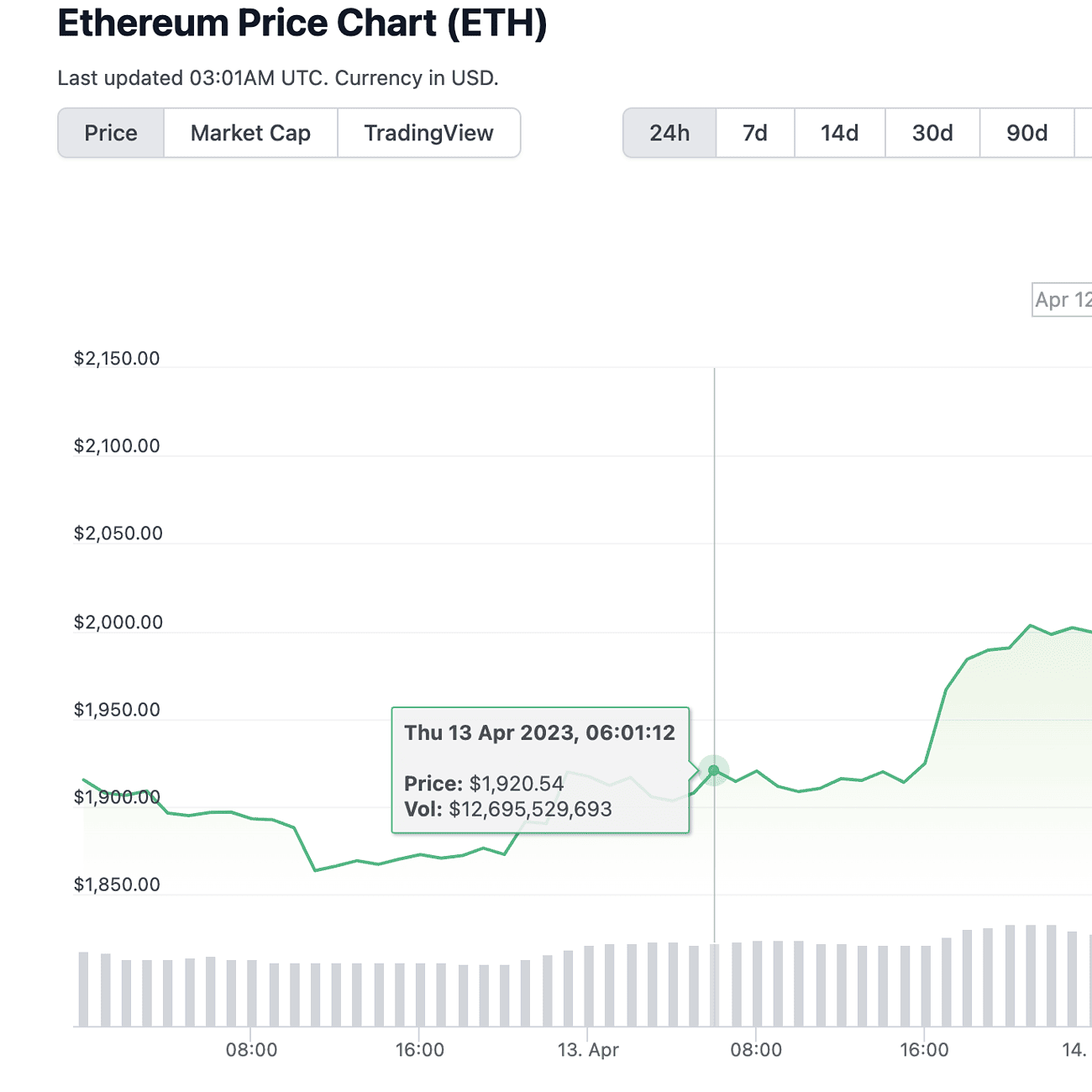 How to set up an Ethereum Validator Node
Check out our LIVE demonstration on how to set up an Ethereum 2.0 Node
I've also set up something called an Ethereum validator node for Ethereum 2.0. These nodes will be how Ethereum would run and how transactions are going to be validated in the future. So we're going to explore all of these concepts as well in this guide.
Currently you can test out Ethereum staking on the ETH 2.0 Testnet set up by Prysmatic labs (aka Topaz). Since it's a test, Ethereum will not be used, instead, it will use Göerli ETH, a free testnet version of ETH.
Staking Ethereum on a validator node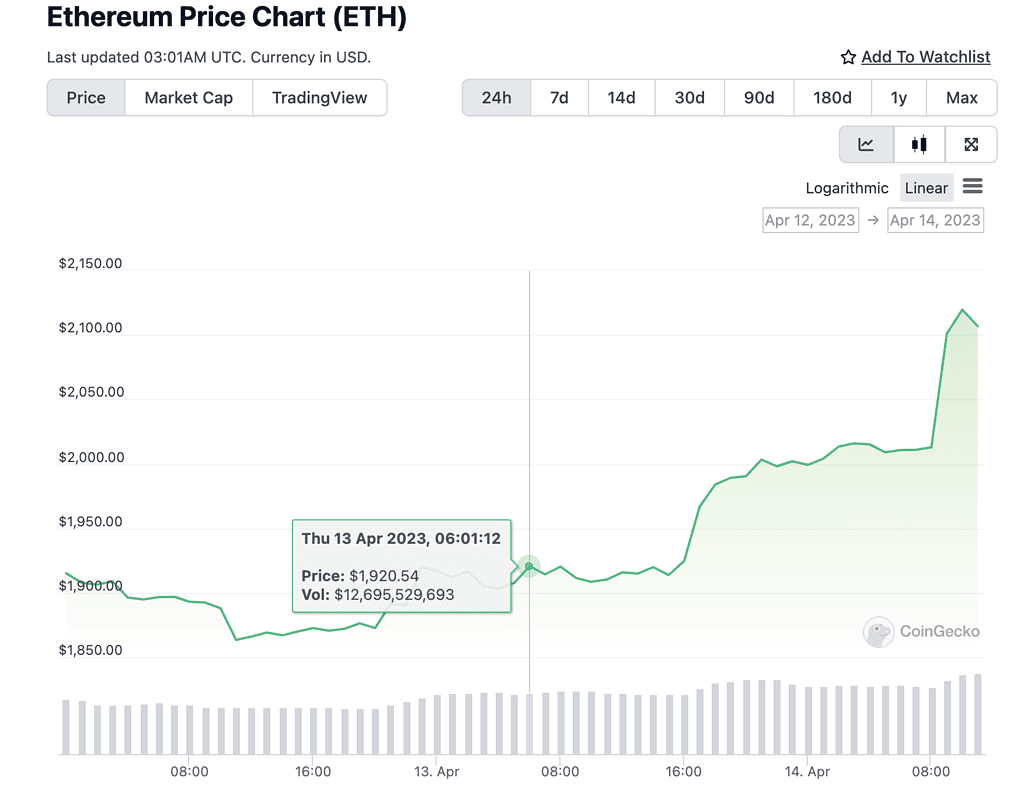 Ethereum 2.0 migrated the network consensus to a proof of stake mechanism. The staked 32 ETH2 is used to validate the transactions and states on the network. It also acts as a guarantee that the validator node will be honest and operational. In return, stakers will be rewarded with Ethereum.
This means that validators will generate Ethereum as passive income and receive ETH payouts slowly over time. Current calculations of Ethereum 2.0 staking show an annual 14.2% Return on Investment (ROI).
This will be great for those who stake ETH. This is because they can enjoy the benefits of passive income whilst personally holding their funds on the validator node. Analysts predict greater demand for ETH once proof of stake is implemented. This is due to additional demand for ETH from staking and validator nodes. Whilst at the same time, reduced demand for GPUs as Ethereum mining will eventually be phased out.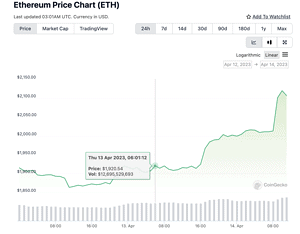 You can see the status of our Ethereum validator node in the image above. We had some initial downtime for the node, so we actually lost 0.01333 Ether. This was a penalty for missing our votes. So it is important to remember that votes are mandatory once a node is activated. An offline node will mean that votes are missed, resulting in a penalty of loss of ETH.
Ethereum Staking: Deposit contract address release
On 4th Nov 2020 the required specifications of ETH2 v1 and the Mainnet Deposit Contract Address for staking were released. This allowed ETH2 users to stake their ETH and become validators to help secure the network.
It's important to remember that it is not possible to simply send ETH to the contract. This will result in your transaction failing. You need to go through the launchpad and follow the guide. Moreover, as we stated previously, staking and running a validator requires effort, time and technical expertise. Failing to meet requirements can result in loss of part of, if not all, your ETH as penalties add up.
Ethereum Staking Update: Yields?
As of April 2023, I have earned around 4.373 ETH since setting it up 3 years ago. Note that results may vary. Those who set up their node earlier (as was in my case) were able to enjoy 16% APY. The current APR yield for staking ETH is around 5.16%. You can check the current APR, total ETH staked, and number of validators here.
Ethereum staking since the Shanghai Upgrade
The APR yield for staking ETH since the Shanghai Upgrade is still very good at around 5.16%. So I am planning to continue staking ETH so I don't miss out on this opportunity to earn more yield.
Progress of Ethereum 2.0 so far
More than 17.3 million $ETH is currently staked. Since the Shanghai Upgrade on 12th April 2023, over 107K $ETH has been deposited in the contract address. There are currently 568,291 validators and a Participation Rate of over 99%. The Participation Rate is a measure of ETH2's network health as it shows the number of validators actively participating in the consensus mechanism. A good rate would be always above 80-90% to ensure the security of the chain.
Unlike before, Ethereum 2 proceeds in epochs (32 blocks), every 6.4 minutes (if no abnormalities are detected). You can always check this metric here: beaconscan.com/epochs.
What's next in the development of Ethereum 2.0?
Phase 0 – Beacon Chain is already completed, and development would move onto building Phase 1- The Merge and Phase 2-Shard Chains.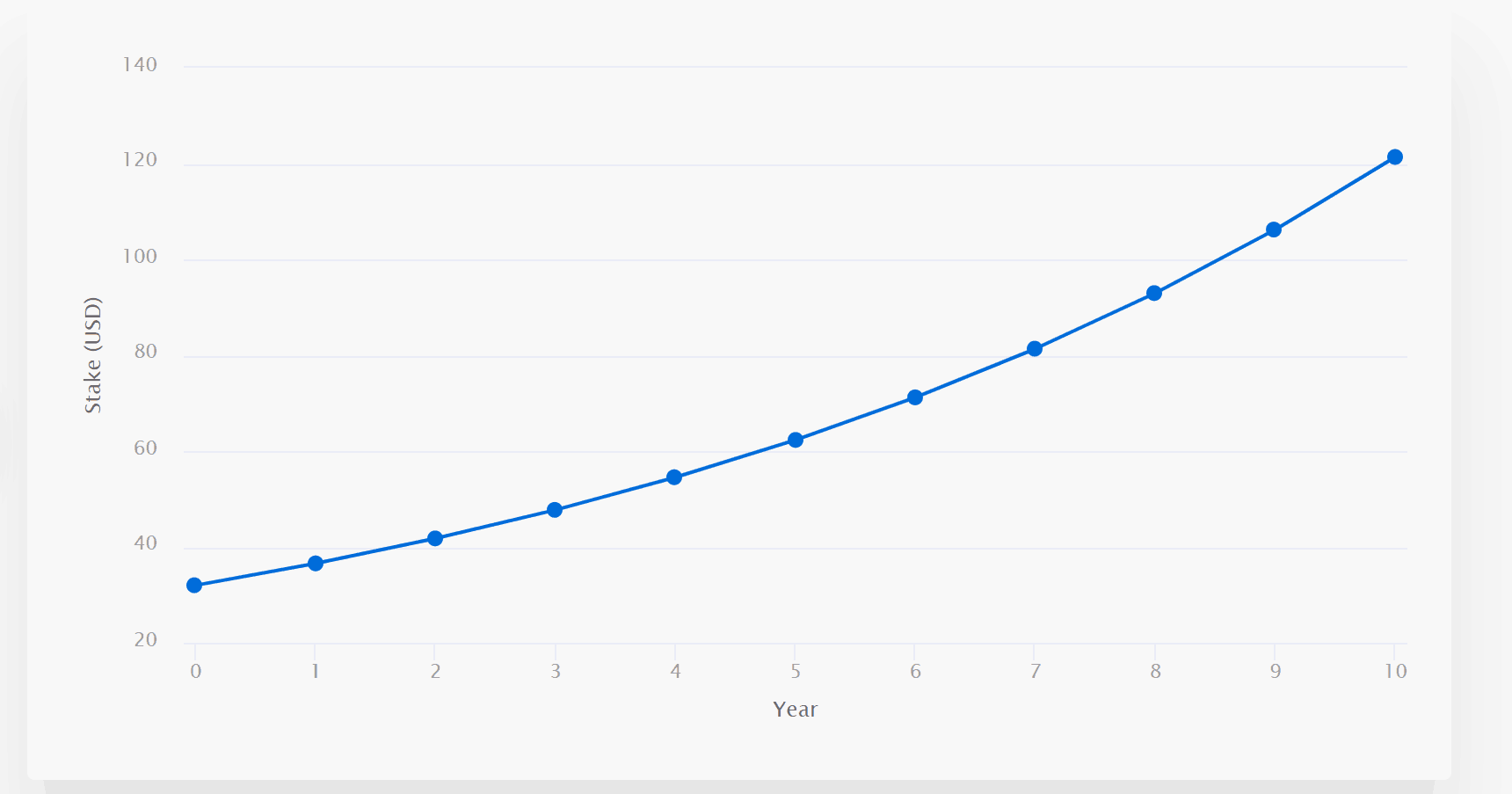 Currently, we are in Phase 1 of the roadmap the road towards Ethereum 2.0. The Ethereum network is now around 55% complete following the Merge of the Beacon Chain with the Ethereum mainnet in September 2022.
After the Merge, Ethereum will have further upgrades which Vitalik calls the "surge", "scourge", "verge","purge" and "splurge". This refers to Ethereum's scaling, cleanup and evolution.
What is the "surge", "scourge", "verge" "purge" and "splurge" in the development of Ethereum 2.0?
After the Merge, Ethereum will undergo further upgrades known as the "surge", "scourge", "verge" "purge" and "splurge".
The "surge" in the development of Ethereum 2.0 refers to adding Ethereum sharding. The purpose of this is to enable more affordable layer-2 blockchains, reduce the cost of rollups, and make it easier for users to operate nodes to secure the network. Once the surge is completed, the Ethereum network is expected to be able to process transactions faster. Ethereum could process up to 100,000 transactions a second once sharding is completed. This is much faster than traditional payment systems such as Visa which can handle around 1,667 transactions per second.
The "scourge" is a new phase announced by Vitalik on 5th November 2022. The purpose of this stage is to ensure reliable and credibly neutral transaction inclusion. Also, to avoid centralization and other protocol risks from MEV.
The "verge" will introduce "stateless clients" and "Verkle trees"- which are a form of mathematical proof. This enables users to become network validators without storing lots of data on their machines. This is a further step in the move toward a Proof-of-Stake consensus model as any validator with staked ETH can confirm and verify transactions. This will be hugely beneficial for decentralization.
The next stage, the "purge" will involve cleaning up old network history. This is to reduce the amount of space required on your hard drive and remove the requirement of nodes to store historical information.
The "splurge" would be several smaller upgrades and fine-tuning in order to ensure that the network operates smoothly. Or as Vitalik calls it, "all the other fun stuff".
What will happen after ETH 2.0 is launched?
Currently, the Ethereum network can only process around 12 to 25 tps with an average confirmation time of 6 minutes. The result is that the Ethereum network is heavily congested with people all vying to process transactions, resulting in high gas fees.
Many "Ethereum killers" have therefore been launched. These are alternatives people can use for processing transactions. Some Ethereum alternatives include Solana, Avalanche, Polkadot, Algorand, and Cardano. They are a direct competitor to Ethereum as they offer similar features but at lower cost and higher speed.
Eventually, the number of transactions per second will drastically increase to over 100,000 tps. So the question would be, what would happen to the competition i.e. the "Ethereum killers"? Find out more in our article: Ethereum Merge is coming, is this the end of Ethereum killers?
Frequently Asked Questions (FAQ)
Updates:
Update Nov 2022: Ethereum 2.0 has recently gone through some changes – it is now called the Ethereum Merge.Update Jan 2023: Added details about Ethereum Shanghai UpgradeUpdate Apr 2023: Added details about Ethereum Shanghai Upgrade and its effect on ETH prices.
Resources:
Ethereum Foundation: https://ethereum.org/en/upgrades
Pyrsmatic Labs: https://medium.com/prysmatic-labs/how-to-scale-ethereum-sharding-explained-ba2e283b7fce
Ethereum Wallet holders: https://bitinfocharts.com/comparison/activeaddresses-eth.html
Disclaimer: Cryptocurrency trading involves significant risks and may result in the loss of your capital. You should carefully consider whether trading cryptocurrencies is right for you in light of your financial condition and ability to bear financial risks. Cryptocurrency prices are highly volatile and can fluctuate widely in a short period of time. As such, trading cryptocurrencies may not be suitable for everyone. Additionally, storing cryptocurrencies on a centralized exchange carries inherent risks, including the potential for loss due to hacking, exchange collapse, or other security breaches. We strongly advise that you seek independent professional advice before engaging in any cryptocurrency trading activities and carefully consider the security measures in place when choosing or storing your cryptocurrencies on a cryptocurrency exchange.