Crypto
12 Best Crypto Wallets in 2023 – Compare Bitcoin Wallets
Looking for the best Bitcoin wallet but not sure which option is best?
Read on to discover the 12 best crypto wallets for 2023. Our impartial reviews leave no stone unturned, covering everything from supported coins and security to device types and core features.
The Best Cryptocurrency Reviewed
With so many options in the market, selecting the best crypto wallet can be challenging.
Keep reading to explore the 12 best Bitcoin wallets in the market.
1. eToro – Overall Best Crypto Wallet for Beginners
Overall, beginners in the market for the best crypto wallet will like eToro. This is a user-friendly wallet that requires no prior experience. Moreover, eToro is a regulated custodian, so there is no requirement to secure the wallet or safeguard the private keys. For reference, eToro is regulated by the FCA, CySEC, ASIC, and FINRA.
Moreover, not only is eToro the best crypto wallet, but it also doubles up as a licensed exchange. This provides unfettered access to over 90 cryptocurrencies. This includes Bitcoin and some of the best altcoins, including Dogecoin, Solana, Cardano, XRP, BNB, and Ethereum. eToro also supports some of the best ERC20 tokens, such as Uniswap, SushiSwap, and Shiba Inu.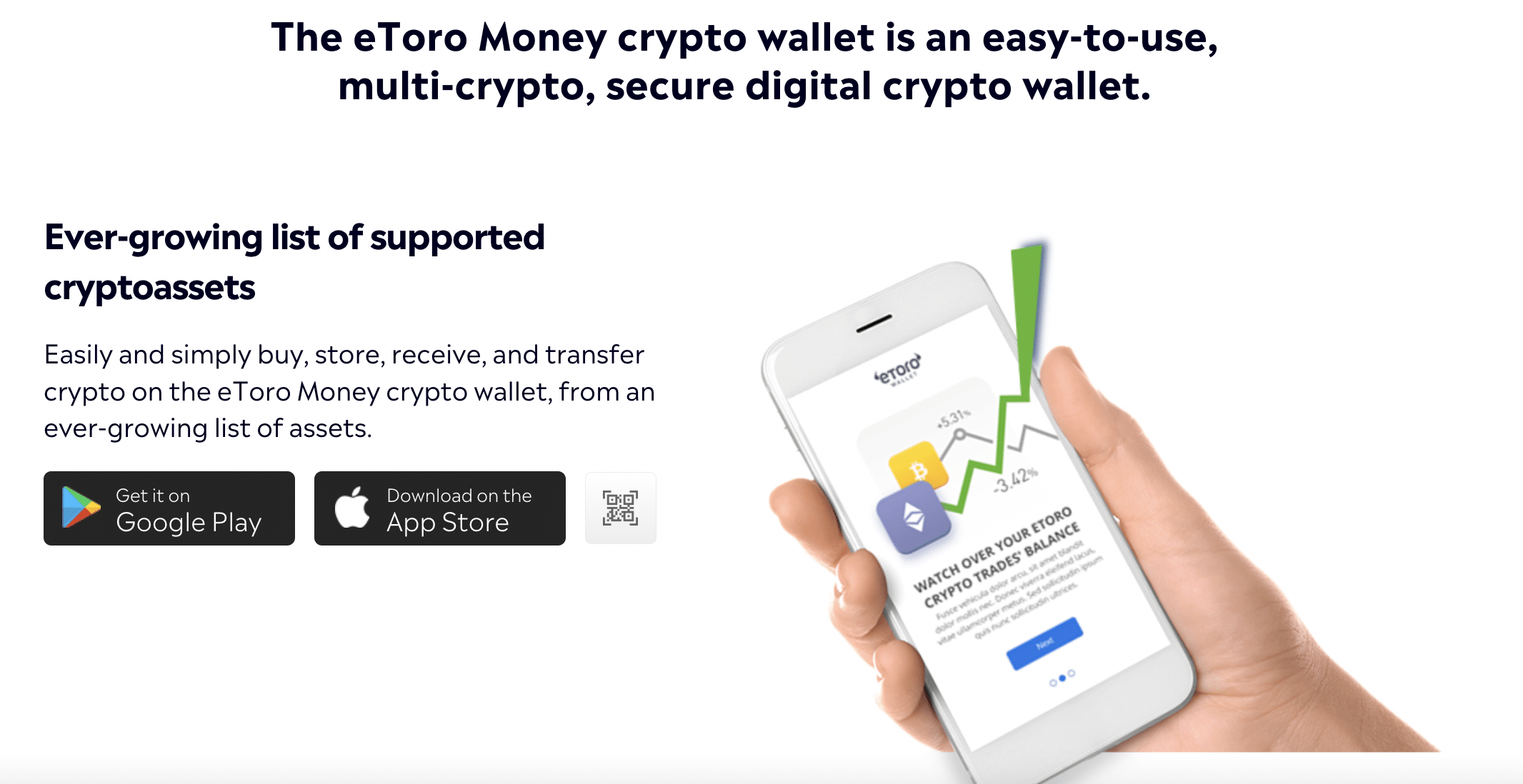 All 90+ cryptocurrencies can be accessed via the eToro wallet at competitive fees. This includes a 1% commission on buy and sell orders. Best of all, debit/credit card and e-wallet payments are fee-free for US clients. While other currencies attract a small fee – this amounts to just 0.5%. After finding the best crypto to buy right now on eToro, the tokens are stored in the investor's portfolio.
This is secured by eToro through cold storage, two-factor authentication, and a 24/7 risk management team. While the eToro hot wallet is ideal for long-term investors, some users might prefer its mobile app. While this still offers exchange services and trading, the eToro app also supports wallet-to-wallet transfers. This is because all users will have a unique crypto wallet address.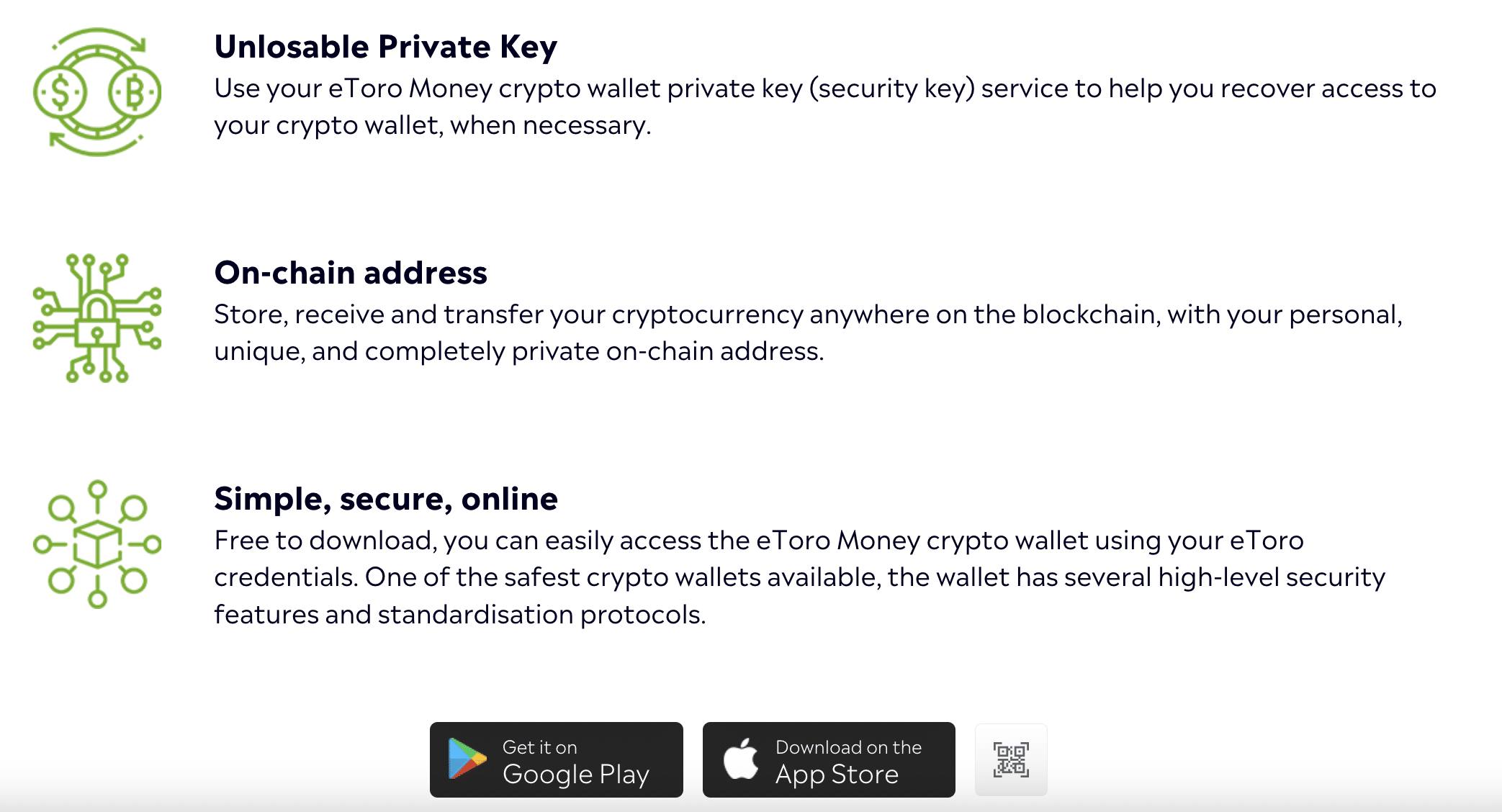 Both options are secure, user-friendly, and free of charge. Active investors might also like the eToro copy trading tool. Put simply, this allows users to mirror the crypto traders of an experienced investor. Everything is automated like-for-like, which is ideal for passive investing. Smart portfolios are also popular. These are professionally managed crypto portfolios created and maintained by the eToro team.
When it comes to customer support, eToro offers live chat on a 24/5 basis. It also offers email replies over the weekend. Finally, eToro also supports staking. There is no requirement to opt-in – simply hold an eligible staking coin. After 8-10 days (depending on the coin), staking rewards will be earned automatically. Users can unstake their coins at any time.
Cryptoassets are a highly volatile unregulated investment product.
2. Binance – Custodial Wallet Backed by the World's Largest Exchange

Binance is a leading cryptocurrency exchange that also offers an in-built wallet. This makes Binance ideal for storing and trading crypto simultaneously. The Binance web wallet also connects to an iOS and Android app. This enables traders to buy, sell, and transfer crypto while on the move.
There is no requirement to set the Binance wallet up, as it is automatically added to the user's account. Moreover, it takes just seconds to register with Binance. Binance's primary exchange and wallet support over 350 crypto tokens and thousands of pairs. Additional markets can be found in the Binance Innovation Zone – which hosts some of the best emerging cryptocurrencies.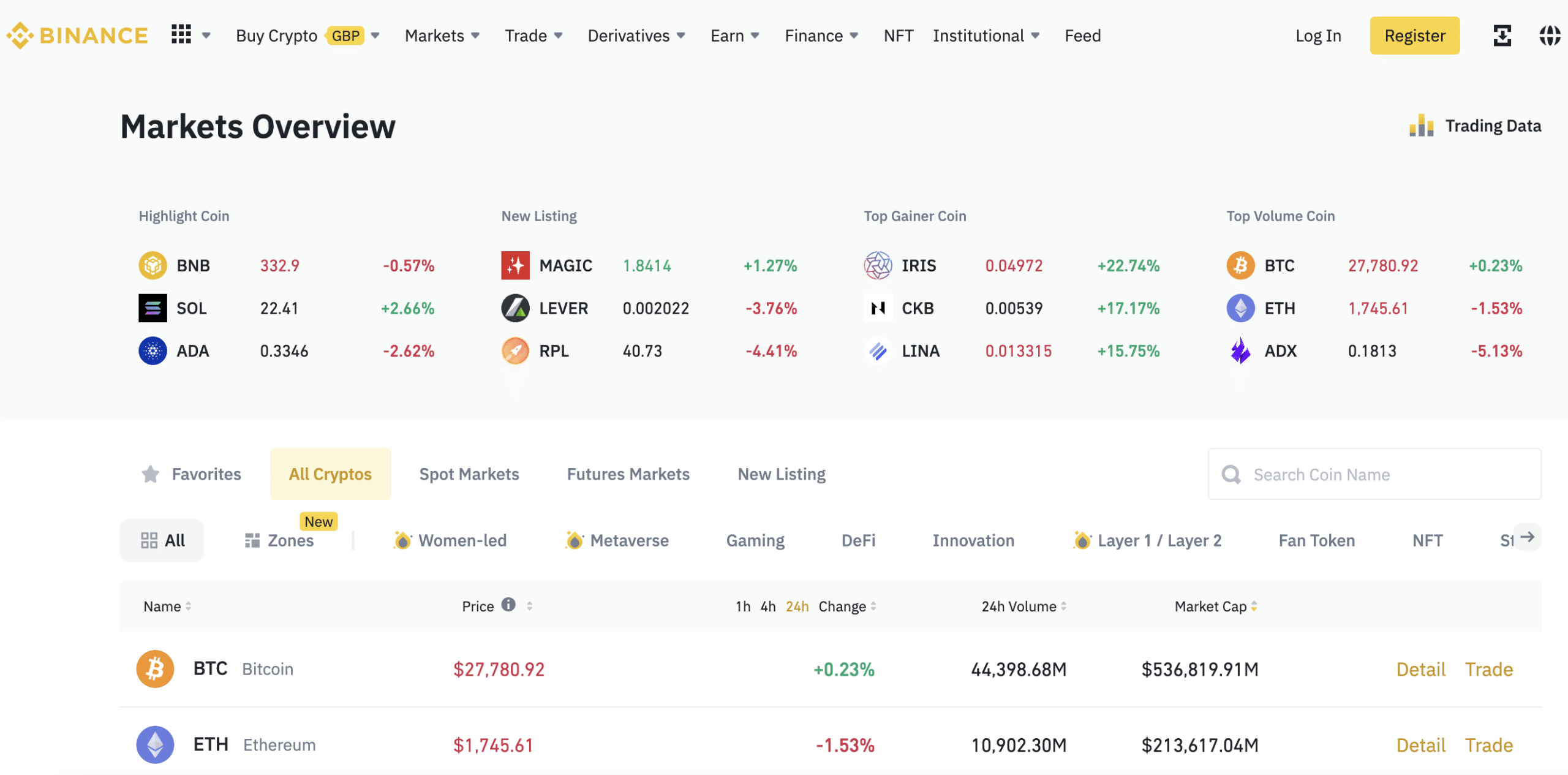 The Binance web and mobile wallets are protected by various safeguards. This includes IP and device whitelisting, two-factor authentication, and cold storage. Binance also has a Safe Asset Fund for Users (SAFU). This takes a small percentage of trading commission revenues and adds the funds to an insurance pot.
The idea is that if Binance is hacked and users lose out – SAFU will cover the losses. Whether or not this is possible depends on the size of the SAFU and the extent of the hack. Nevertheless, Binance wallet users can also access its DeFi center. This covers dual investments, staking, savings accounts, and more. As such, Binance users can easily earn interest on their idle crypto investments.
Cryptoassets are a highly volatile unregulated investment product.
3. Trust Wallet – Best Bitcoin App for iOS and Android Users

Trust Wallet is one of the best Bitcoin wallets for smartphone users. Its native app supports iOS and Android, and there are no fees to get started. The only fees payable are when transferring funds to another wallet address.
Setting the wallet up takes seconds, and fingerprint ID is supported. The Trust Wallet app is compatible with over 70 blockchain networks, from Bitcoin and Arbitrum to Solana and Cardano. Trust Wallet also supports NFT storage and provides access to the decentralized web.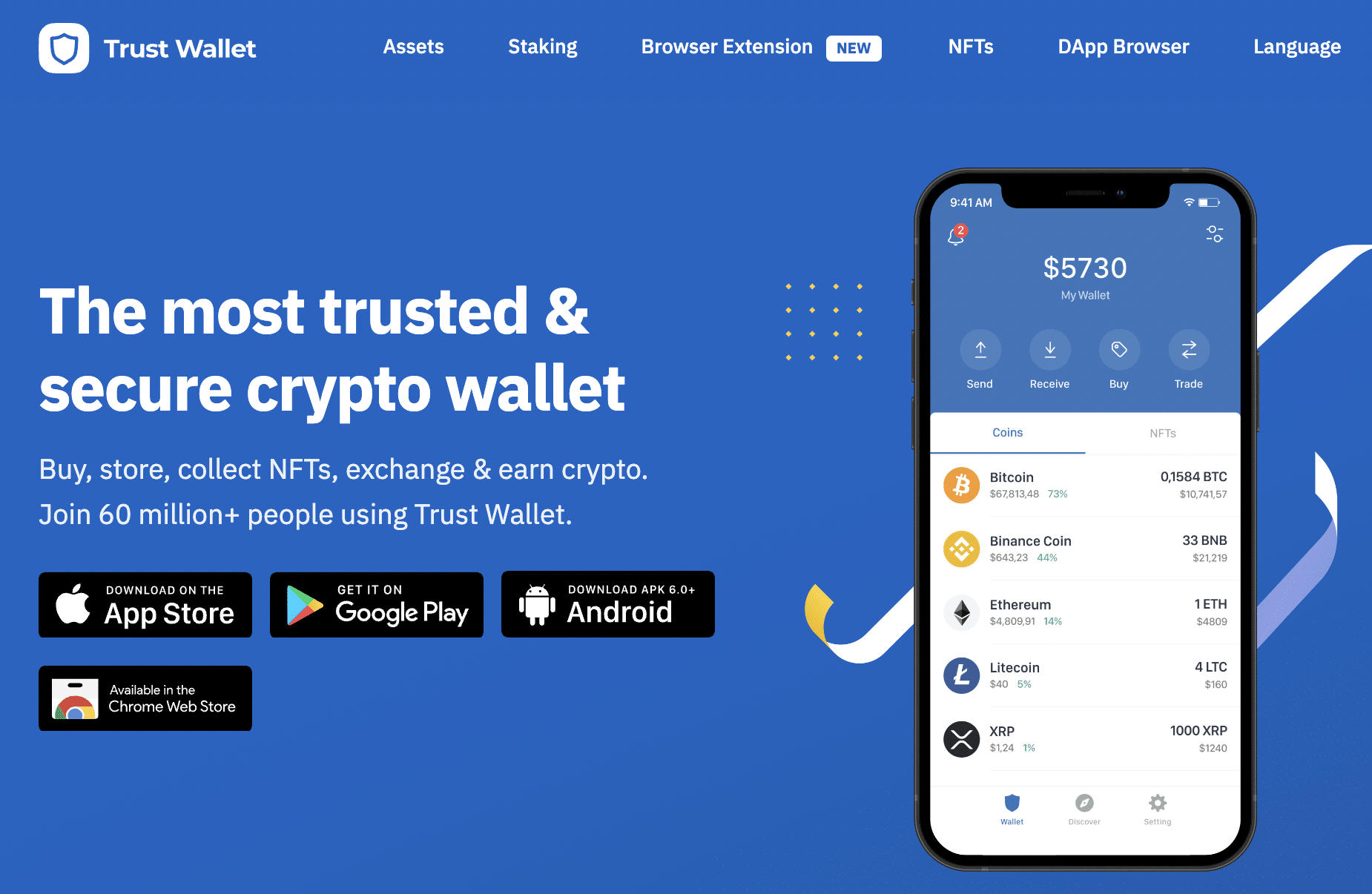 For example, users can anonymously connect to Uniswap to earn interest, or OpenSea to buy NFTs. Moreover, Trust Wallet has an in-built staking tool. This offers competitive interest rates, but higher APYs are often available when using a dApp. Nonetheless, Trust Wallet is also one of the best crypto wallets for beginners.
According to our Trust Wallet review, the interface itself is clear and simple, and customer support is available around the clock. However, only support tickets are available – meaning no live chat. Trust Wallet also falls short when it comes to fiat payments. While it supports debit/credit card purchases, transactions are processed by a third party. This will invariably increase the cost – often up to 5%.
4. MetaMask – Simple and Free Crypto Wallet Supporting 6 Blockchain Standards

MetaMask is a popular crypto wallet that was launched in 2016. Used by over 30 million people, MetaMask has become one of the best Ethereum wallets on the market. It's also completely free to use. Smartphone users may prefer the iOS and Android app – which offers full functionality. Alternatively, desktop users can install the browser extension.
This is supported by Chrome, Edge, Brave, and Firefox. Both options initially connect to the Ethereum network – meaning support for thousands of ERC20 tokens. Additionally, Optimism, Polygon, Arbitrum, Avalanche, and Binance Smart Chain can also be added. But this needs to be done manually – which won't appeal to beginners.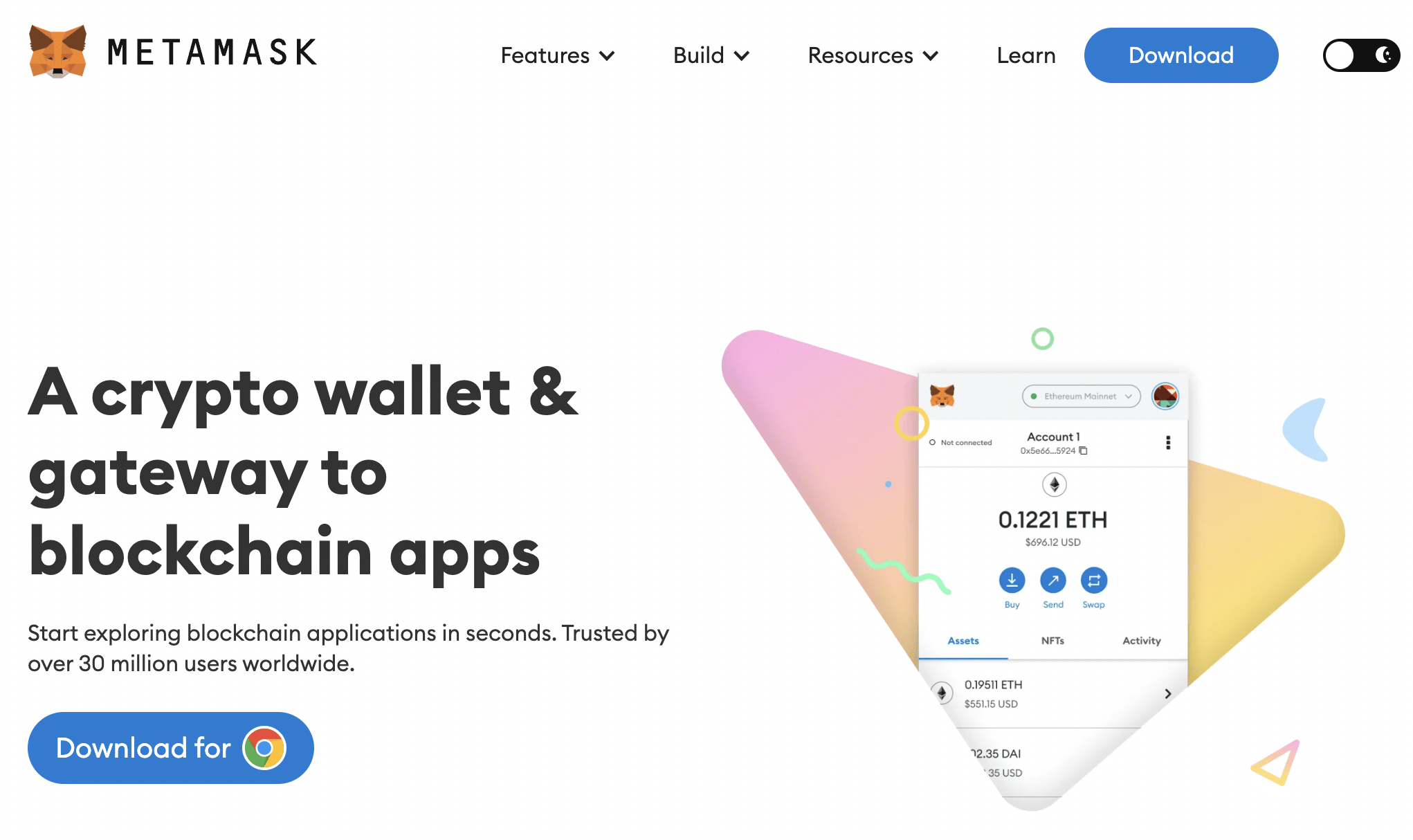 Moreover, MetaMask does not support Bitcoin deposits. There is also a lack of support for other large-cap cryptocurrencies, like Cardano, XRP, and Solana. Another drawback with MetaMask is its partnership with third-party payment processors. While this enables users to buy crypto with fiat money – fees are very high.
On the flip side, our MetaMask wallet review found that it does support a range of decentralized exchanges, including Uniswap and it's considered to be one of the best crypto wallets for Android. This enables users to swap tokens and earn interest without leaving the MetaMask interface. Furthermore, MetaMask is also the best cryptocurrency wallet for investing in initial coin offerings (ICOs). This is because the best crypto ICOs almost always recommend using MetaMask.
5. Ledger Nano – Crypto Hardware Wallet With Bluetooth Connectivity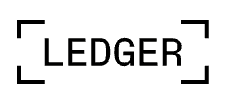 Ledger Nano is one of the best crypto wallets for safety. While this wallet retails for up to $279, it is aimed at investors that seek the highest level of security. And Ledger Nano excels in this regard. The Ledger Nano device is never connected to live servers.
In turn, this protects investors from remote hacking attempts. What's more, even if the device is stolen, access is near-impossible. This is because Ledger Nano requires users to enter a PIN on the device before authorizing transfers. In the meantime, the wallet owner can recover their crypto tokens remotely. That said, no crypto wallet – even Ledger Nano, is completely hack-free.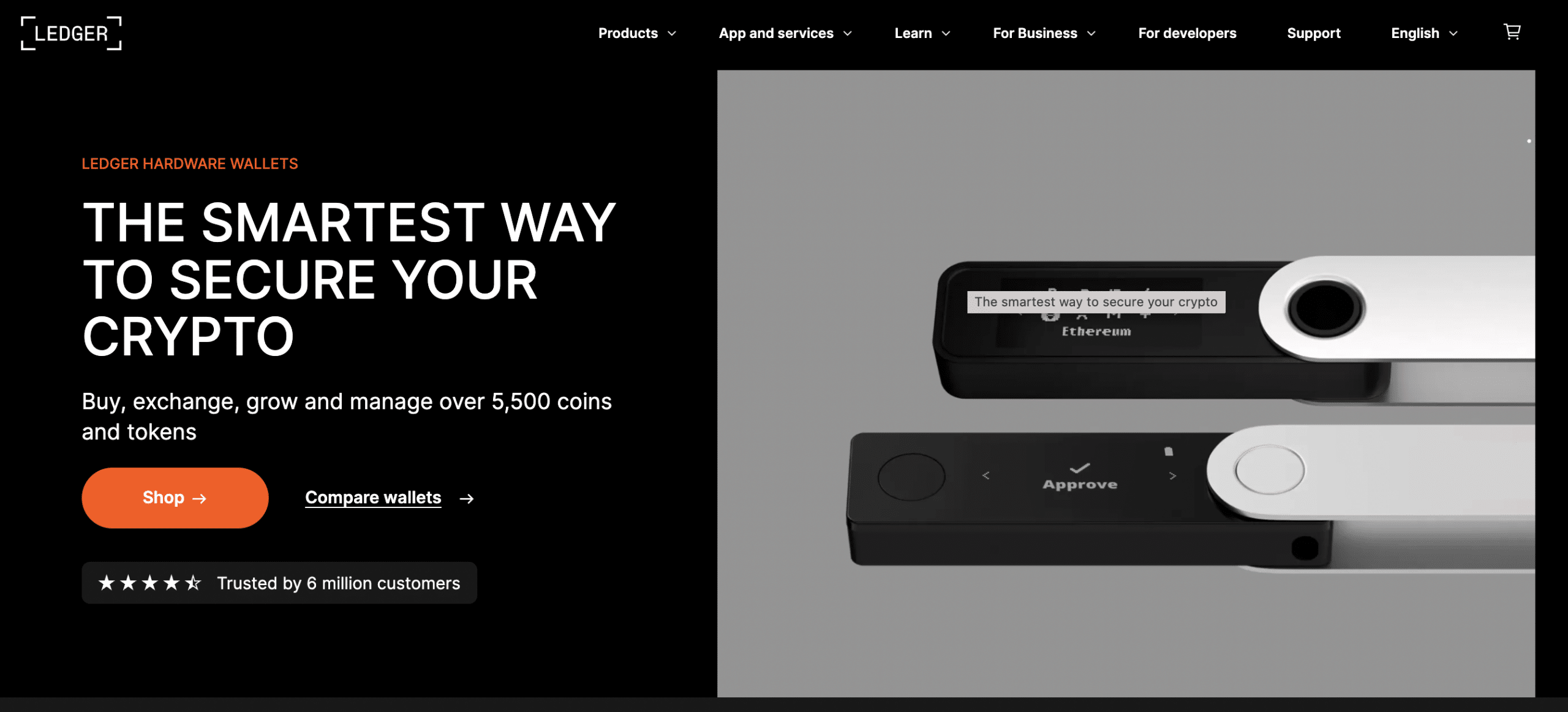 As such, users should be sure to keep their devices somewhere safe and private. Another top feature of Ledger Nano is that it supports Bluetooth connectivity. In turn, users can connect their wallet to the Ledger Nano app and desktop software without connecting to the internet. In doing so, users can buy, sell, and swap cryptocurrencies through third parties.
Additionally, Ledger Nano also supports staking. This will appeal to investors seeking income on their idle tokens. Although the top model offered by Ledger Nano costs $279 – its entry-level option retails for just $79. This provides all of the security features discussed above – apart from Bluetooth connectivity.
6. Trezor – Secure Cold Storage With a Time Delay Feature
Trezor is also one of the best cold crypto hardware wallets in the market. This provider offers two models – 'T' and 'One'. The One model is the entry-level option costing just $69. This comes with offline storage, and transactions require users to enter a PIN onto the device.
The Model T costs $219 and comes with touchscreen access and support for USB type C. That said, for the huge price difference, there is little to separate the two models. For instance, both the model T and One come with a time delay feature. This adds a time delay every time an incorrect PIN is entered.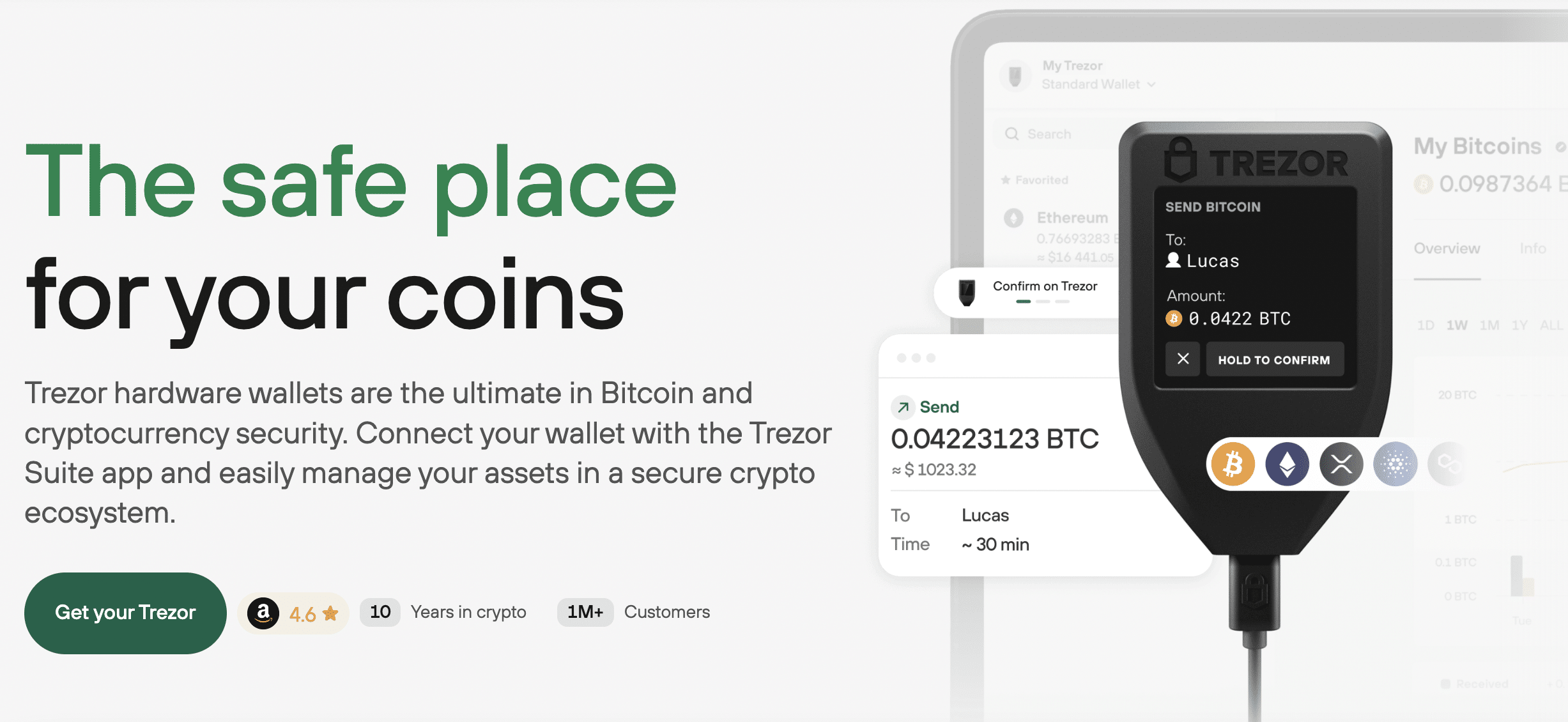 After too many incorrect guesses, seconds turn into minutes and hours. This is because the time delay doubles each time. As such, if the Trezor device is stolen, the owner should have sufficient time to recover the funds remotely.
Trezor also comes with an iOS and Android app. It also offers desktop software for Windows, Mac, and Linux. This enables users to view their portfolio of cryptocurrencies via a user-friendly dashboard.
7. Coinbase – One of the Safest Custodial Crypto Wallets
Coinbase offers one of the safest ways to store crypto online. While its wallet is custodial, it comes jam-packed with security features. For example, all Coinbase accounts must be secured with two-factor authentication. Should an account holder log in from a new IP address or device – email authentication is required.
Coinbase also uses cold storage for 98% of client crypto assets. This ensures that the vast majority of its crypto holdings are kept away from live servers. We also like the Coinbase Vault feature. When activated, withdrawal requests must bypass a 24-hour grace period. This gives users time to recognize their account has been comprised and contact Coinbase accordingly. However, Coinbase also comes with various drawbacks – especially when it comes to fees.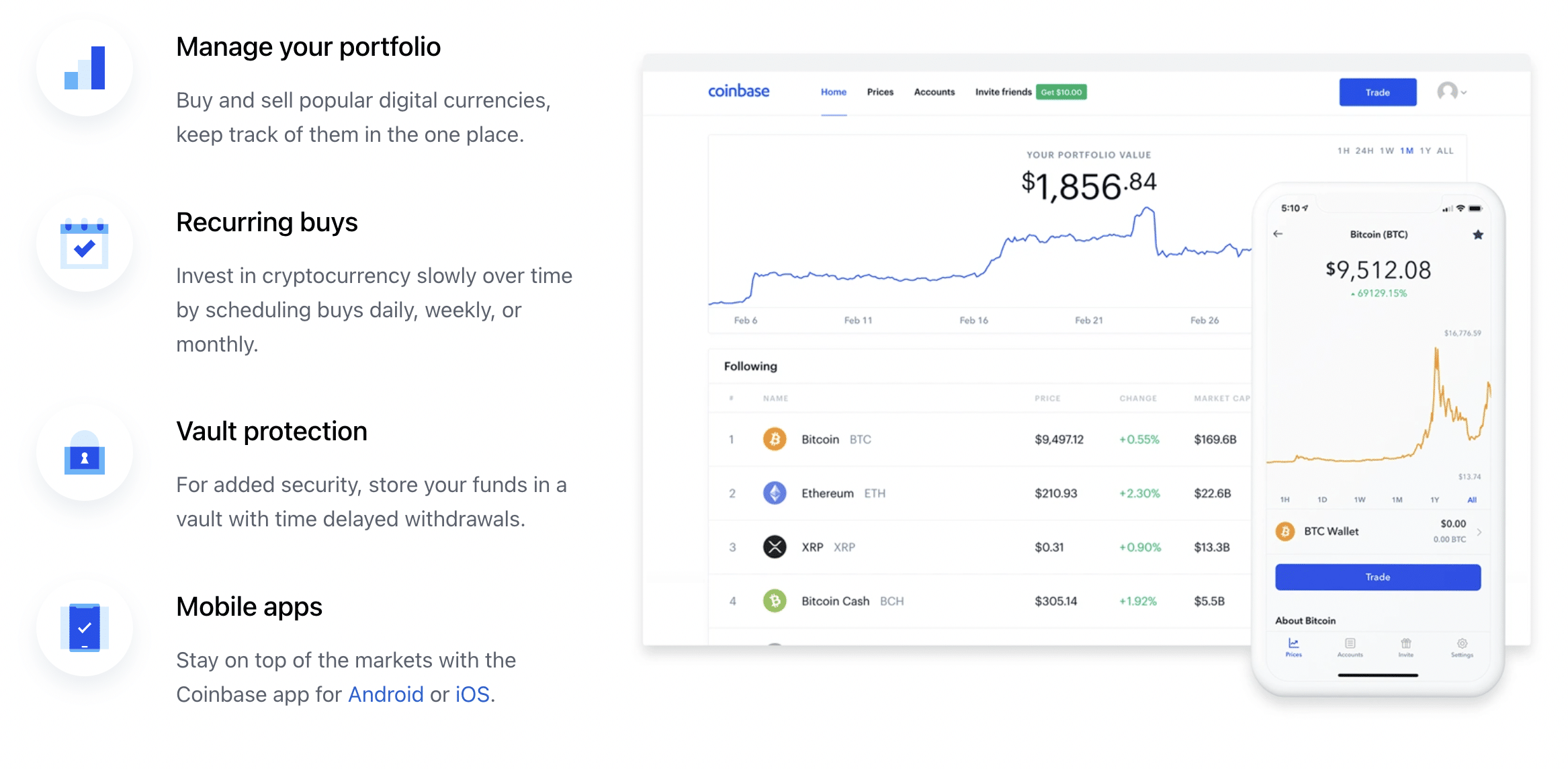 For example, those wishing to buy and sell crypto via their Coinbase wallet will pay 1.49% per slide. Buying crypto with a debit/credit card is even more expensive at 3.99%. Moreover, Coinbase does give users access to their private keys. That said, Coinbase also offers a non-custodial DeFi wallet app, but this is separate from its main exchange.
8. Electrum – Secure Desktop Wallet for Storing Bitcoin

Electrum follows the ethos that 'less is more'. While its Bitcoin-only wallet lacks exchange features or interest tools – it enables investors to safely store their BTC tokens on a desktop device.
Electrum is free to use and comes with various safety nets. This includes the ability to keep private keys offline. Users only need to bring the private keys back online when they are ready to make a transfer. Moreover, Electrum does not have access to the user's private keys.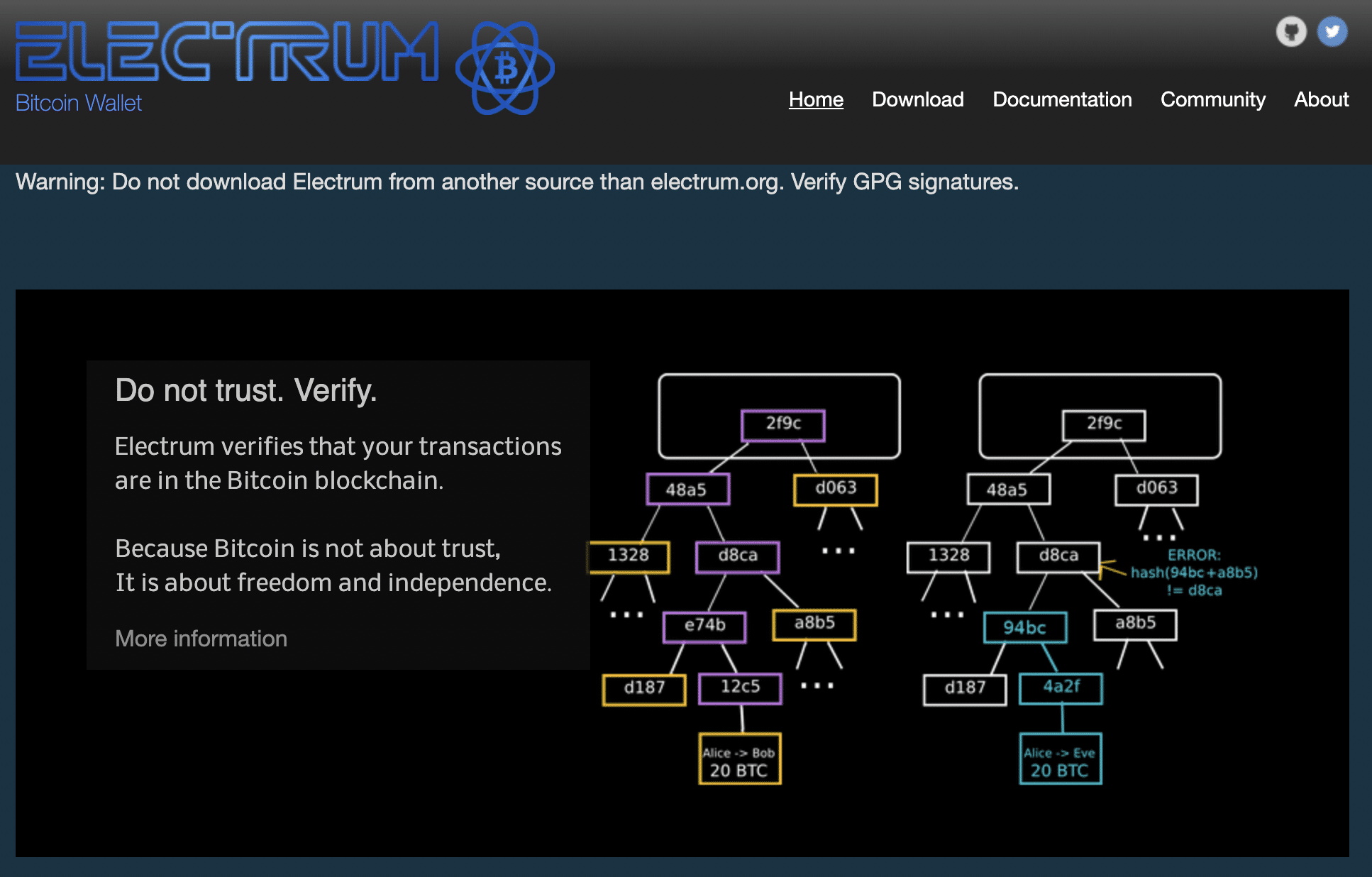 Instead, they are encrypted directly on the user's desktop device. That said, Electrum has also developed an Android app. This offers an additional security feature, as Electrum supports multi-sig transactions. In simple terms, this feature requires the user to confirm outgoing transactions on both the desktop and mobile wallets.
9. Exodus – User-Friendly Non-Custodial Wallet for Diversified Portfolios

Exodus is one of the top crypto wallets for beginners seeking non-custodial storage. Its wallet interface is very user-friendly across all supported devices. This includes a mobile app (iOS and Android), desktop software (Windows, Mac, Linux), and a browser extension (Chrome and Brave).
All supported devices connect to the same wallet account, offering great flexibility. Exodus is also ideal for actively viewing crypto portfolio balances. Users can set their preferred fiat currency, and Exodus will provide real-time prices for each crypto held. Moreover, Exodus adds statistics and insights, such as the portfolio's best and worst-performing coins.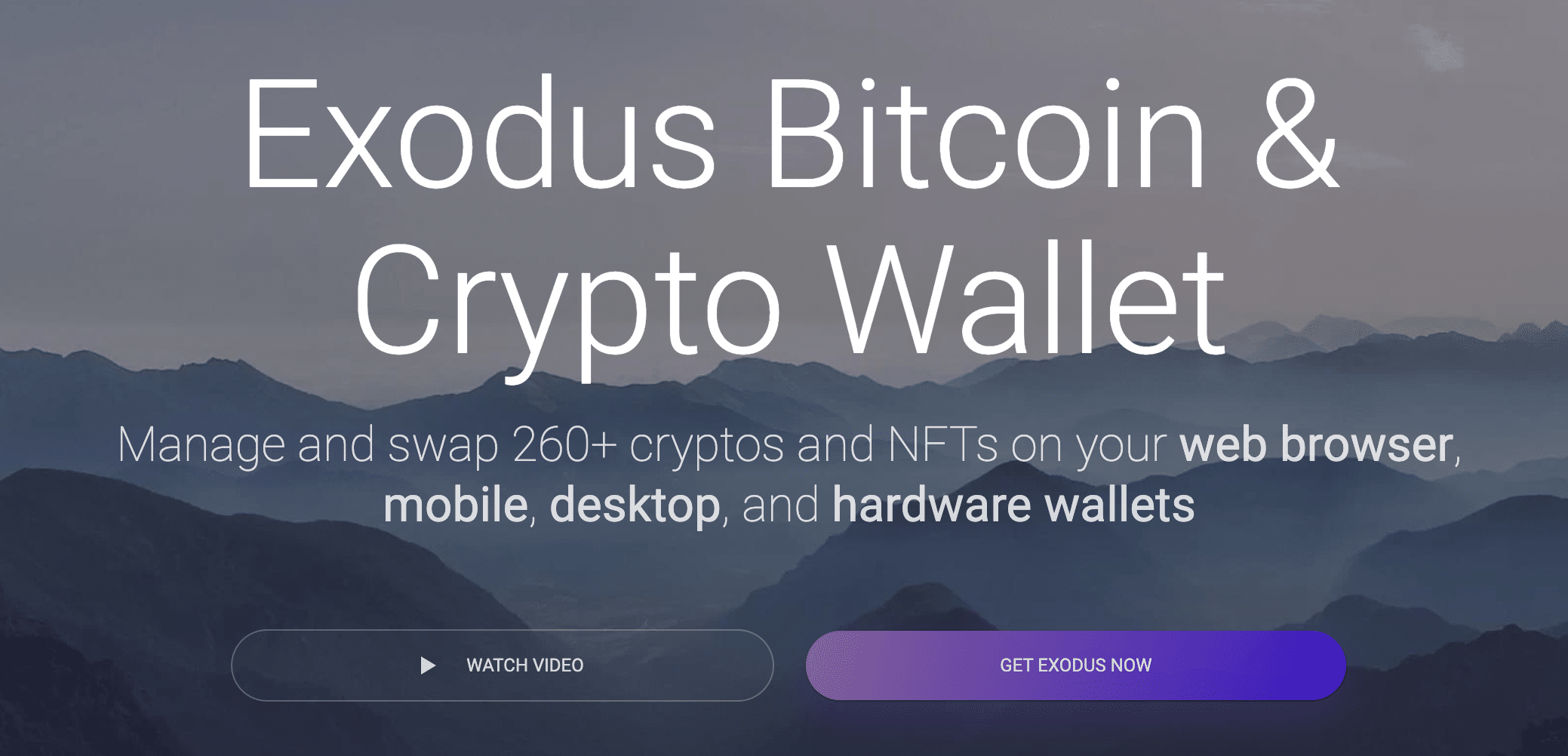 Exodus supports over 260 cryptocurrencies in total. This covers everything from BNB and Solana to Ethereum and Bitcoin. Exodus also supports NFTs, not to mention connections with Web 3.0 applications. The latter includes Uniswap and Raydium. Finally, the only fees payable are when sending crypto to another wallet.
10. Coinomi – Popular Wallet App Supporting Over 125 Different Blockchain Standards

Supporting over 125 blockchain networks, Coinomi is compatible with every cryptocurrency imagable. This includes all cryptocurrencies on the Bitcoin, Binance, Ethereum, and Tron networks – to name a few. As such, Coinomi is one of the best crypto wallets for diversified portfolios.
Established in 2014, Coinomi is also packed with security tools. For example, Coinomi keeps IP addresses anonymous and ensures that private keys are encrypted directly on the user's device. Moreover, Coinomi also allows users to stake their crypto tokens via cold storage.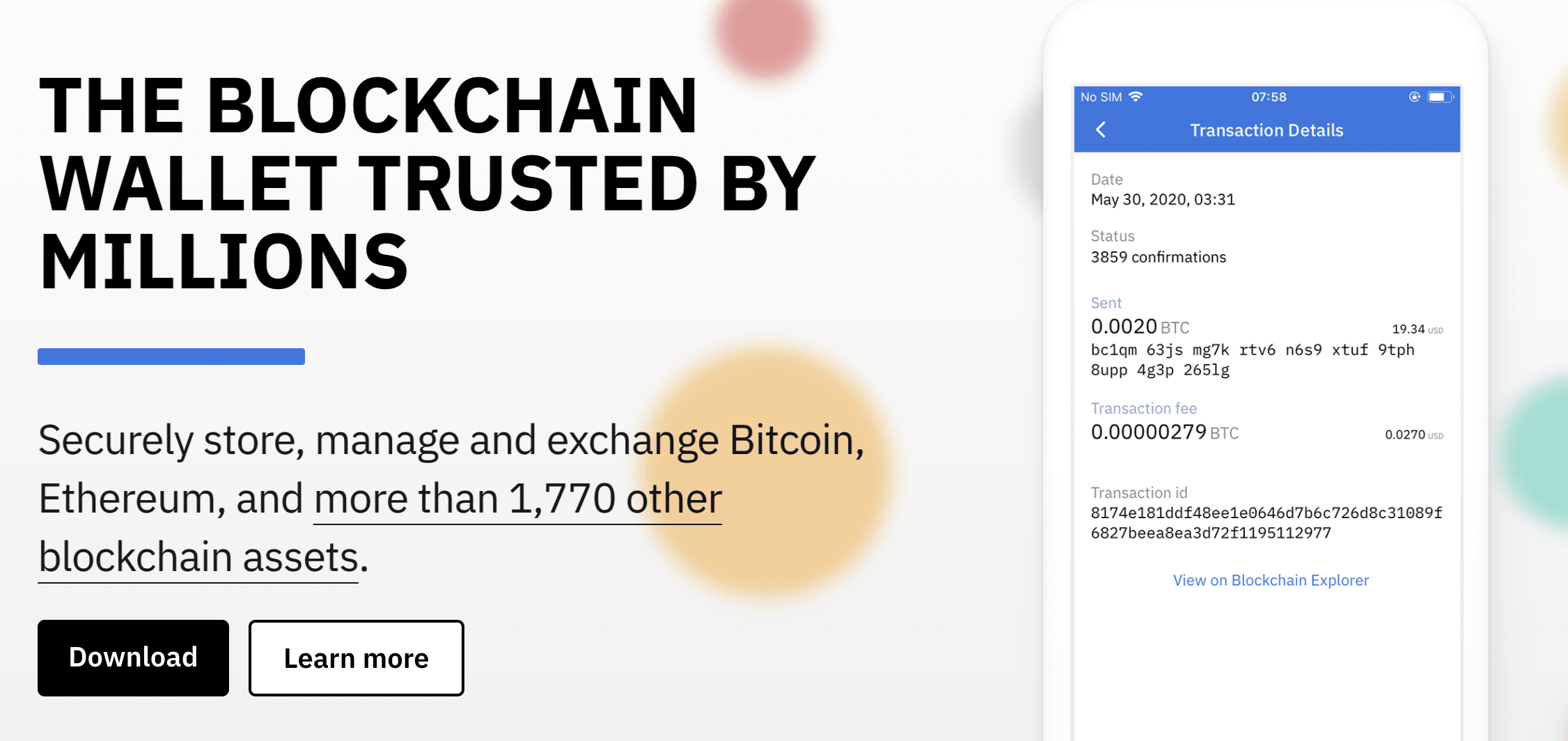 This offers the best of both worlds; users can earn passive income without connecting their wallets to live servers. Best of all, Coinomi is completely free to use. The wallet makes money when users buy crypto with a credit card via its third-party partner – Simplex. This service should be avoided, considering Simplex charges up to 5%.
11. MyEtherWallet – Top-Rated Wallet for ERC20 Tokens and Ethereum 2.0 Staking

MyEtherWallet (MEW) is a leading Ethereum wallet that was launched in 2015. This makes it one of the original wallets of its kind. Not only does MEW support Ethereum but all ERC20 tokens.
This enables investors to keep all of their ERC20 investments in one safe place. Moreover, those holding Ethereum in their MEW wallet can stake directly on the blockchain. MEW also supports the AAVE ecosystem. This enables users to earn passive income through staking and liquidity farming.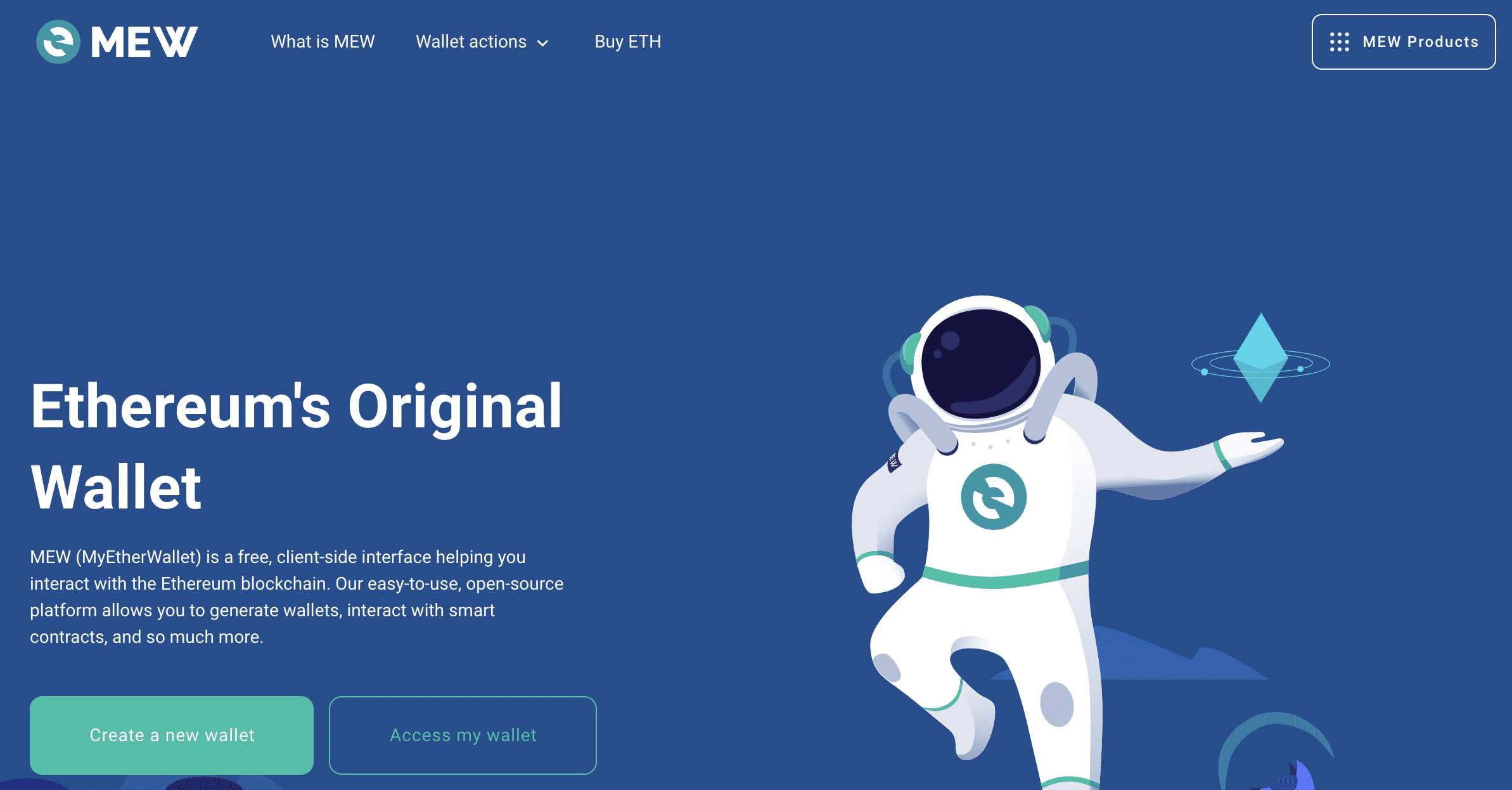 Soon, MEW will also support MakerDAO. Another feature of MEW is it supports ETH Block NFTs. These are a collection of NFTs that represent individual Ethereum blocks that have previously been mined. Finally, MEW is a free app compatible with both iOS and Android smartphones.
12. OKX Wallet – Decentralized Web 3.0 Wallet Supporting High-Interest Yields
OKX is one of the best Bitcoin wallets for combining safe storage with passive income. First and foremost, this is a decentralized crypto wallet app that is separate from the main OKX exchange – which is centralized. As such, The OKX wallet does not have access to the user's private keys.
What's more, the OKX Wallet does not require users to provide personal details. This ensures that users can remain anonymous. Supported by iOS and Android, the OKX Wallet app is compatible with over 50 blockchains. This should cover the vast majority of leading cryptocurrencies.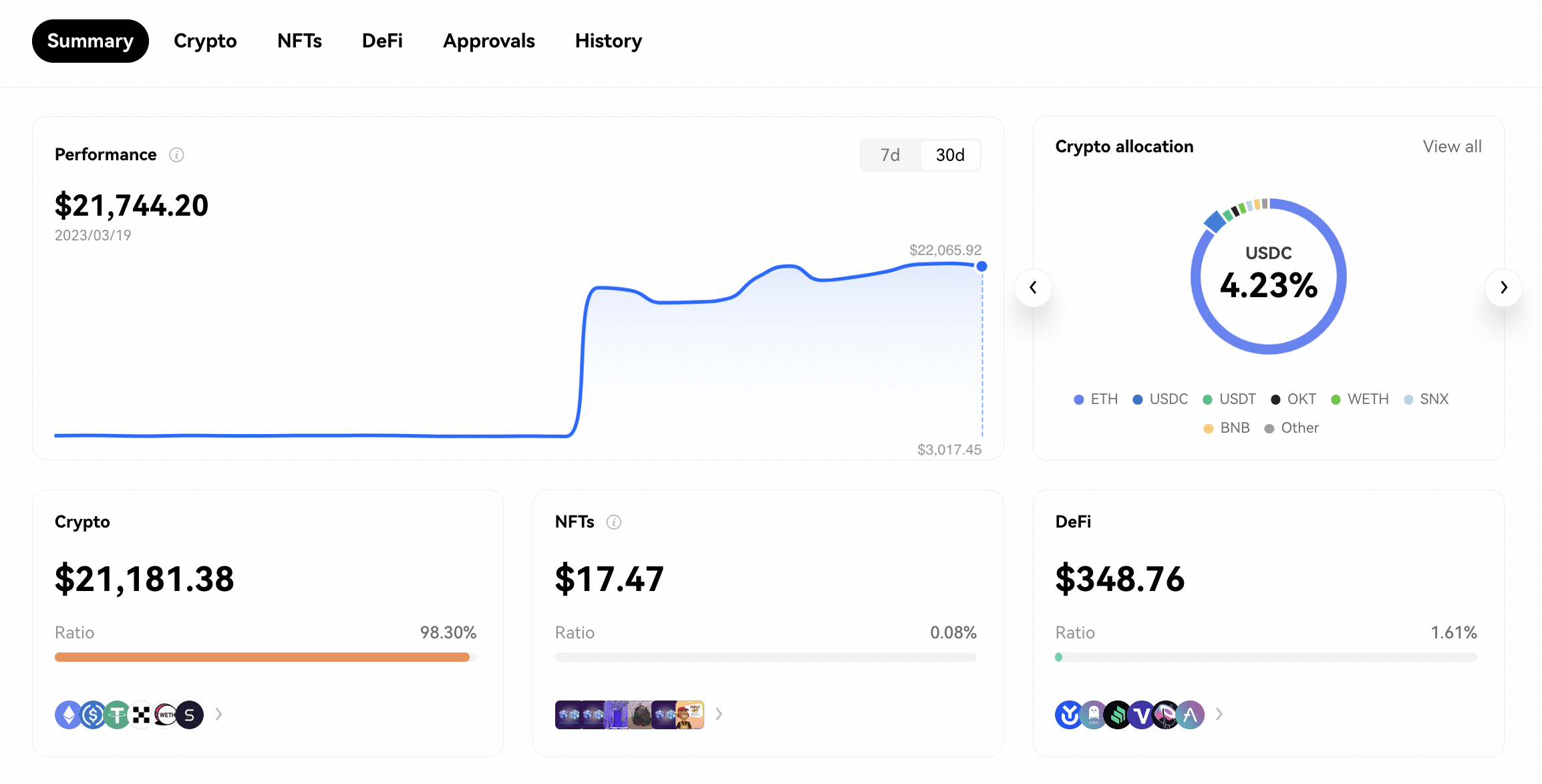 In addition to storage, OKX offers some of the highest interest yields in the space. This is because it connects with third-party dApps to find the best deals. OKX users can earn interest via staking, savings accounts, yield farming, and more. The OKX Wallet also supports decentralized token swaps via liquidity pools.
What is a Cryptocurrency Wallet?
Cryptocurrency wallets allow investors to store, manage, and transfer their digital assets. Whether it's Bitcoin, Ethereum, BNB, or any other cryptocurrency – wallets provide access to the blockchain network.
This means that users can send and receive tokens without using a third party. Instead, crypto wallet transactions are peer-to-peer. In turn, users have full control over their cryptocurrency investments.

Crypto wallets are also crucial for keeping investments safe. After all, wallets aren't governed by intermediaries, so unauthorized access will lead to a loss of funds. As such, choosing the best online Bitcoin wallet requires users to assess what security features are offered.
Nonetheless, many crypto wallets now offer additional services, enabling investors to manage their wealth. For example, the eToro wallet supports staking, meaning investors will earn passive income. Some crypto wallets also connect to Web 3.0 applications like PancakeSwap and Uniswap.
This creates additional opportunities to increase wealth. For instance, users can lend their idle crypto tokens to a liquidity pool and passively earn a share of trading fees. The best cryptocurrency wallets also support NFT storage.
How do Bitcoin Wallets Work?
While there are many different types of crypto wallets, there are also plenty of similarities that remain constant.
For example, all wallets have a unique public address and a private key. These characteristics form the backbone of crypto wallets, so let's explore them in more detail.
Public Addresses
After setting up a new wallet, a unique public address is created. This enables users to receive crypto tokens from another person.
There is no harm in sending someone else a public address, as it only supports incoming transactions. This is no different from sending someone a Paypal address or bank account number to receive funds.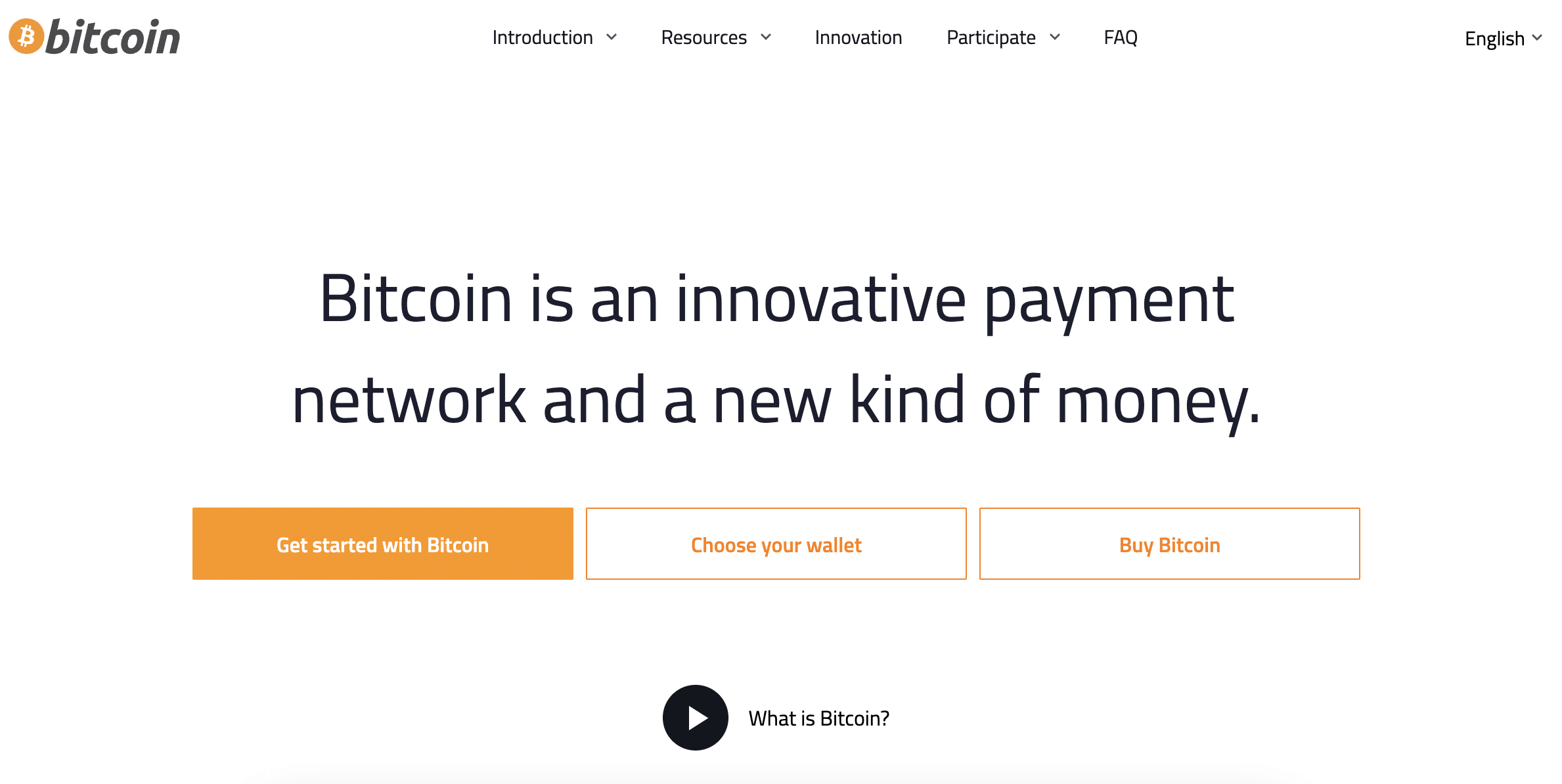 That said, as the name suggests, public addresses are 'public'. By using a blockchain website that tracks public addresses, we can see how much the wallet is holding.
For example, the Bitcoin public wallet address below contains over 248,000 BTC – valued at over $6 billion.
34xp4vRoCGJym3xR7yCVPFHoCNxv4Twseo
This address belongs to Binance, the world's largest crypto exchange. Not only do public addresses enable people to view the wallet's balance – but all incoming and outgoing transactions.
However, wallet transactions are not tied to the user's identity. Instead, users can only see what other public addresses the wallet has engaged with. In this regard, crypto wallets are 'pseudonymous' rather than 'anonymous'.
Private Keys
Private keys are the password for accessing the crypto wallet. Like a bank account password or ATM PIN – private keys should never be handed out.
Anyone that has the private key of a wallet can access it remotely. This doesn't need to be from the same device – let alone the same wallet type.
As such, hackers are constantly on the hunt for private keys so they can steal the wallet's contents.
Non-custodial crypto wallets, such as Trust Wallet, Metamask, and Ledger Nano, provide users with their private keys. This is displayed when creating the wallet. Users are then advised to write the private keys down and keep them somewhere private.
But unfortunately, not all users do this. For example, beginners will often keep their private keys on their laptops or Google Drive. In doing so, the private keys can be hacked remotely.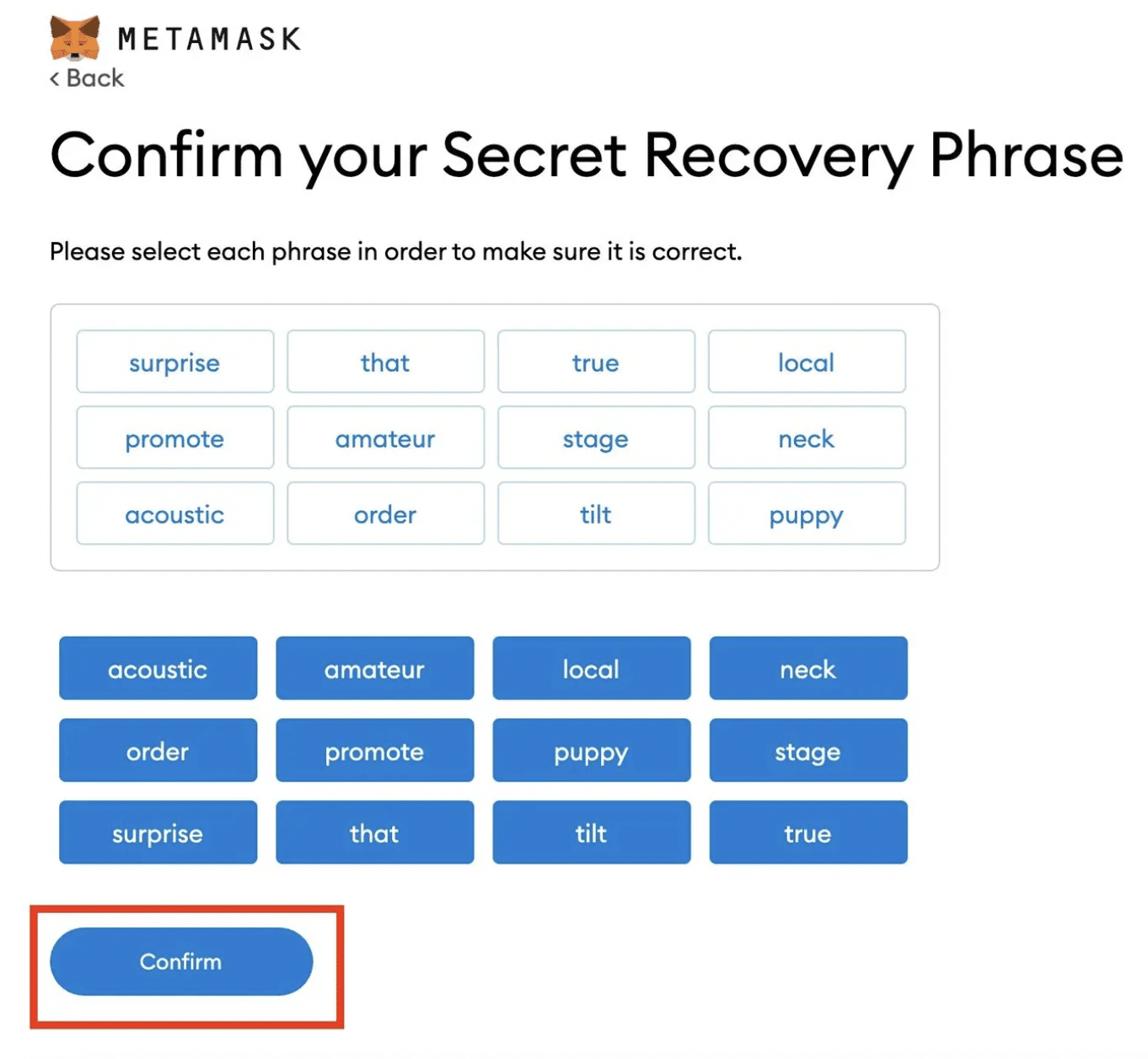 This is why beginners might instead consider a custodial wallet. This means that the user will not have access to their private keys. Instead, the custodial wallet provider keeps them safe and away from hackers.
This is similar to keeping cash in a bank account or gold in a regulated vault. Either way, the owner of the crypto tokens does not need to worry about security.
On the flip side, not all custodial wallets are created equal. On the one hand, custodians like eToro are regulated by tier-one bodies – such as FINRA and the FCA. However, some custodians operate without any regulation at all. As such, investors should choose wisely when selecting a custodian to store their crypto investments.
Why You Need a Crypto Wallet
Let's explore why crypto investors need a wallet when accessing the blockchain ecosystem:
Send Funds: Crypto wallets allow investors to send funds to another location. This could be a friend, family member, or business partner. Wallets also allow users to send funds to pay for goods and services.
Receive Funds: Crypto wallets enable users to receive funds from another location. For example, after buying crypto from an exchange, the user can transfer the tokens to their wallet.
Secure Storage: Wallets help keep crypto tokens safe. After all, cryptocurrencies have real-world value, so investors need to protect their investments.
View Balances: Crypto wallets also enable users to keep tabs on their investments. Crypto prices change as every second passes, so wallets ensure that investors are well-versed in how their investments are performing.
Token Swaps: The best crypto wallets allow users to swap tokens without using an external exchange. For example, swapping Bitcoin for Ethereum or XRP for Litecoin.
Do remember that not all crypto wallets offer the above features. This is why users are advised to do their research before selecting a provider.
Types of Crypto Wallets
There are many different types of crypto wallets – some aimed at beginners and others at experienced developers.
To ensure the best crypto wallet is selected, read on to explore the different options in the market.
Software Wallets
Most crypto wallets are software-based. Many different types of devices are supported, each with its pros and cons.
For example, desktop wallets secure the user's private keys on their hard drive. This ensures that the private keys are encrypted and not accessible by the wallet provider. That said, desktop wallets require a lot of storage and are prone to remote hacking attacks.
Mobile wallets are the most convenient, as users always have access to their crypto tokens. This means users can easily send and receive funds at the click of a button.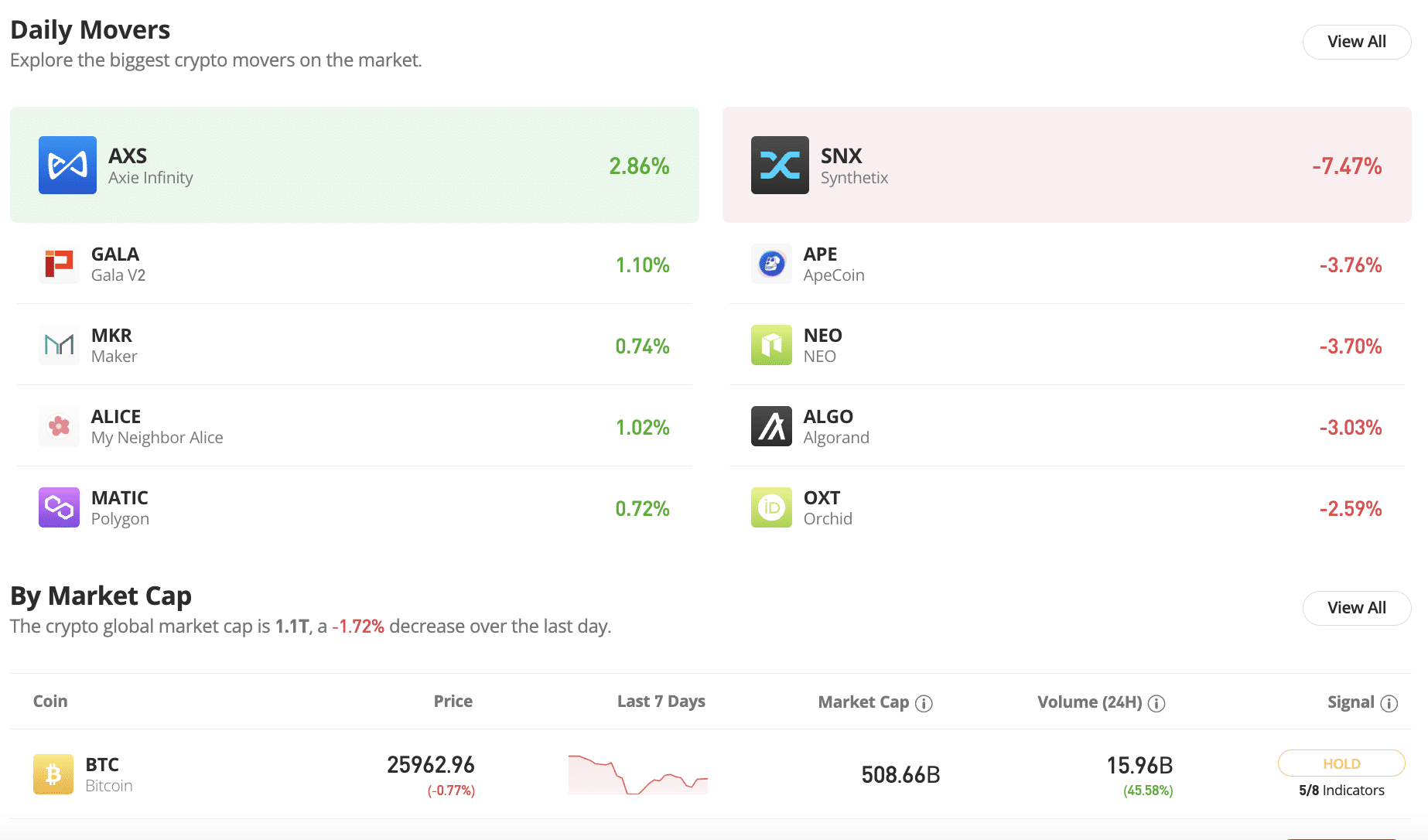 Mobile wallets are also ideal for checking the real-time balance of a crypto portfolio. However, mobile wallets come with reduced security, as they are often only protected by a PIN or fingerprint ID.
Web wallets are even more convenient. These are offered by custodians, such as exchanges and brokers. Users can access their web wallet by entering a username and password.
The best web wallets in the market offer cold storage, two-factor authentication, and IP address whitelisting. Moreover, web wallet providers like eToro are regulated by tier-one bodies. However, web wallets do not give users access to their private keys. Furthermore, if the web wallet is hacked, the user's crypto could be at risk.
Hardware Wallets
Hardware wallets also come with their pros and cons. For example, providers like Trezor and Ledger Nano offer institutional-grade security.
The private keys are kept within the hardware device, which is never connected to the internet. Another safeguard is that the user's PIN needs to be entered on the device to transfer funds. This is another security control that protects the wallet from a remote hack.
But hardware wallets aren't suitable when actively trading crypto. This is because the user will need access to the hardware device to authorize outgoing transactions.
Instead, those wanting to regularly buy and sell crypto will be more suited for a software wallet.
Paper Wallets
Paper wallets are another option worth considering. This option is aimed at long-term investors that do not want to buy a hardware wallet.
As the name suggests, the private keys are written down or printed onto a sheet of paper.
This is often a backup passphrase for simplicity.
Also, the wallet's public address will be printed, often as a QR code.
Considering that the only place storing the private keys is on a sheet of paper, this provides cold storage. As such, the private keys are never at threat of being hacked.
The only risk is that the paper is lost or damaged, meaning the user cannot recover the private keys. In this instance, there is no way for the user to regain access to the crypto funds.
How to Pick a Crypto Wallet
Many considerations need to be made when choosing the best crypto wallet.
The most important factors are discussed below:
Custodial or Non-Custodial: Investors should assess whether they want to bear the responsibility of securing the wallet's private keys. If so, a non-custodial wallet like MetaMask will suffice. If not, then a custodial wallet like eToro is more suitable. This removes the need to actively safeguard the wallet.
Software or Hardware: Next, consider whether a software or hardware wallet is more suitable. The latter will appeal to those holding a significant amount of crypto. Software wallets offer more convenience, especially for those that regularly buy and sell crypto.
Device Type: Investors should evaluate the device that they want to store the wallet. For example, on a desktop device or via a mobile app.
Supported Cryptos: The wallet should support the cryptocurrencies held by the investor. For example, those holding Bitcoin will not be able to use MyEtherWallet or Metamask.
Features: We prefer crypto wallets that offer additional features, such as being able to earn interest or trade tokens. eToro is great in this regard, as its wallet doubles up as an exchange.
User-Friendliness: Beginners should ensure their chosen crypto wallet is user-friendly. For instance, sending and receiving funds should be seamless and not require any prior knowledge.
How to Get & Use a Cryptocurrency Wallet
Up to this point, we have covered everything there is to know about crypto wallets. Next, we will explain how to obtain and set up a crypto wallet in under five minutes.
For this walkthrough, we are opting for eToro. This is because eToro is the overall best crypto wallet for beginners. No prior experience is needed to use eToro, and the provider is regulated by multiple tier-one bodies.
Step 1: Open an eToro Account
To get the ball rolling, open an account with eToro.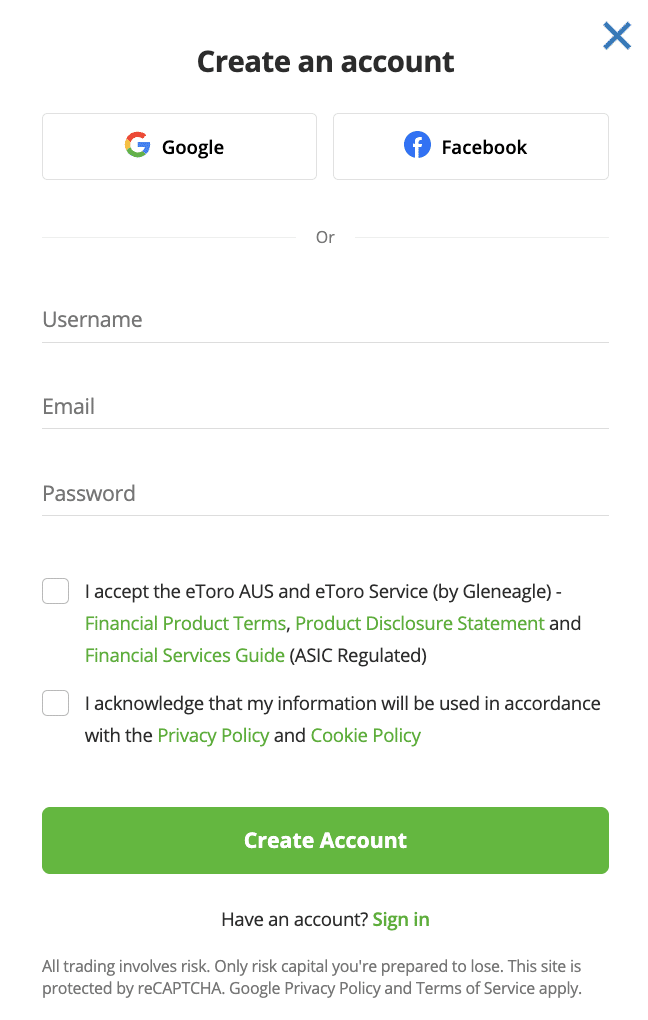 eToro will collect some personal information and contact details. The platform also requires a copy of a government-issued ID for KYC purposes.
Step 2: Download eToro Wallet App
With a verified Bitcoin account, the next step is to download the eToro wallet app.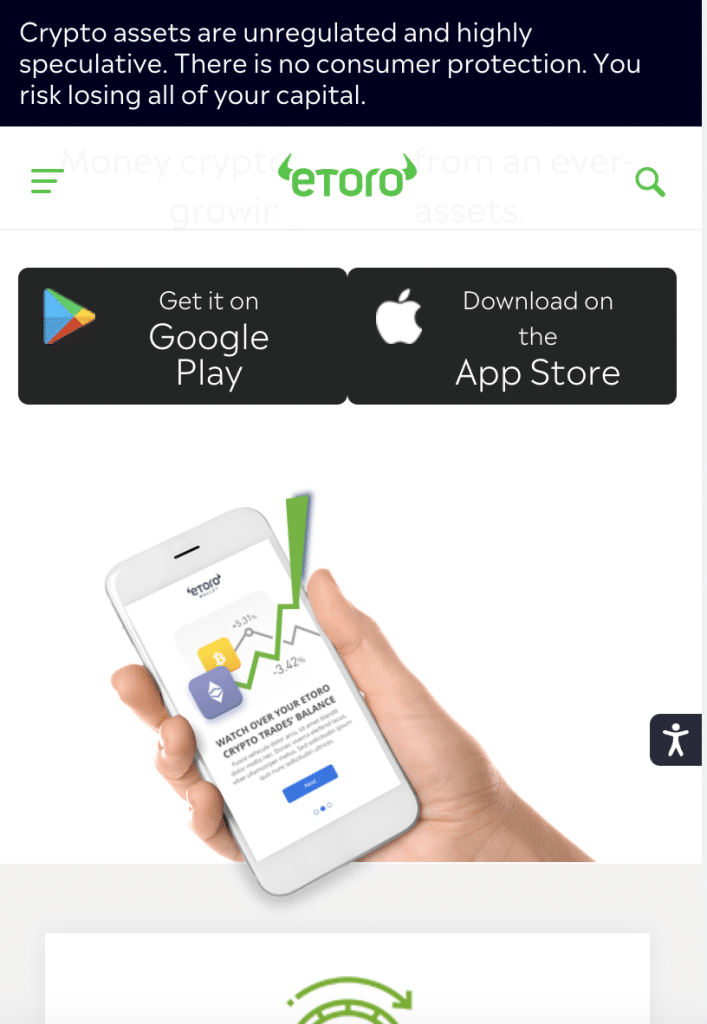 The app is available on both iOS and Android smartphones. Next, log into the eToro wallet app with the username and password created when registering.
Step 3: Transfer or Buy Crypto
The eToro wallet app is now installed and ready to receive funds.
Click on a cryptocurrency, and eToro will reveal the public address. This is the address that allows the wallet to receive funds.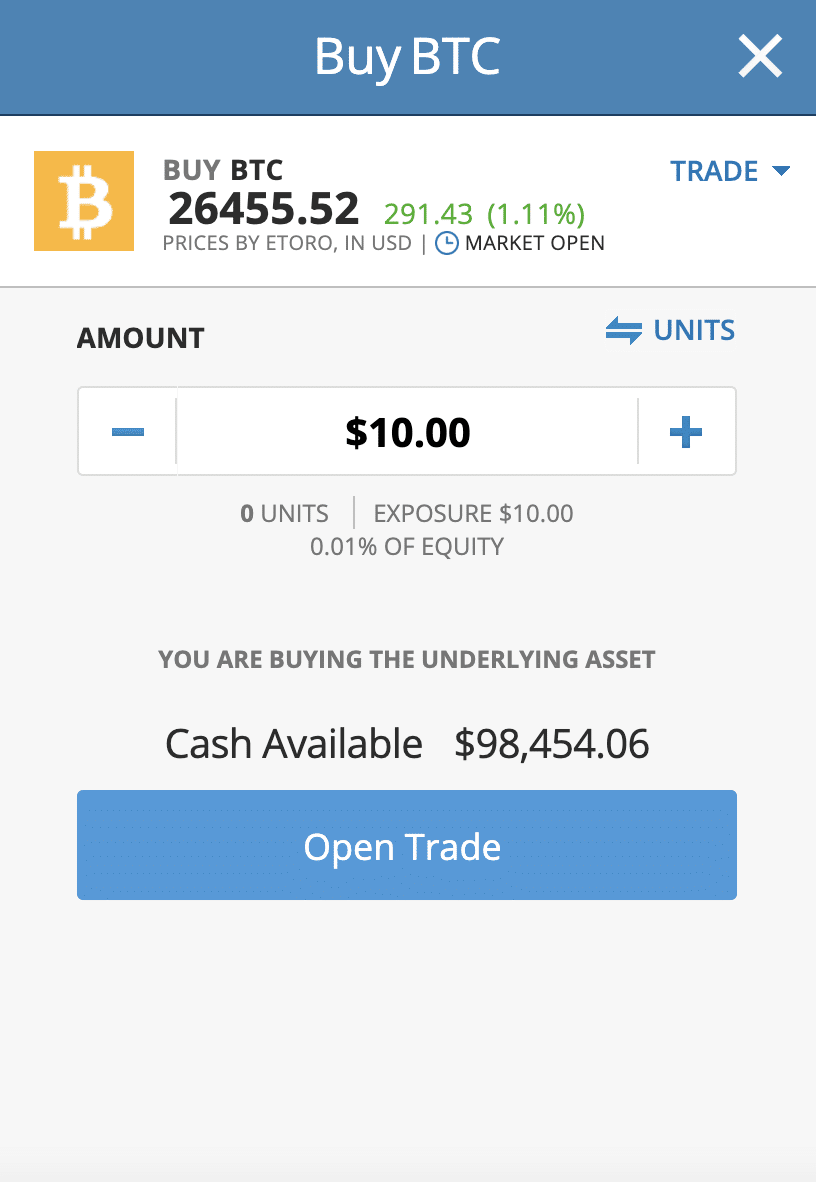 The easiest way to add funds to the eToro wallet app is by purchasing some crypto directly. eToro accepts Visa, MasterCard, Paypal, Skrill, and other e-wallets.
USD deposits are fee-free, and other currencies are charged 0.5%. The minimum purchase amount is just $10, which will appeal to beginners.
Complete the purchase and eToro will automatically add the crypto tokens to the wallet.
Cryptoassets are a highly volatile unregulated investment product.
Are Bitcoin Wallets Safe? How to Find Secure Crypto Wallets
Crypto wallets are designed to keep digital assets safe. But the reality is that crypto wallets are regularly hacked. This is often due to a lack of understanding of key security controls.
For example, clicking on a link from an unknown person, which turns out to be a keylogger. The hacker will then have access to the user's wallet once they enter their credentials.
Another scam to look for is phishing emails. For instance, the email will impersonate the wallet provider or an exchange. Thinking the email is legitimate, the user clicks the link and types in their wallet credentials. Again, this would enable the hacker to access the wallet and steal the funds.
Another mistake that newbies make is storing private keys online. For example, on a laptop, in an email, or on the cloud. In all instances, this allows experienced hackers to access the private keys and the contents of the wallet.
The examples discussed above concentrated on non-custodial wallets. This is because non-custodial wallets give users full control over their private keys. This means the user is 100% responsible for keeping the private keys safe.
A great alternative is to opt for a custodial wallet.
This is because the safety of the wallet is the sole responsibility of the custodian.
When choosing the right custodian, the crypto wallet is protected by institutional-grade security.
For example, cold storage, 24/7 risk management teams, insurance, and IP address whitelisting.
Furthermore, some custodians, like eToro, are regulated.
This offers an additional layer and security and ensures that a legitimate custodian is being used.
That said, custodial wallets still require users to follow basic security procedures. For example, using a strong password and checking that emails and links are credible before clicking them.
Conclusion
In summary, there are many things to consider when choosing the best crypto wallet. This is not only a choice between software and hardware wallets – but the device type.
Moreover, users also need to consider whether a custodial or non-custodial wallet is right for their goals and experience level. While seasoned crypto investors might prefer non-custodial storage, the best option for beginners is eToro.
eToro is a regulated custodian that offers a user-friendly web wallet and mobile app. Crypto assets are protected by cold storage and two-factor authentication.
Not only is eToro a safe option for beginners, but it also doubles up as an exchange. This means users can buy, sell, and store crypto in one secure and regulated place.
Cryptoassets are a highly volatile unregulated investment product.
References
https://coinmarketcap.com/rankings/exchanges/
https://academy.binance.com/en/glossary/secure-asset-fund-for-users
https://opensea.io/
https://trezor.io/compare
https://www.coinbase.com/blog/a-behind-the-scenes-look-at-the-biggest-and-quietest-crypto-transfer-on
https://www.coinomi.com/assets/
https://www.cnbc.com/2023/02/04/crypto-investors-lost-nearly-4-billion-dollars-to-hackers-in-2022.html
https://support.simplex.com/hc/en-gb/articles/360014078420-What-fees-do-you-charge-for-card-payments-
https://help.myetherwallet.com/en/articles/5708663-how-to-mint-eth-blocks
https://bitinfocharts.com/top-100-richest-bitcoin-addresses.html
https://brokercheck.finra.org/firm/summary/298361
https://register.fca.org.uk/s/search?q=522157&type=Companies
FAQs