Crypto
11 Best Play-to-Earn Games with Crypto & NFT Rewards for 2023
Play-to-earn (P2E) games have become a staple of the crypto world, allowing players to earn rewards simply for playing and hitting achievements or completing missions.
Different games offer different rewards – some tokens and some NFTs – but they all have real-world value and can be traded for other tokens or even sold for fiat money on dedicated exchanges.
The following guide will show you some of the best play-to-earn games. Some are already established titles with functioning ecosystems, while others are just starting and can give you a headstart in the space.
The Top Play-to-Earn Games for Real Rewards
Our team carefully selected the following P2E crypto games based on their potential and entertainment value:
Chimpzee – Buy NFT Passports, Earn Through a P2E Ecosystem, and Protect the Environment
Ecoterra — Overall Best Play-to-Earn Game with Recycle-to-Earn Concept
Tamadoge — P2E game with a meme-inspired coin that powers its ecosystem
Pikamoon – Join the Pikaverse and earn $PIKA tokens as rewards. This token is priced at $0.0004 during the ongoing presale.
Decentraland — Real-estate play-to-earn game with land offered as NFTs
The Sandbox — P2E game for creatives that also follows the "land-as-NFT" model
CryptoKitties — One of the first P2E crypto games that allow you to breed and trade digital kittens
Axie Infinity — Pokemon-like P2E game with collectible monsters that can duel
Splinterlands — Battle-focused crypto game based on the play-to-earn model
DeFi Kingdoms — Fantasy RPG based on a DeFi protocol, containing P2E elements
Gods Unchained — Digital trading card game with P2E elements
Best Play-to-Earn Crypto Games Reviewed
In the following section, we'll review the best play-to-earn games and discuss their gameplay, ecosystems, in-game tokens and NFTs, and more.
1. Chimpzee – Buy NFT Passports, Earn Through a P2E Ecosystem, and Protect the Environment
Through the Chimpzee ecosystem, users can earn passive income, engage in a play-to-earn world, shop and earn rewards whilst protecting the environment. Despite Chimpzee just launching its native token, $CHMPZ, on presale, it has already started protecting the environment.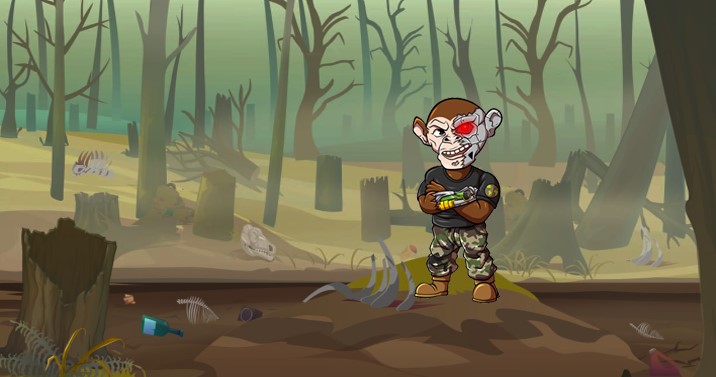 Over 1,200 trees have been planted by Chimpzee, and the platform has pledged to donate $15,000 to the WILD foundation to help protect elephants. Chimpzee's P2E environment, the zero-tolerance game, is based around your NFT avatars fighting against forest poachers.
To enter the game, users will need to purchase an NFT passport. Chimpzee uses AI tools to allow users to make their NFTs look like themselves. On the platform, these NFT passports can be staked to earn an APY (Annual Percentage Yield) of up to 20%. All tokens spent to purchase these NFTs will also be burnt.
By participating in the game, users can win free $CHMPZ tokens and get premium prizes. The tokens collected can be leveraged to purchase merchandise and gear on Chimpzee's online store. By making a purchase, you will earn free tokens. At the same time, the revenue generated on the online store will partially be distributed towards the charities Chimpzee works with.

The ongoing $CHMPZ token presale has already managed to raise $500K. 45 billion tokens have been allocated for the presale. 10% of the entire token supply will also be allocated towards charities that help protect the environment and animals.
Interested investors can buy Chimpzee for $0.0006 on presale now. Join the Telegram channel for more information, and read the Chimpzee whitepaper to learn more about this cryptocurrency.
2. Ecoterra — Overall Best Play-to-Earn Game with Recycle-to-Earn Concept
Ecoterra is our top pick for the best play-to-earn game and is one of our overall best new cryptos to buy.
The project isn't strictly a P2E game in the traditional sense but is a fun way to earn rewards while also helping in the fight against climate change.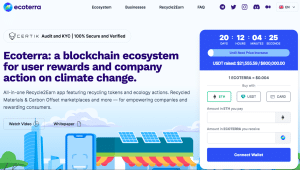 The new recycle-to-earn concept sees users simply take recyclable items and deposit them into Reverse Vending Machines (RVMs) – which can be found in supermarkets worldwide – and earning ECOTERRA tokens.
All that needs to be done is to scan the barcode on the Ecoterra app, with each item having a preset value. Tokens can then be converted and sold on exchanges, held as a long-term investment or staked to generate a passive income.
Furthermore, Ecoterra also allows users to spend their ECOTERRA tokens on other environmentally-friendly projects, such as tree planting or beach clean-up, or to purchase verified carbon credits.
Ecoterra is among our picks for the best future crypto projects and has partnered with multi-billion dollar supermarket chain Ahold Delhaize, also has a recycled materials marketplace to easily connect users with recyclers and recyclable materials.
All actions are visible on the mobile app and users earn further rewards – such as NFTs – when they reach certain milestones and achievements.
The ECOTERRA presale has just launched with tokens currently on sale for $0.025 and rising to $0.035 in the sixth and final stage. Of the 2 billion max supply, 50% has been made available during the presale with no vesting period and a hard cap of $6.8 million.
The Ecoterra team is doxxed and KYC-verified, read the Ecoterra whitepaper for more information and join the Telegram group.
2. Tamadoge — P2E Game With a Meme-Inspired Coin
Tamadoge made it to #2 on our list of the top play-to-earn games thanks to its unique approach to crypto gaming, DeFi, NFTs, and P2E games.
The meme coin project, which was one of the best high-risk, high-reward cryptos of the last 12 months, has huge potential for the future given its gaming ecosystem and tokenomics.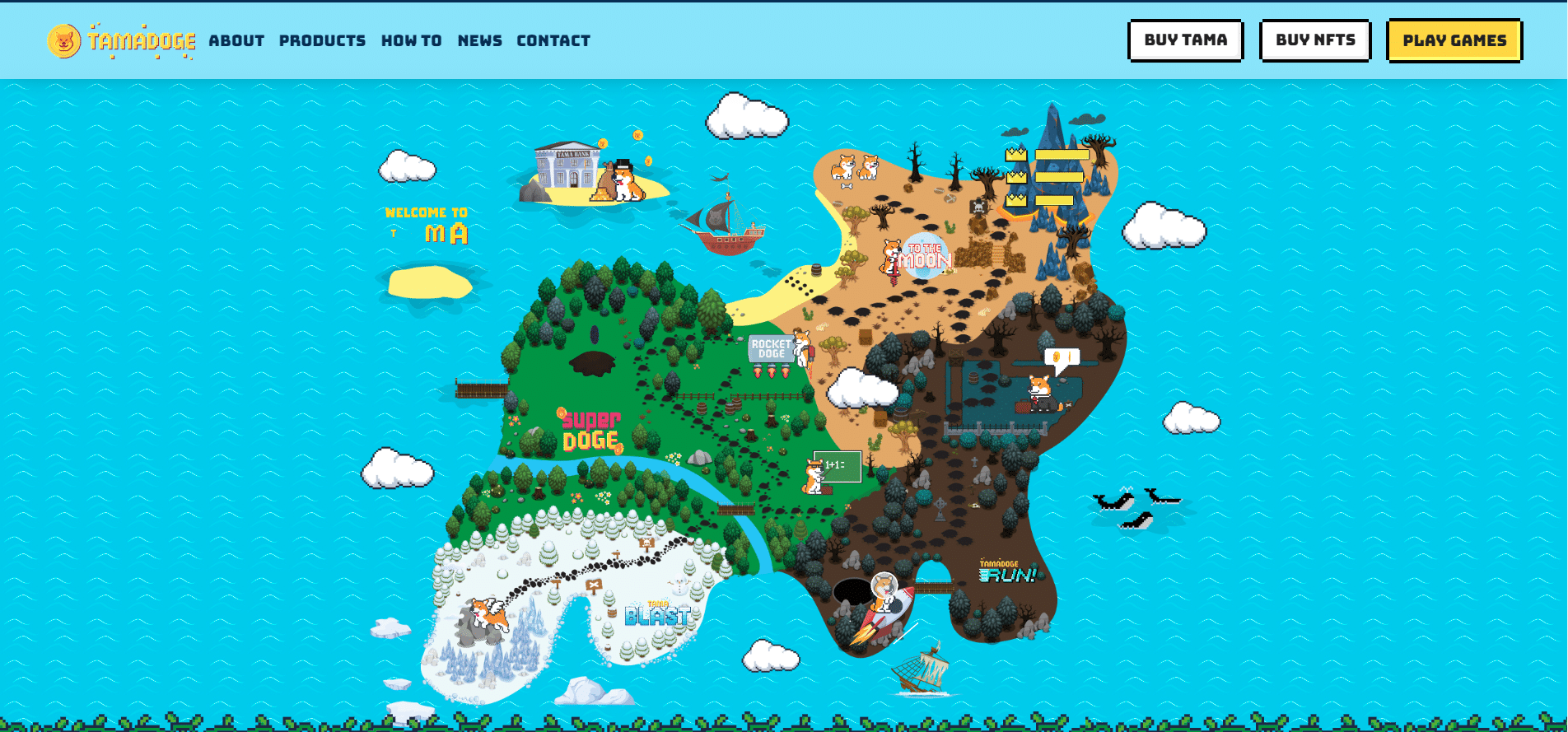 In the main Tamadoge game, users buy, mint, breed, and battle with their own Tamadoge NFTs, which are animated Shiba Inus with unique accessories and stats, to earn tokens and rewards.
Based on 90s craze Tamagotchi, the game is expected to be a huge hit when it's released later this year.
Tamadoge also has the Tamadoge Arcade, where users can play various play-to-earn games using their Tamadoge NFTs and the native currency of the Tamaverse, the TAMA token.
The games are also available free-to-play and are styled on retro platform games. They include:
Rocket Doge — Fly a Doge rocket and keep it on course.
To The Moon — Jump as high as the moon and try to beat the score by collecting coins.
Superdoge — Fight enemies and collect coins to win.
Tamadoge Run — Dodge various creatures as you run through a haunted graveyard.
The project is also developing an augmented reality app where Tamadoge holders can take their pets out into the real world to hunt for treasure.
TAMA enjoyed one of the best crypto presales of 2022, raising $19 million in just eight weeks before pumping almost 2,000% from its early presale price.
The price has since retraced amid the wider crypto market but remains a high-potential token for the next bull run.
Unlike other meme coins, TAMA has a strict supply of just 2 billion – Dogecoin has 130 billion and counting for comparison – and a deflationary mechanism with a 5% burn on Pet Store transactions.
4. Pikamoon – Earn Rewards by Joining this P2E Metaverse
Pikamoon is a Role-Playing Game (RPG) that gives players the chance to gain rewards in its virtual world. It allows people to use $PIKA to purchase non-fungible tokens (NFTs) and participate in tournaments and adventures for money.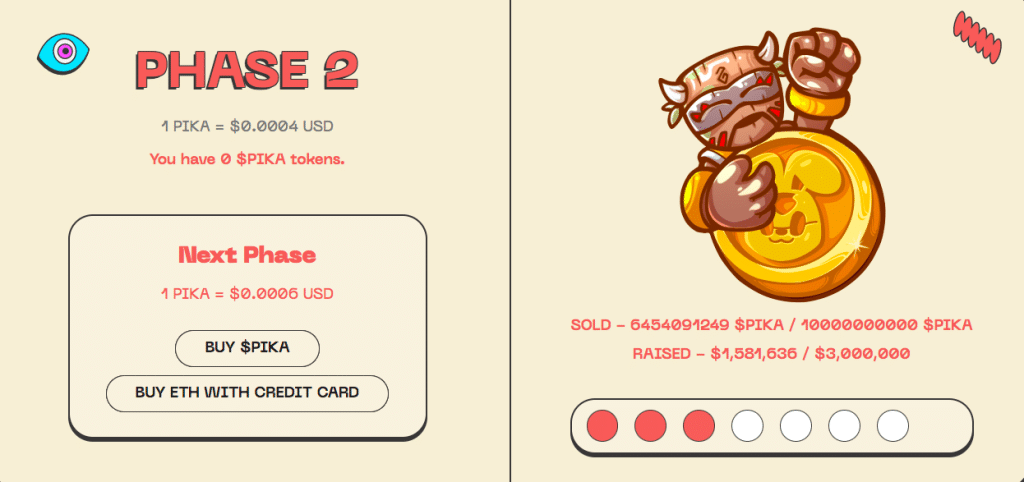 On the Pikaverse, users will enter the world of Dreva. Just like popular metaverse-based games such as Decentraland and Axie Infinity, users can purchase virtual land NFTs on the ecosystem. The purchase can be made with $PIKA tokens.
With $PIKA, users will be able to purchase Pikamoon NFTs, which can be used for exploration within the game and on the battle system. There are a total of 18,012 Pikamoon NFTs, each belonging to four different regions on the Dreva planet on the Pikaverse.
The four regions of Dreva consist of the Thunder Collective, Earth Regions, Water Kingdom, and the Flame Empire. From the exploration mode, users will be able to collect tokens and capture Pikamoon avatars, similar to Pokemon.
The battle mode will let users leverage their NFTs in battle against other opponents. Along with an online mode, an offline mode will also be incorporated for those that want to access free-to-play options.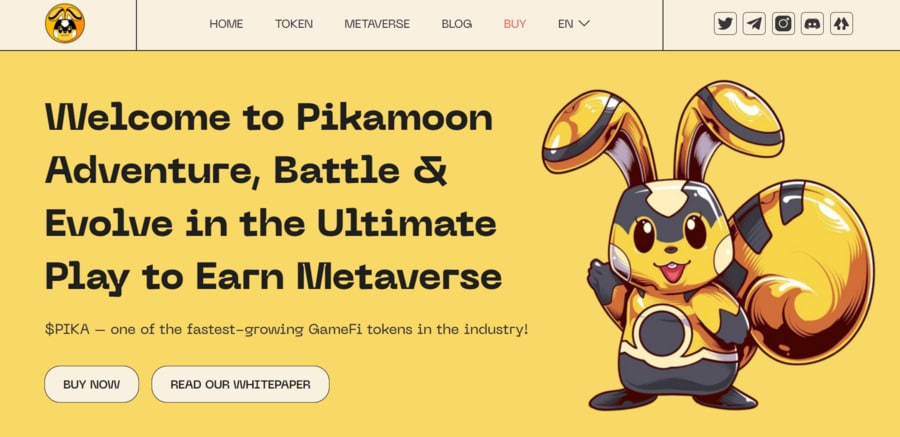 From a total supply of 50 billion tokens, 15 billion are being distributed equally across three presale rounds. Currently, in round two, $PIKA is priced at $0.0004 per token. By the final round, the price will increase to $0.0006.
The Pikamoon presale has raised over $1.5 million since the phase started. Read the Pikamoon whitepaper and join the Telegram channel to learn more about this project.
5. Decentraland — Real-Estate Play-to-Earn Game
Decentraland is a decentralized virtual world where you can create, explore and trade with other users. You can also play games, attend events, visit galleries, and more.
Yet, the essence of this project is virtual land. Simply put, users can buy virtual plots of land and do all kinds of things on them, including organizing events, building structures, and so on – each parcel of land is technically an NFT called LAND, the basic unit in the game.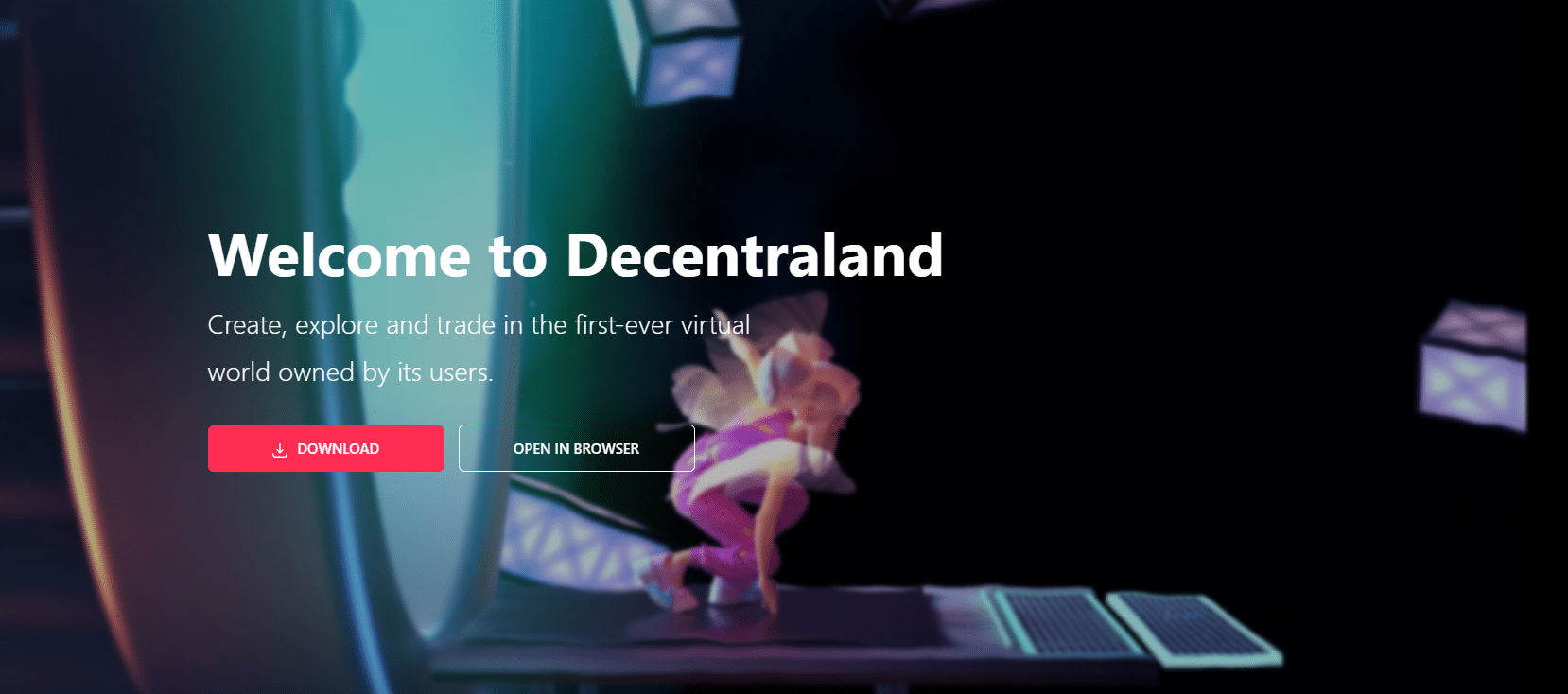 In addition to land, players can create and customize their avatars and use them in many events, some of which can award them in-game coins called MANA.
You can trade both LAND and MANA to make a profit and have fun. Like every other NFT, the price of LAND increases and decreases based on supply and demand, similar to real estate. Technically speaking, it is virtual real estate but with an entertaining twist.
If you want to join Decentraland, download the client or open it in your browser. You will need a Web3 wallet like Metamask to connect to the game and earn crypto.
6. The Sandbox — P2E Game for Creatives
The Sandbox is another one of the top crypto games, sharing some similarities with Decentraland, as it also focuses on digital land. However, it's much more than that.
It is a 3D virtual world where you can build, explore and monetize your gaming experiences using non-fungible tokens called LAND (NFTs) and SAND (cryptocurrency), the native utility token of the platform.

The Sandbox features a suite of tools, such as VoxEdit, Game Maker, and Marketplace. VoxEdit is a software that lets you design and animate your own voxel models (NFTs) that can be used in your games or sold in the Marketplace. Game Maker is software that lets you create your own games and experiences using drag-and-drop logic and thousands of assets made by the community.
The Marketplace is a platform where you can buy and sell NFTs and LANDs, which are parcels of virtual land in The Sandbox metaverse.
7. CryptoKitties — P2E Game Featuring Digital Kittens
CryptoKitties has already become a legendary P2E game, as it revolutionized the crypto industry and paved the way for NFTs. The game's rules are relatively simple: breed and collect digital kittens, where every cat is an NFT.
Some cats might have special looks and features that make them more unique, which means they are scarce and are likely more costly.

The game was launched in November 2017 by a Canadian studio called Dapper Labs. It quickly became a viral sensation, attracting millions of users and generating millions of dollars in revenue.
CryptoKitties also caused significant congestion on the Ethereum network, as the high demand for transactions overwhelmed the network's capacity. Since then, CryptoKitties has moved to a new blockchain called Flow, designed to handle high-volume applications like games and social networks.
8. Axie Infinity — Pokemon-Like P2E Game
Axie Infinity is considered one of the most entertaining P2E crypto games, as it was one of the first titles to let players who collect Axies (in-game monsters) use them in battle.
In other words, players get to collect various in-game creatures as pets and use them in a fight, which is why some players refer to this game as Pokemon of the crypto world.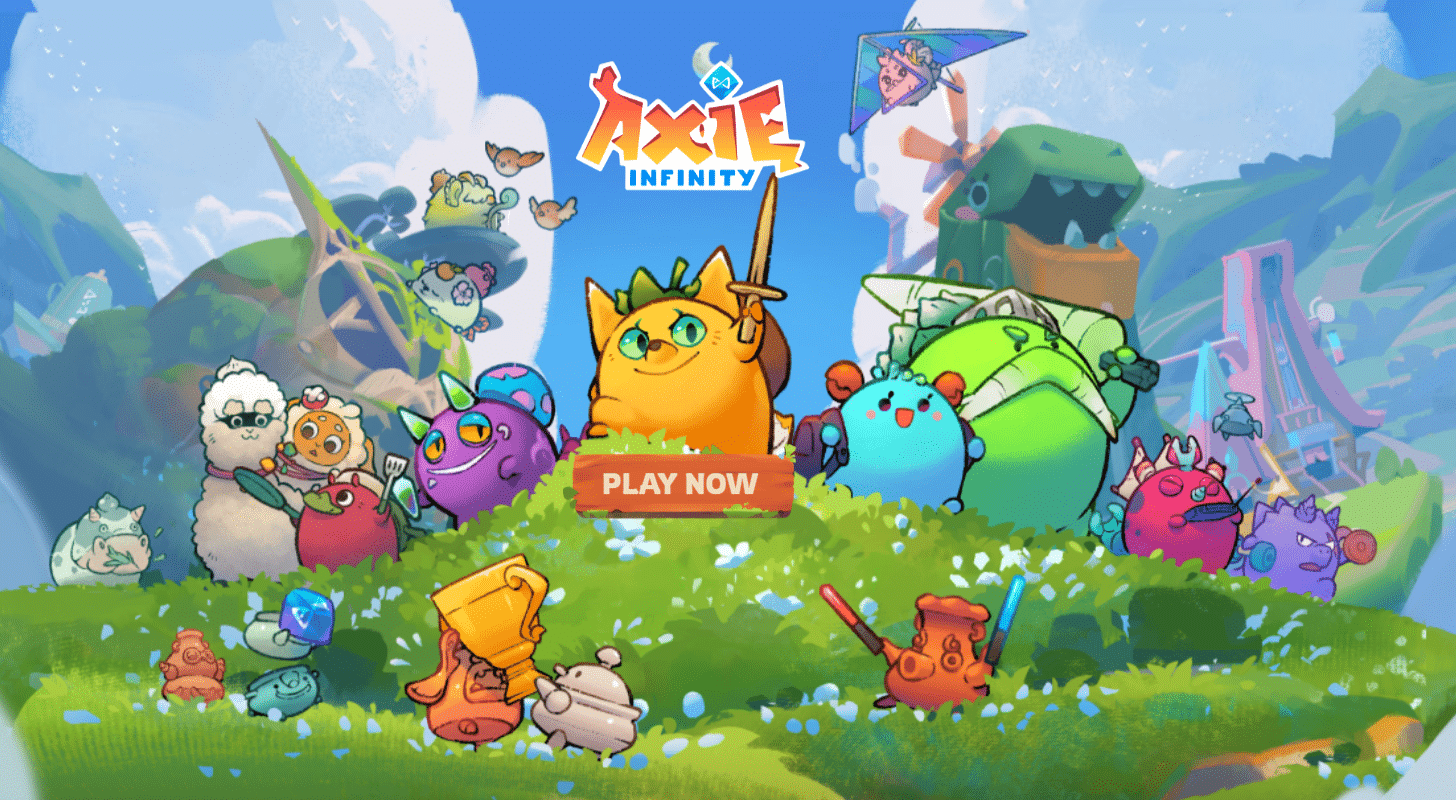 The project is Ethereum-based, where each in-game monster is an NFT. Moreover, Axie Infinity uses an in-game cryptocurrency called Axie Infinity Sharts or Tokens (AXS) – which is among the best gaming crypto coins. They are awarded to successful players and can be traded on exchanges.
Besides dueling, Axie Infinity introduced various other capabilities. For example, in the land mode, you can build your village on a plot of land on the planet of Lunacia. Moreover, you can harvest resources, craft items, and interact with other players.
9. Splinterlands — Battle-Focused Crypto Game
Splinterlands is considered not only one of the best P2E games but also one of the best new trading card games.
Players can make a profit by collecting, buying, and selling different cards, where each card has real value, thanks to the fact that the game is blockchain-based. In other words, every card is a non-fungible token.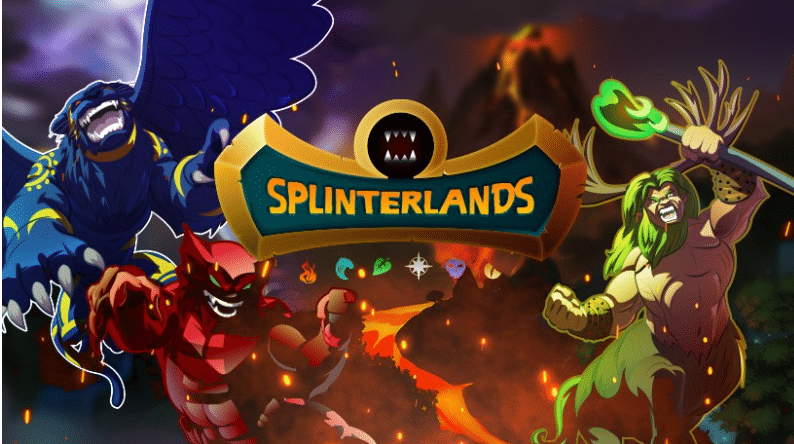 Splinterlands was heavily influenced by titles such as Magic the Gathering and Hearthstone. In other words, the game's essential feature is the gameplay, which revolves around playing cards.
By learning the rules and mastering your card-dueling skills, you can get a chance to earn in-game coins and rank better in the Splinterlands community. The main cryptocurrency in the game, which makes its ecosystem go round, is Dark Energy Crystal (DEC), which can be traded for other cryptos on exchanges.
10. DeFi Kingdoms — Fantasy RPG Based on a DeFi Protocol
DeFi Kingdoms is marketed as a cross-chain fantasy role-playing game. Simply put, it's a pixel-art RPG where all resources and heroes are tokenized and turned into NFTs.
MMORPG is perhaps a more accurate description, given that the game is played online with many players populating the in-game world simultaneously.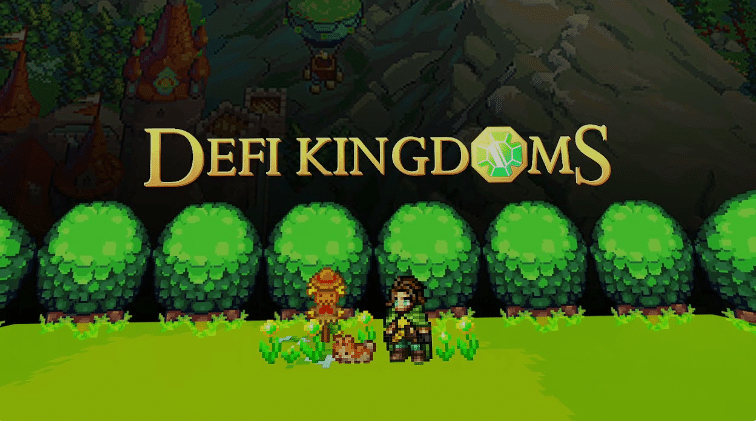 Being cross-chain, the game is available on Klaytn and Avalanche, featuring more than 100,000 users on all networks. It currently has two realms, although it's designed to feature many others in the future.
The game's play-to-earn mechanics are based on the JEWEL token, which is used to power its ecosystem and has real value. It can also be used for governance rights, in-game powerups, and even an opportunity to get a portion of the distributed fees that the game charges to players.
Like in many other RPGs, heroes have unique abilities and items that can help players. Some heroes feature rare items, making them more valuable.
11. Gods Unchained — Digital Trading Card Game With P2E Elements
When ranking play-to-earn games, we immediately knew Gods Unchained would have to make it to the list, as the game is the main competitor to Splinterlands.
It is a blockchain-based trading card game that allows players to collect, trade, and battle using digital cards.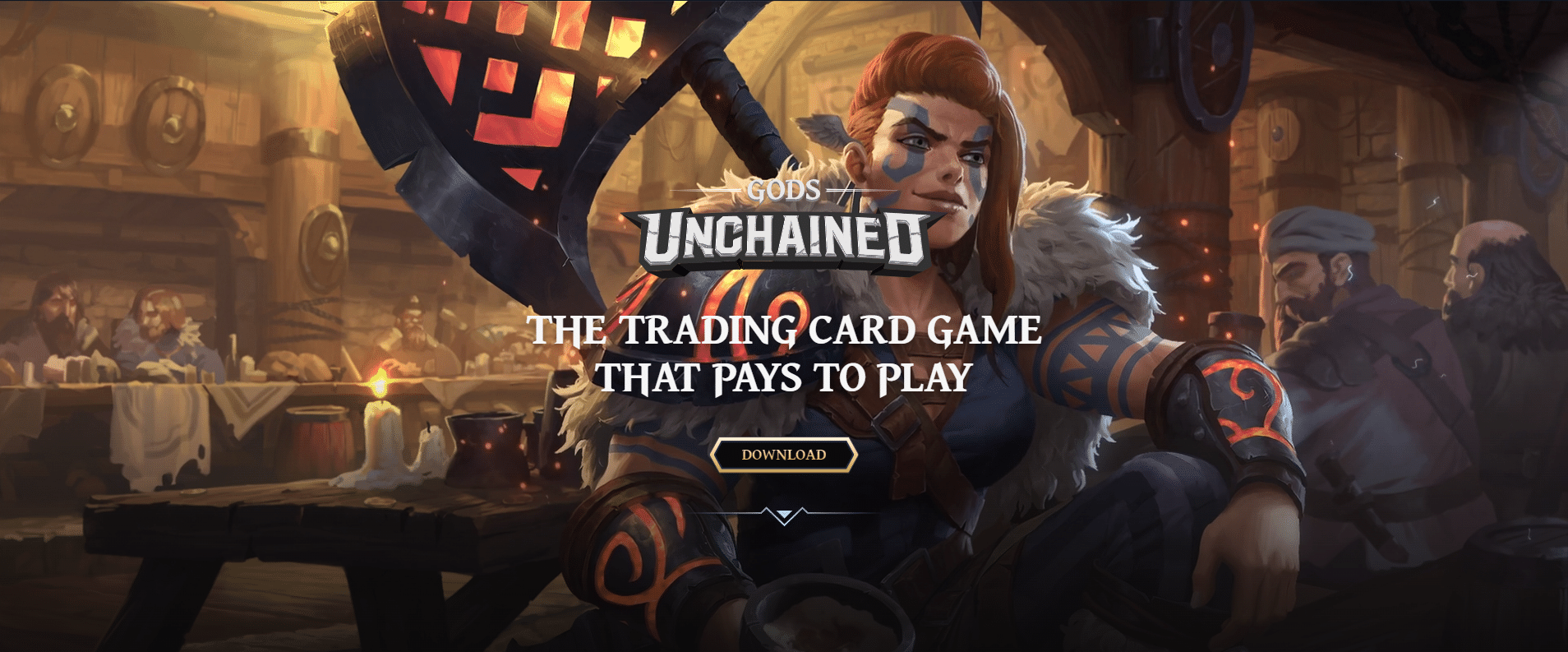 Unlike traditional trading card games, Gods Unchained gives players full ownership and control over their cards, which are stored as non-fungible tokens (NFTs) on the Ethereum network.
The game uses a unique balancing system that adjusts the power of cards based on their popularity and performance. It also features a variety of modes and formats, such as ranked matches, draft tournaments, weekend events, and solo adventures.
You will need a compatible Ethereum wallet to store your cards and interact with the marketplace, such as MetaMask or Coinbase Wallet.
What Is a Play-to-Earn Game?
A play-to-earn game is an online game that rewards players with cryptocurrency or other digital assets for playing.
Unlike traditional games that rely on in-game purchases or advertisements for monetization, play-to-earn games allow players to earn value for their time and skill.
One might wonder: how is that even possible? They follow a similar pattern as Bitcoin, and almost every play-to-earn game is based on blockchain. In other words, they have their own ecosystems, cryptocurrencies, and even non-fungible tokens, which have real-life value and can be traded on centralized and decentralized exchanges.
For instance, in the game Axie Infinity, players can earn an in-game cryptocurrency called SLP, which can be used to purchase assets and services within the game or traded for other cryptocurrencies, such as Ethereum.
Play-to-earn games are part of the broader trend of Web3, which is the vision of a more decentralized, user-centric, and open internet.
Analysts at top investment bank Citi belive the metaverse could be worth anywhere between $8 and $13 trillion by 2030, with the space set for exponential growth as technology evolves.
Web3 aims to empower users with more control over their data, identity, and assets and enable new collaboration and innovation. Play-to-earn games are one way of realizing this vision by creating new opportunities for entertainment, education, and social impact.
How Do Play-to-Earn Games Work?
Play-to-earn games are powered by blockchain technology, which enables the creation and exchange of digital assets that are scarce, verifiable, and owned by the players.
It's like owning Bitcoin, except that you can use it in an ecosystem of a game to buy and sell in-game items, characters, features, and more.
For example, one of the most popular play-to-earn NFT games, CryptoKitties, uses the Ethereum blockchain to enable players to purchase, collect, breed, and trade virtual cats.
These cats are used in the game and can be owned by players, but what makes them different from standard collection games is that they have real value. You can go to an NFT marketplace and sell your cat to another player for crypto. Some kitties are rarer than others, meaning their price is usually higher due to scarcity.
Blockchain also ensures the security and transparency of game transactions, as well as the interoperability of game assets across different platforms and metaverses. You can sometimes trade assets from different P2E games, provided they're on the same blockchain.
For example, you can exchange your AXIE with Ethereum easily because the game Axie Infinity is built on the Ethereum platform (but cross-chain interoperability is becoming a hot topic nowadays).
Types of Play-to-Earn Crypto Games
The P2E space is relatively new, so drawing lines between different types is still not entirely possible.
As you'll see, many of the listed games belong to different categories and, just like with console and PC games, there are a huge array of games to fit every need and genre.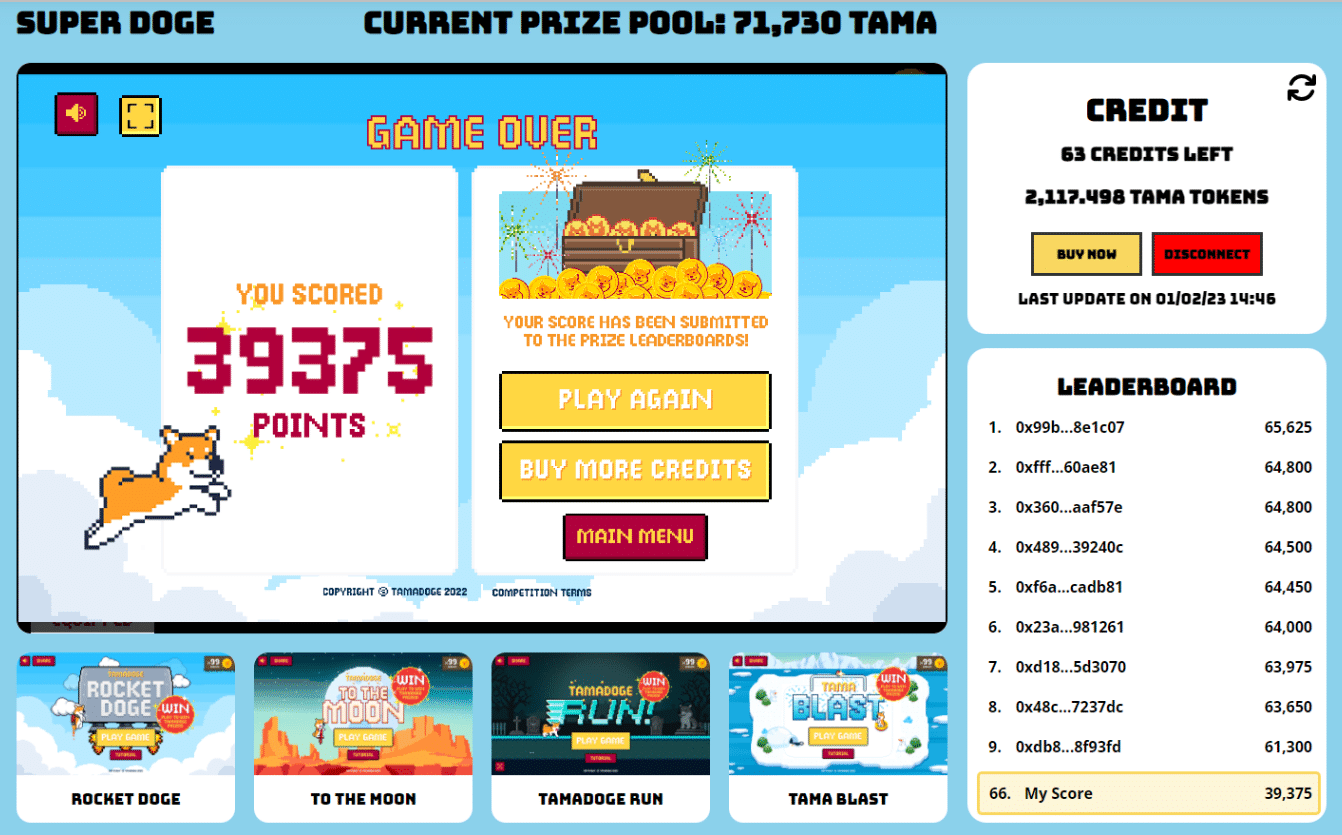 That includes shooters, racing games, RPG games, trading card games, real-estate games and so on, with the difference being that the player can monetize any of these games rather than paying out of their own pocket.
Even things like fantasy sports have made it to the blockchain, through projects such as Sorare.
Many new P2E crypto games are released all the time, so a fan of any type of game will be able to find what they are looking for.
Battle games — Just like with console or PC gaming, shooting, fighting and player-vs-player games are extremely popular. Tamadoge has elements of battle gaming, as do a wide variety of other games not listed here.
Real-estate games — These are titles such as Decentraland and The Sandbox, where you can buy and sell virtual land. Of course, these games often combine various other elements that players can earn while playing.
Trading card games — Trading cards combine well with NFTs and have P2E characteristics. One example is Gods Unchained, where each card has real value, and you can earn by trading them or winning against other card players.
Collections — Games such as CryptoKitties don't feature complex gameplay, as the focus is on collecting kitties.
Casino and slots — There are also a huge number of crypto casinos – offering slots as well as poker, roulette and blackjack – where players can gamble with crypto to win rewards.
Benefits of P2E Games
Some of the perks of P2E games include the following:
Source of income — Players can generate income by playing P2E games. In most cases, that might not be enough to make a living. Still, having a fun side hustle for a bit of extra cash doesn't sound like such a bad idea.
Transparent and fair gaming economy — Players control things in play-to-earn games. They have full ownership of digital assets in P2E games. This is not like traditional games that can shut down servers, ban accounts, or change rules at any time. P2E games give players the power to store, transfer, and sell their assets without intermediaries or restrictions.
Creative inspiration — P2E games foster innovation and creativity in the gaming industry, where developers can experiment with new genres, mechanics, and features that leverage the potential of blockchain technology.
Can You Really Earn Crypto With Play-to-Earn Games?
In short, yes, it is possible, as P2E games are blockchain-based and function similarly to Bitcoin and the space is only getting more popular.
A recent Statista report revealed that by 2026, at least 25% of people worldwide will spend at least one hour per day in the metaverse, with 30% of global businesses expected to have metaverse-ready projects and services by then.
There are different ways that players can earn from play-to-earn games, depending on the game design and mechanics. Some common methods are:
Trading in-game tokens earned through achievements or as a reward for other cryptocurrencies or fiat money on exchanges and marketplaces
Collecting NFTs that represent unique game items or characters and selling them
Staking or lending in-game coins to earn passive income (provided this feature is available in the game of your choice)
Taking part in governance and community activities that are related to game development and direction
Competing in in-game tournaments that offer coins or NFTs as prizes
Building upon virtual plots of land in a metaverse and charging admission
Are P2E Games Safe?
Generally speaking, blockchain is a safe and secure technology that protects your digital coins and transactions. However, you should still learn as much as possible about crypto, blockchain, DeFi, and P2E to minimize the risk of being scammed. In short, blockchain gives us more freedom with our money, which means we need to be more responsible.
Here are some of the main factors regarding safety to consider when playing P2E games:
Overall security — Players must use secure and reputable wallets, platforms, and exchanges to protect their assets from hackers, scammers, and fraudsters. They must also keep their private keys and passwords safe and never share them with anyone.
Regulation — P2E games operate in a largely unregulated space, which means there is no clear legal framework or authority to govern them. This can lead to uncertainty, ambiguity, and disputes over taxation, ownership, intellectual property, and consumer protection issues. Players must know their jurisdiction's laws and regulations and comply accordingly.
Volatility — P2E games are subject to the volatility of the crypto market, which means the value of their tokens and NFTs can fluctuate significantly over time. You should be prepared for the price to increase and decrease at any time and act accordingly.
Conclusion
Our list of the best play-to-earn games should be enough to get you started and introduce you to the world of P2E, where players get to earn real crypto and NFTs. Remember that each game has unique rules, tokenization principles, and more, so it's imperative to understand a game's underlying mechanisms before engaging in it. Study the ecosystem of your chosen game and see the best possible way to make money in it.
Ultimately, keep your gameplay casual and consider P2E games a type of entertainment rather than a source of income.
We have selected Chimpzee as our best play-to-earn crypto game, as it allows users to earn rewards, while contributing to animal chartities.
FAQs