Blockchain
Blockchain developer vs software developer: key differences – TAIKAI
As more opportunities arise in the world of web3 and blockchain, there is also a growing demand for blockchain developers.
At the moment, the market is expanding rapidly, and we are witnessing high demand and low supply – this means that the conditions, benefits, and salaries of blockchain developers are superior to those of traditional software developers – also known as web2 developers.
So, if you want to further your career and keep up with the competition, being a blockchain developer should be your top priority.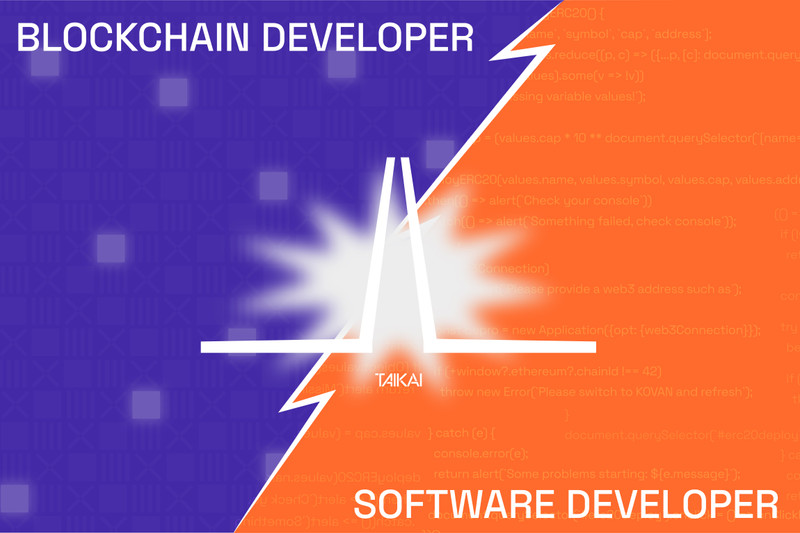 The good news is that if you're familiar with programming languages, you're already on the right path.
Jerry Cuomo, IBM Fellow and Vice President Blockchain Technologies, said in this article:
"You've already learned the basics of what you need to know to be a blockchain developer. Writing chaincode and smart contracts really could be done with things you've already learned."
However, there are several important distinctions between blockchain developers and software developers that we'll discuss in this article. Here's what you'll learn:
Table of contents:
What level of education is required to become a blockchain developer? 🎓
Blockchain development languages needed 📚
Blockchain developer vs software developer: hard skills comparison
Soft skills & Idioms 🤹 🌍
Blockchain vs Software developers salaries💲
What's the required educational background to work as a blockchain developer? 🎓
Before we talk about specific developing languages, you may be wondering what degree is required to be a blockchain developer rather than a software developer.
Degrees in computer science or related fields may qualify you to work as a full-stack developer. Is working as a blockchain developer the same thing?
Well, because web 3.0 is new and in development, there isn't yet a single degree tailored for blockchain developers. This doesn't mean, however, that you shouldn't consider applying for a degree.
Even though they might not be yet recognized as obligatory, some companies may require a related bachelor's degree or further studies in blockchain and web3 related courses.
If you want to maximize your chances of being hired for this role, you should consider obtaining a degree that's specialized in blockchain systems, for example.
As you may be aware, blockchain emerged in tandem with the success of bitcoin. Having a solid knowledge of cryptocurrency is also important in the comparison of blockchain developers vs software developers.
If you have a Master's degree in Economics, Finance, Accounting Sciences, or a related field, you are already on the right track.
In another article, we provided the best courses that you should take on how to become a blockchain developer.
Practice, practice, and practice some more!
Having a degree is important, but having experience is pretty much mandatory to land your first role as a blockchain developer or software developer.
At TAIKAI we provide a hackathon platform for web3 and blockchain developers. You can practice your skills with our hackathons or apply for a web3 position with our hiring challenges.
Furthermore, with Bepro Network Protocol, we connect developers with operators or anyone looking to build decentralized applications into a decentralized marketplace. That means you can also participate in bounties and earn crypto in the process.
Here's another piece of advice from IBM Vice President Blockchain Technologies, Jerry Cuomo:
"Remember that every blockchain application is an application! Meaning, I would say 20% of the actual code you write is blockchain specific code, but guess what, 80% is all the code you had to write before already".
Blockchain development languages needed 📚
Since we're on the subject of writing codes, here's a question:
Do you believe that as a blockchain developer, you will only write smart contracts to build on Ethereum-like blockchains? The answer is an emphatically no.
As a web3 developer, you can create shared economy solutions, virtual identities, NFTs, DAOs, and much more. The possibilities are endless and there's a growing number of blockchain companies in the market, as well as web2 enterprises looking to tap into the web3 world.
You can find various projects (not just on smart contracts) and join communities to develop on Ethereum using various languages; learn more here.
But yes, programming smart contracts is vital comparing blockchain developer vs software developer jobs. Aside from languages such as C++, Python, and Java, which are also important in Blockchain technology, there are some that should be familiar with as a blockchain developer languages expert:
Goland: assists developers in the development of fast blockchain systems and maybe the best for creating hyperledger fabric, which means developing modular architecture applications or solutions. It goes for accommodating plug-and-play components like consensus, privacy, and membership services.

C#: similar to Java and C++ programming languages, C# allows open-source developers to run projects on multiple operating systems (Windows, Mac, Android, Linux) and include Stratis, a Blockchain-as-a-Service provider that assists businesses in developing applications (Dapps) on Blockchain platforms.

Solidity: a programming language for creating smart contracts on the Ethereum Virtual Machine (EVM).

Vyper: derived from Python 3, is also used on Ethereum but has different control and security structures.

Simplicity: Designed for smart contracts as well, but on a high-level blockchain development language focused on Bitcoin Script.

Rholang: Another great solution for smart contracts with a more functional approach. dApps can be written on the Rholang developer ecosystem.
Extra tip on languages: yes, JavaScript! 💻
Let's not forget JavaScript. Aside from being one of the three main technologies from the World Wide Web (www), alongside CSS and HTML, JavaScript can be also used on creative Blockchain applications, once it's integrated into most systems.
Blockchain developer vs software developer: hard skills 📝
We conducted research on the open blockchain developer positions, both for startups and big tech.
The following are the basic requirements that recruiters look for in a blockchain developer job versus a software developer job:
Coding languages such as Javascript, Python, Java, C++, Scala, blockchain programming Java, Solidity, Simplicity, CX, VyperCoding languages such as Asp.net, Javascript, Python, Java, C++, ScalaExperience with SQL, NoSQL, golang, chain code, web3.js, Geth, Corda, AWS, Bluemix, Azure, StellarExperience with SQL, NoSQL, AWS, Bluemix, Azure, StellarMore than one or two years of coding in node.jsNode.js experienceBackend software engineering experience or full-stackFrontend or backend software engineering experience or even fullstackDeveloping highly reliable, scalable products and servicesDeveloping highly reliable, scalable products and servicesBeing able to build DappsAbility on developing AppsCertifications in blockchain technologies and, preferably, a bachelor's degreeDegree in software development or related areasBlockchain coding sample or portfolioPortfolio
Github importance ✓
Many recruiters request Github, probably the world's largest platform for developers to collaborate. It's similar to a social media platform for tech projects.
The platform that hosts codes as a repository is now in the magnifying glass of recruiters, who will examine aspects of your profile such as popular repositories and contributions.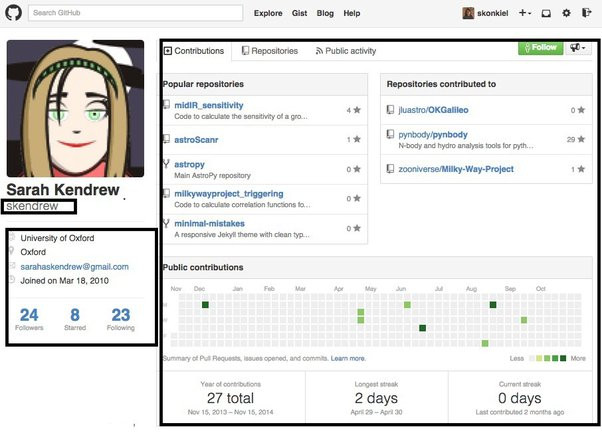 So, if you're looking for jobs (or freelance work) as a software developer, keep in mind that your popular repository demonstrates something positive about it. If you're looking for work as a blockchain developer, the same advice applies: contribute and work on it.
What about soft skills? 🤹
Now that we've acknowledged the importance of hard skills, let's take a look at soft skills.
Most traits are shared with the traditional software engineer role: communication, teamwork collaboration and problem-solving are the skills most recruiters will look for.
However, you can go the extra mile with a few other perks in hand:
Idioms to consider 🌍
Because of the global wave of blockchain, consider learning Spanish to work on Latin American projects. Countries like Chile are using the Ethereum blockchain to track data and finances.
In Europe, on the other hand, you might consider German. Switzerland (which has German as one of its official languages) launched the issuance of digital IDs based on ETH. In addition, Germany's industry platform "Industrie 4.0" is developing a blockchain for automated machine communication, contracting, and payment.
In Asia, we can say that Japan was one of the first adopters of Blockchain technology because of the mining of Bitcoin. China has declared restrictions on crypto mining and cryptocurrency, but there is a blockchain industrial framework in place. Singapore and India are also two other technologically advanced countries that are working on similar projects.
Problem-solving and creativity 🧐
Keep in mind that attention to detail is essential as a software developer and even more if you want to become a blockchain developer.
As you are aware, one of the main responsibilities of a software developer is fixing issues and bugs, so you must be a "problem-solving person". Here is a hint:
"I think that fidelity in 'this is what I've learned' versus, for example, other blockchains that use lesser-known languages and environments. I would say these tend to be more error-prone for a developer who is not familiar with such a language because bugs are more likely to occur in environments that you're less familiar with", says Jerry Cuomo.
It denotes that advanced analytical skills and creativity are required for writing and applying code.
Be Agile! 🏃
Another clue that is also important: have you worked on projects that used Agile methods?
Requirements and solutions evolve through collaboration between self-organizing teams. There are also short sprints to complete, which is useful for relocating efforts if something needs to change.
When Agile Manifesto was first published in the early 2000s, it demonstrated to developers the importance of being able to respond to changes. Priority, flexibility, and ongoing prototyping are all part of it.
Average salary 💲
A software developer earns between $ 75,000 to about $ 100,000 per year in the USA. Meanwhile, the average blockchain developer's salary is $145,000. Entry-level positions start at $121,875 and experienced blockchain developers make up to $185,250 – according to Talent.com.
There are a lot of web3 enthusiasts and people that believe web3 will be the future of the web – like us. Other people are just looking to make the transition to a blockchain developer because of the high salaries.
Regardless of where you stand, the salary is always a major component of any job.
To sum it up ✏️
The journey to becoming a blockchain developer is tough but totally achievable if you have the right mindset, work ethic, and desire to always learn more.
We're witnessing a growing market with plenty to be explored and opportunities abound: from the way we work, the way we interact with each other and the way we use the internet.
At TAIKAI, we can help on your journey to becoming a Blockchain Developer.
Start by creating your TAIKAI account, choose your first hackathon and keep an eye out for our partners' hiring challenges to finally land your dream job.
Your journey starts today. Join our 50,000 member community taking the world by storm ⚡